A&E > Food
Spokane Valley man wins $10,000 on Netflix's 'Nailed It!' bake-off show
Thu., July 12, 2018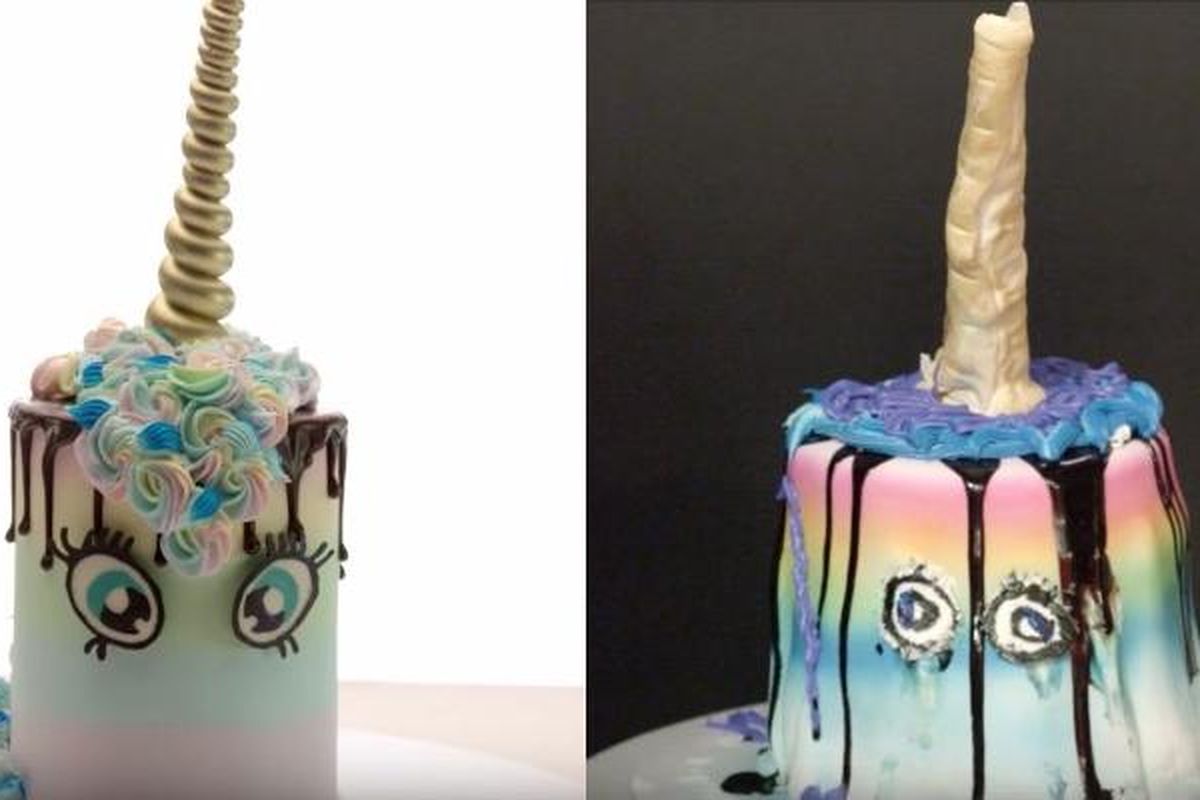 Chris Elam won the grand prize on the new Netflix baking show "Nailed It!" by creating the unicorn cake on the left with his replica on the right. He used a fondant-covered carrot for the unicorn horn. (Netflix via Chris Elam)
Brownies are his favorite things to bake.
Well, brownies, and chocolate chip cookies.
"That's like the backbone of my baking, those two things," Chris Elam said. But, "every now and then, I like to go on Pinterest and see what's interesting and try to make it."
Sometimes, he fails.
But, a couple of his Pinterest mishaps led him to an appearance on a new Netflix baking show inspired by the failures of home bakers trying to replicate elaborate recipes found online.
Elam, 37, was one of three contestants to compete in the second episode of the second season of "Nailed It!" And, despite using salt instead of sugar while making a cake pop in the first challenge, he won.
The Spokane Valley resident made a comeback in the second challenge, winning the competition by creating the unicorn cake that most closely resembled the original masterpiece.
Judges praised him for getting his cake to stand upright. The other two contestants' cake wrecks were presented in their pans.
The crowning glory of Elam's cake, perhaps, was his version of a unicorn horn, which he created by wrapping a carrot in fondant.
"I didn't know anything about fondant," said Elam, who used the thick icing for the first time on the show and won the $10,000 grand prize.
Each episode of "Nailed It!" features three amateur bakers trying to make elaborate cakes. Contestants compete in two challenges during the 35-minute show.
In the "Baker's Choice" challenge, competitors select one of the three items and try to recreate it. This is how Elam ended up attempting to make a cupcake-cake pop combo that resembled Humpty Dumpty.
"A standard cupcake is pretty simple," Elam said. But, "this was literally the first time I had to make a cake pop, and it was the first time I used fondant."
Needless to say, he didn't win the first challenge.
Fondant played into the second challenge, too. In "Nail It or Fail It," contestants have two hours to make a showpiece from scratch. This is where Elam outperformed the others, making a free-standing cake with a fondant-wrapped carrot unicorn horn.
"It was competitive," he said. But, "this isn't a normal baking show. We're amateur bakers, not professionals. Everyone's going down there to win the money, but everyone's got a really good attitude. The set was really laid-back."
The one thing that made it stressful, he said, was the time element.
"Outside of the show (when you're baking at home), you can take your time," Elam said. "But on the show, you have this big red clock in the corner. You're rushing around, and you're seeing time ticking down."
So far, Netflix has produced two seasons of "Nailed It!" Both were released earlier this year – the first on March 9, the second on June 29.
Filming for his episode, Elam said, took place June 2017 in California over a period of three days. The first was a series of entry interviews. Day two was 12 hours on set, doing the baking challenges. The last day was for exit interviews.
"You're working the entire time," Elam said. "You're quarantined. They put you up in a hotel, and they take your key card so you can't leave your hotel room. They don't want you to let anyone know you're working on a new project. I've had to keep it secret for over a year."
Elam, a 1999 graduate of East Valley High School and U.S. Army veteran who served in Iraq, said his grandmother helped spark his interest in baking when he was just a child.
Baking, he said, "has always been part of my life. I grew up with my grandma's pies. Her pies, cakes and cookies were always in the house."
Today, Elam works in customer service. He and his wife, Angie, have been married five years and have two daughters, ages 1 and 4.
"If I'm stressed or I need to relax, I try to make something," Elam said. "I've always dabbled in baking when I have the time."
Brownies and chocolate chip cookies are items he usually doesn't mess up. One of his biggest at-home baking fails was chocolate-covered cookie bites.
"I wanted to bake something for my co-workers at Christmas," he said. "They came out looking little dog turds."
Another home baking failure: macadamia nut-white chocolate brownies that he left in the oven a little too long. "I burnt them to a crisp," he said, noting he takes his baking fails with a grain of salt.
"Everything we do in life is basically a learning process," he said. "I was lucky to fail so many times before I came to (the unicorn cake) challenge. Everything basically led up to that challenge. I knew it wasn't going to be perfect, but I wanted to at least get the cakes right, and that worked. I knew not to overfill my pan so they would bake properly. Learning from my failure helped me win that challenge – and the entire show."
Elam said his prize money hasn't arrived yet, but he knows what he wants to do with it once it does.
He plans to replace his wife's wedding ring.
"She kind of gave up her wedding ring so we could get into a house," he said. "She had one for about three years."
But, he said, it broke, and they returned it. He planned to get her a new one, he said, but they were house hunting and "needed to put a little bit more down" for the down payment.
"We both agreed to use the wedding ring funds," he said. "She sacrificed her wedding ring so we could get a family home."
There's something he wants for himself, too. He has a red 1953 Chevy pick-up "sitting on the side of our house with a tarp over it. I'd love to get it running," he said.
Since the show was released, he said he's been getting more Facebook friend requests, including some from people he doesn't know. He encourages folks to follow him on Twitter and Instagram. His handle is @thegreatelam.
His 4-year-old daughter has watched his episode "every single day since it aired. She loves it."
This makes him proud. "That's what it's all about: family, and seeing my family proud of me," he said.
Elam would love to appear on other baking shows. "It's a really fun experience," he said – or "Ellen's Game of Games" game show.
"I don't know if I'll ever get the opportunity again, but if I did I would welcome it with open arms," he said.
Meantime, he's enjoying the response to his "Nailed It!" appearance, retweeting comments like this one from Catherine Hann @catherineeileen: "The unicorn episode of #NailedIt season 2 might be the most perfect 30 minutes of TV ever created."
Verónica @arcaneghost4L wrote, " When the guy used the carrot as a unicorn horn, I felt that #NailedIt."
And Chimervera @VoidDreams wrote, "Watching #NailedIt season 2, and they're FINALLY doing the unicorn cake we've all been waiting for. It's even more amazing than I imagined."
People, Elam said, "have really loved the episode."
Local journalism is essential.
Give directly to The Spokesman-Review's Northwest Passages community forums series -- which helps to offset the costs of several reporter and editor positions at the newspaper -- by using the easy options below. Gifts processed in this system are not tax deductible, but are predominately used to help meet the local financial requirements needed to receive national matching-grant funds.
Subscribe to the Spokane7 email newsletter
Get the day's top entertainment headlines delivered to your inbox every morning.
---