News > Spokane
A year after new effort to decrease Spokane County jail population, more inmates were behind bars
July 14, 2018 Updated Mon., July 16, 2018 at 1:01 p.m.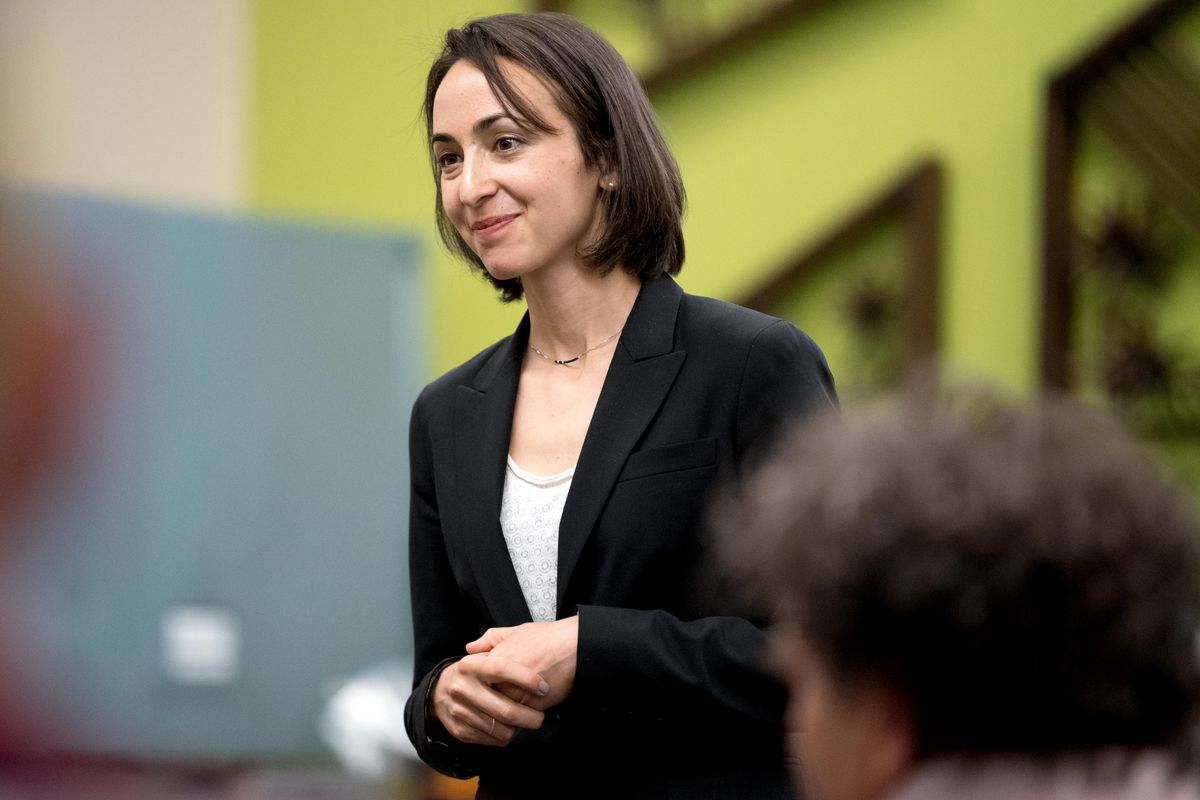 Spokane County's new criminal justice administrator, Maggie Yates, speaks during a meet-and-greet event Monday, July 9, 2018, at the West Central Community Center in Spokane. (Tyler Tjomsland / The Spokesman-Review)
A year after Spokane County started work aimed at lowering the jail population with the help of a $1.75 million grant, the number of inmates was up 10 percent.
That's more than any of the seven other local governments that won similar grants from the MacArthur Foundation.
County officials say they've made significant changes, but progress takes time. Some community members say the county isn't taking the task seriously.
The position overseeing the reforms aimed at reducing the county's jail population and racial disparities was vacant for more than a year. Just this week, the Spokane County Commission hired a new criminal justice administrator, Spokane native Maggie Yates.
In 2016, the county set a goal of reducing its jail population by 15 percent over three years in an effort to reduce overcrowding and potentially save money by delaying the need to build a new jail.
But in the two years since the county received the MacArthur grant, its jail population has increased as public frustration with the effort has mounted. The foundation's Safety and Justice Challenge provides funding to local governments to reduce the "misuse and overuse" of jails, which has been shown to drive up recidivism rates and perpetuate inequality.
A report monitoring the progress of eight participating cities and counties found Spokane's jail population increased 10 percent during the first year of the grant work. The report, obtained by The Spokesman-Review, was written in February by City University of New York's Institute for State and Local Governance, and examined data through April 2017.
Two other sites featured in the report had increases in their jail populations during the first year: 4.7 percent in St. Louis and 1.6 percent in Charleston, South Carolina. The rest saw decreases, with Lucas County, Ohio, leading the way and paring its jail population by 16.1 percent.
Reagan Daly, the research director at the CUNY institute, said the numbers should be taken as an early snapshot of Spokane's progress with the multiyear grant. The numbers have improved since April 2017.
"Spokane's jail population numbers have trended downward from that point in time, so that's a good thing," Daly said.
Patrick Griffin, the MacArthur Foundation's project manager for Spokane, said the report did raise some concerns upon its completion.
"But I feel better now because there are a lot of good people doing good work there, and they've made some course corrections," he said. "I was very impressed with them. I have confidence in Spokane."
Still, the report is unlikely to instill confidence in community leaders who say progress hasn't come fast enough, and that there has been a lack of communication from the Spokane Regional Law and Justice Council.
"All that MacArthur money – it's not happening," said the Rev. Walter Kendricks, the pastor at Morning Star Baptist Church. "It's unbelievable. I'm very disappointed and very sad."
Kendricks and other activists, including Sandy Williams, publisher of the Black Lens newspaper, have banded together to form the group SCAR – Spokane Community Against Racism – which sent a sharply worded letter to the Law and Justice Council in March.
Spokane County publishes a monthly average of the daily jail population on its website, which shows slightly different numbers than the institute's. Daly said her team does its best not to count prisoners who are in the county jail under contract with federal agencies, since the county has less control over those numbers. She said differences between the two data sets are likely due to different methods of excluding those inmates.
Under a resolution that the Spokane County Commission passed in August, the jail can hold up to 132 prisoners on behalf of the U.S. Marshals Service.
The county's data shows the average daily jail population was 933 people in April 2016, when the grant began, and 965 now. Though the number fluctuates month to month, it hasn't shown a steady decline.
The target population for this point in the grant is 813 people.
County officials say the numbers don't capture the full scope of the reforms they've been working on. Last month, at the most recent meeting of the Law and Justice Council – a group of city and county officials who work in the criminal justice system – many members said public frustration is being driven by a lack of understanding about what has been accomplished.
"We learn as we go, and the learning process is part of the process," said County Commissioner Al French, who serves as chairman of the Law and Justice Council.
Last year, the county was awarded a nearly $1 million grant from the U.S. Department of Justice to create a "smart re-entry" program that is expected to connect people with needed services upon their release from the county jail.
Most notably, the county's pretrial services department has expanded significantly and begun providing reports on defendants' criminal history and other risk factors to judges in the district and municipal courts, enabling more people to be released from jail while waiting for a trial. Previously those services were only available for Superior Court, said Cheryl Tofsrud, the manager of pretrial services.
The department is also better able to monitor defendants who are released before trial, Tofsrud said. About 40 percent of Superior Court defendants are released with monitoring or on their own recognizance before trial now, up from about 30 percent two years ago, she said.
Tofsrud said her office has received positive feedback from judges.
"Judges are feeling like they're making informed decisions," she said.
Early in the grant work, county officials highlighted an effort to build a risk-assessment tool, called SAFER, that would look at a defendant's criminal history and other factors to produce a score indicating how likely they would be to commit a new crime if released before trial.
But technological challenges delayed building the system the county had hoped for. Tofsrud said there were difficulties getting the software to automatically import data from the state's administrative office of the courts, which currently requires manual searches by pretrial services staff.
Eventually, the county worked with Washington State University researchers to build a scaled-back tool, SAFER Lite, which was supposed to take into account the most predictive factors from the full SAFER.
That system was implemented March 1, with reports provided to judges as part of the information they received before a defendant's first court appearance. It was in use for about three months before her office stopped, Tofsrud said. The office has several vacant positions and newer staff members, and didn't want to use a predictive risk tool with a relatively untrained group of workers, she said.
Judges also were reporting the risk score wasn't as helpful as the regular first appearance evaluation her office provided, she said.
"Even without the risk tool, we have accomplished an increase in releases," she said.
So why is the jail population holding steady if more people are being released before trial? Tofsrud said she doesn't have hard numbers, but believes more people are being charged with crimes, which means more people are going to end up in jail.
"The flow at the front door hasn't stopped," she said. "It hasn't slowed down."
Prosecutor Larry Haskell, whose office handles the vast majority of criminal cases in Spokane County, said he couldn't immediately access the number of charges his office has filed in 2018. But he had data from the beginning of 2013 through Dec. 12, 2017.
During that nearly five-year period, the prosecutor's office filed charges in 86 percent of the 25,572 cases referred by law enforcement, the data show.
Haskell said he isn't convinced that the Law and Justice Council, which was created under state law, is the right panel to implement major reforms such as the MacArthur grant work. He said he believes the group may not have the authority under state law to do what it's trying to do.
The dangers of jail overcrowding are well-documented. Spokane County's two detention facilities – the downtown jail and the Geiger Corrections Center on the West Plains – have been renovated to hold a total of 886 inmates. But the actual population has long exceeded that number.
The population topped 1,000 inmates early last year, making it difficult for corrections officers to implement a "direct supervision" management strategy in which inmates are allowed into common areas during the day with access to TV, books, phones, games and other activities. Jail officials have said inmates become more stressed and agitated when cooped up in their cells for long periods of time, resulting in fights and disobedience.
Sgt. Tom Hill, a spokesman for the county's detention services department, referred questions this week to the county's chief operating officer, John Dickson, who did not respond to calls and an email seeking comment.
Yates, the criminal justice administrator, also referred questions to Dickson this week, saying she could not discuss local reform efforts because she hasn't officially started the job. But she did speak Monday during a small meet-and-greet event at the West Central Community Center.
The county commissioners voted unanimously Tuesday to offer the job to Yates, who had emerged as the Law and Justice Council's preferred candidate during a screening process that netted three finalists. She will bring a different set of qualifications than her predecessor.
Jacqueline van Wormer, who stepped down from the position a year ago for a job at Whitworth University, is an academic focused on criminology research. Yates, meanwhile, has worked with several nonprofits across the country aimed at improving the justice system.
After earning her bachelor's degree from Macalester College in Minnesota in 2010, Yates worked with the Southern Poverty Law Center as the lead investigator in a class-action lawsuit against the county jail in New Orleans. In 2012, the case resulted in a federal consent decree requiring the jail to address a litany of abuses and staffing issues, and Yates worked with the MacArthur Justice Center to help implement reforms.
"That experience was incredibly formative," she said Monday. "It was my first time to see up close how the criminal justice system, when it's not working for the community, can manifest in inequalities – and how it can devastate not only the individual who comes into contact with the system, but their families, and really the entire city."
Afterward, Yates went to law school at the University of California, Los Angeles, and interned in the Justice Department's civil rights division. She earned her law degree last year and has since worked as an attorney at the Legal Aid Justice Center in Charlottesville, Virginia.
Yates said she's excited to return to Spokane and up to the challenge of the criminal justice administrator job. She said she would begin by stepping up efforts to gather defendant data from various city and county offices, and that she would apply lessons from her experience on the soccer team at Lewis and Clark High School.
"I wasn't a forward. I wasn't flashy, getting goals and getting well-deserved attention that way. I was behind the scenes, a center midfielder, making sure folks were in the right position doing what needed to be done, and keeping a vision of the field," she said.
"I'm very comfortable assuming a visible leadership position. But I'm also adept at stepping back and making sure that people are in the right positions, have the resources they need to be successful and are maintaining that long-term vision."
Local journalism is essential.
Give directly to The Spokesman-Review's Northwest Passages community forums series -- which helps to offset the costs of several reporter and editor positions at the newspaper -- by using the easy options below. Gifts processed in this system are not tax deductible, but are predominately used to help meet the local financial requirements needed to receive national matching-grant funds.
Subscribe now to get breaking news alerts in your email inbox
Get breaking news delivered to your inbox as it happens.
---