Sports > NBA
Former Gonzaga big man Johnathan Williams keeping the faith that making an NBA roster is in his future
Sat., July 14, 2018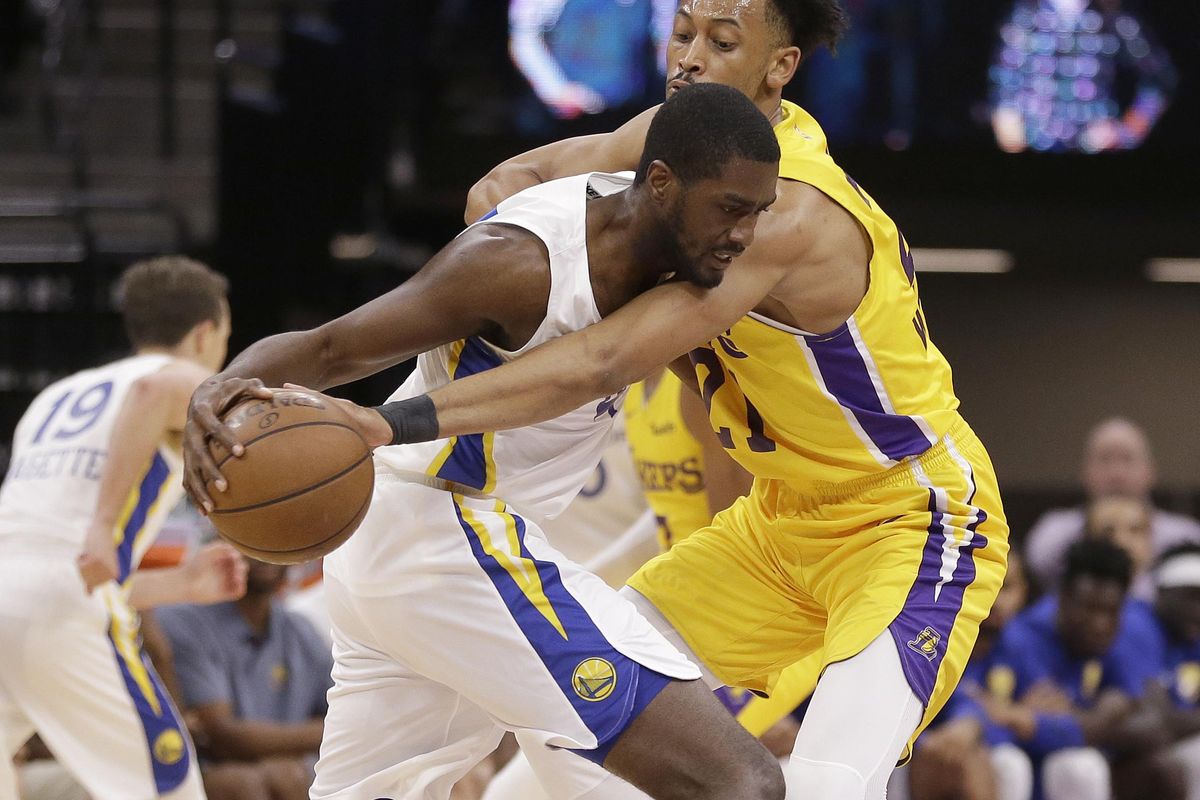 Los Angeles Lakers forward Johnathan Williams, right, tries to steal the ball from Golden State Warriors forward Omari Johnson during the first half of an NBA Summer League game, July 5 in Sacramento, Calif. (Rich Pedroncelli / AP)
LAS VEGAS – There's something to be said about having faith.
Johnathan Williams abides by it.
The former Gonzaga standout is currently on the Los Angeles Lakers' summer league roster, enjoying some success through pool play and the opening round of the playoffs, and believes that by keeping an open mindset he's going to find himself on an NBA roster in the fall.
"Everybody has different paths to get to their one goal in life," Williams said before his first game with the Lakers. "Because of how I work and just keep having high faith and go from there."
Williams' path began in Memphis, Tennessee, where he was born, and led him to the University of Missouri before bringing some scoring and rebounding punch to Gonzaga for the final two seasons of his collegiate career.
After going undrafted in June, he signed with the Lakers for the summer. Now he's fighting for a roster spot on the most talked-about team from any sport at the moment, simply because of the greatest basketball player in the world.
But that doesn't mean Williams is discussing LeBron James.
"We haven't been talking about it that much," said Williams, who became the second Zag in program history to reach both the 1,000-point plateau and the 1,000-rebound mark. "It's great for the organization that he came to the West Coast and to L.A., but to be honest, we have to worry about this team right now and try to win some games and win the summer league championship. Then, once you get on the roster, then we can start focusing on that."
While he added that it would be "pretty cool" to play with someone he's been watching since he was a little boy, and an incredible opportunity to learn from James, his biggest personal concentration is focusing on switching out roles in the midst of play, learning how to guard the variety of guards and defending the bigs, while rebounding at a high level.
"Mainly I'm focusing on defense and rebounding and the offense will come down the road," Williams said. "It's really fast, high paced, more physical. I'm not the tallest guy on the team or on the other team and just trying to figure out what can I do well, what are things I can bring to the table, to each game, and to each practice and having that mindset. Just being a sponge, trying to learn as much as possible."
Which is what he said he did at Gonzaga, under coach Mark Few.
The 6-foot-9 forward believes he raised his basketball IQ during his time in Spokane, learning aspects of the game he said other coaches never brought up to him in the past.
"I learned a lot from Mark Few and the coaching staff at Gonzaga. I played with some great players – I could go down the whole entire list – we had a great group of guys and made it to the national championship game," he said. "That's a great thing to be a part of, I learned a lot and I feel like I got better, too."
Jordan Mathews, who also played at Gonzaga and is playing with the Los Angeles Clippers this summer, said he believes Williams is a lock to make an NBA roster because of his keen sense for the ball and his ability to dominate in the paint.
"Rebounding is at a premium always, and he can do that," Mathews said. "He's a great offensive rebounder and he developed different facets of his game, even throughout the year I was there. And it's not like he's a rebounder who can't score around the basket or away from the basket, but rebounding is his calling card. And then on top of that he can score – it's huge.
"He's very devoted to his faith and that kind of helps him on the floor."
Mathews and Williams said playing under Few reinstilled an original foundation of sticking to the basics and relying on fundamentals when on the court.
By simply playing his role, and doing his job, it allows others to become better at their jobs, while improving his role.
"That's the key, sticking to what you can do on the court," Williams said. "Don't try to go outside your lane and do your job extremely well and everybody will notice."
W.G. Ramirez is a freelance reporter in Las Vegas and the Southern Nevada correspondent for The Associated Press. Follow him on Twitter at @WillieGRamirez
Local journalism is essential.
Give directly to The Spokesman-Review's Northwest Passages community forums series -- which helps to offset the costs of several reporter and editor positions at the newspaper -- by using the easy options below. Gifts processed in this system are not tax deductible, but are predominately used to help meet the local financial requirements needed to receive national matching-grant funds.
Subscribe to the sports newsletter
Get the day's top sports headlines and breaking news delivered to your inbox by subscribing here.
---