News > Family
Sister act: Weddle Twins use harmonies to connect with audiences of all ages
July 14, 2018 Updated Mon., July 23, 2018 at 10:12 a.m.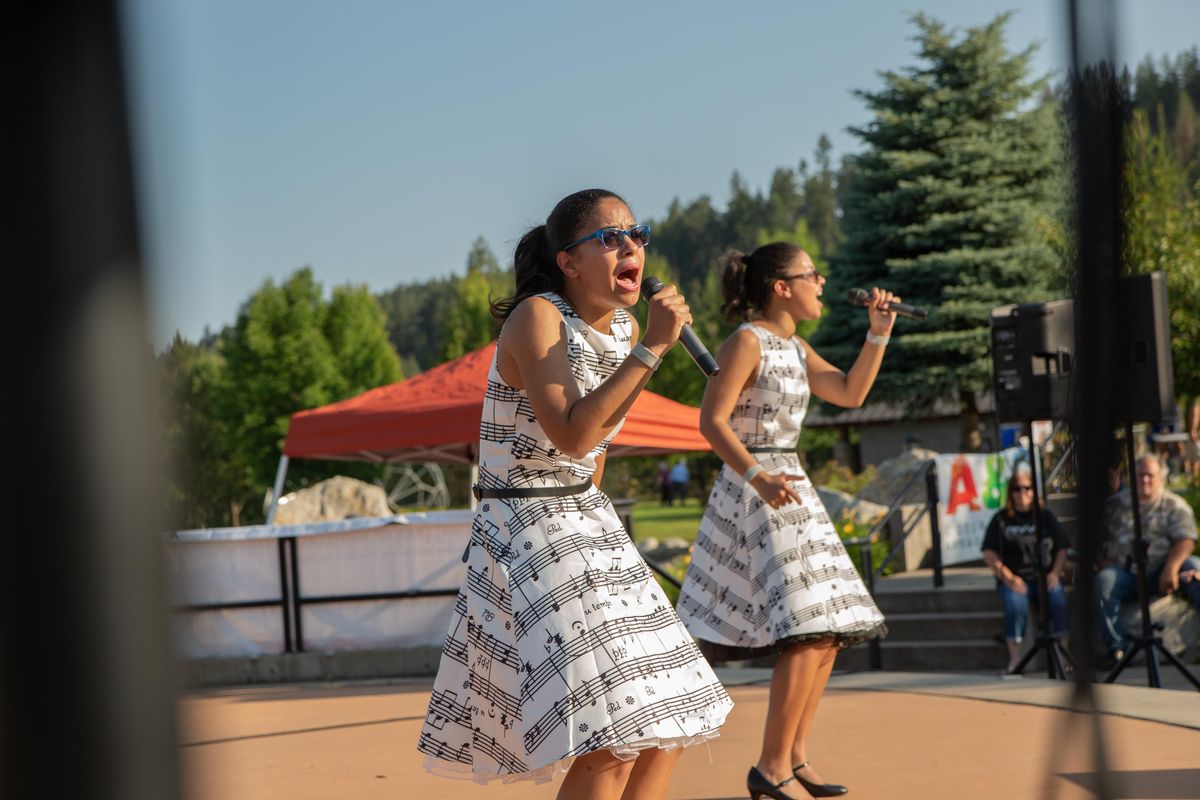 Kelsey Weddle, left, and Marissa Weddle of performing duo the Weddle Twins sing at the Riverstone Summer Concert series on July 5. The 26-year-old twins sing standards from the 1920s through the 1960s, with a few recent show tunes thrown in. (Libby Kamrowski / The Spokesman-Review)
Although they're of the hip-hop generation, on stage, the Weddle Twins are more likely to perform from the Great American Songbook.
Sisters Kelsey and Marissa Weddle relish classic songs from the '20s through the '60s. It's what they grew up with, after all.
The 26-year-olds were adopted as newborns and grew up in Spokane hearing that older music, both from musicians in the family and the shows they watched.
"We've been singing for as long as we can remember," said Kelsey Weddle. "It started when we were really little and our dad and grandfather would play music together.
"Every time we went to our grandparents' house growing up, they'd play 'Lawrence Welk' on KSPS and 'Ed Sullivan Show' reruns. It was a tradition. That got us into the old standards of the 1920s through the 1960s."
The sisters started in choirs by elementary school and continued performing in choral groups into their adult years. "When we were 10, we had a weird idea of wouldn't it be cool if we sang harmony? We tried it and it really clicked."
They also studied voice at Holy Names Music Center for 10 years. In 2002, they launched their sister act and now have steady work as duet singers often booking at Spokane-area retirement and assisted-living facilities. They arrange and sing the harmonies a cappella.
The twins also perform with other musicians at regional concerts, such as concerts at Pig Out in the Park and the fair.
Their voices blend so well it's almost eerie, said their mom Jacquie Weddle, who acts as their booking agent. Her husband, Tom Weddle, also often helps set up gigs.
"They have perfect pitch," Jacquie Weddle said. "They can hear any note and tell you exactly what it is. When they were in choir, they used to be called the pitch pipe. The choir teachers would say give us a C-flat major or whatever, and it was always right."
The sisters were diagnosed at age 3 with high-functioning autism. It's a condition that brings both blessings and challenges.
"It's been a challenge because we stand out, especially in choir, because we're always moving too much," said Marissa Weddle, laughing. "It's annoyed so many people."
But she said a major bonus is that they're tuned into the complexity of music.
"Our perfect pitch definitely came from our autism. I can see the notes in front of me while I'm singing, even though there's no sheet music there."
There's also a downside to that. "We can also hear every wrong note people make."
"We can hear a pitch in our head and recognize the notes," added Kelsey Weddle. She said their autism sometimes made it harder to connect with people, but they've worked on those skills to become more comfortable before audiences.
Various music instructors have helped them stretch out of their comfort zones, too, including Nancy Klingman, Andrea Olsen and Dawn Taylor-Reinhardt. As has singing with the Spirit of Spokane Chorus, part of Sweet Adeline's International.
Today, the sisters tend to blend their vocals by one singing melody and the other harmony, but they switch that up.
"When one sings melody, the other one uses elements that counteract that, like singing a pitch above or a pitch below," said Kelsey Weddle.
Their link to retirement centers and assisted-living facilities started when they first began visiting the care facility of their grandparents who had first introduced them to older songs.
Other residents would stop by to listen to them singing for family.
"We'd sing for fun, any songs we loved, and a lot of times it was songs from the '20s through the '60s, because so many of those songs were incredibly iconic for them," Kelsey Weddle said.
"They have emotions that connect with people on a personal level. It takes them back to eras when they were much younger. It brings back memories."
In May, they saw such an example. A 95-year-old woman lit up during a song and started singing out loud, although she stopped talking long before that day.
"I think it was 'Moonlight Serenade,' and she started singing and talking," Kelsey Weddle added. "It shocked everyone in the room.
"Music helps improve cognitive functions. We've had other moments like that, especially in memory care and assisted-living."
This summer, the Weddles also are booked for outdoor gigs with MasterClass Big Band, and separately with pianist Casey Wilkinson.
But they mostly perform as a duo using just their voices, and sometimes adding recorded background music.
Their musical roots come from their biological family, too, including a biological paternal grandmother who was a gospel and lounge singer in New York. She was scheduled to perform at Carnegie Hall, they said, but died in a car accident before she had the chance.
"We had a chance to perform at Carnegie Hall," said Kelsey Weddle, who with her sister sang there with other high school and college performers.
The twins were born in Sacramento, and placed with Tom and Jacquie Weddle at 3 days old. The family moved to Spokane when the girls were 6 months old, when Tom and Jacquie started jobs for Spokane Public Schools.
In 2010, the sisters graduated from Shadle Park High School with honors. Tom Weddle recently retired as a special education teacher, and Jacquie Weddle still works as a speech pathologist.
She said her daughters are mirror twins, a type of identical twins where the two are mirror images of each other. One is right-handed and the other is left-handed. They have opposite tastes, like different foods, and to an extent, listen to different music.
"I love jazz and blues," said Kelsey Weddle. She also enjoys songs by Lady Gaga and Britney Spears, but her favorite is classic singer Ella Fitzgerald.
Marissa Weddle currently likes Gorillaz, a British virtual band. But there's a vintage favorite. "I love the Beatles." She at first "hated jazz" until they previously were backup vocalists for the band Tuxedo Junction. "That's when I started to get into the complexity of jazz music, and I fell in love with it."
For their performances, the sisters also like to wear matching dresses from the '40s and '50s. They part their ponytails to opposite sides for a mirror effect.
The sisters say they love singing classic harmonies, regularly performing "Sisters," "The Chattanooga Choo Choo," "Moon River" and "Boogie Woogie Bugle Boy."
They also perform more contemporary music, like "This Is Me" from "The Greatest Showman." And they're slowly adding another decade of tunes into their repertoire.
"There are a lot of baby boomers hitting the retirement homes," Kelsey Weddle said. "We've added some songs from the '70s."
Local journalism is essential.
Give directly to The Spokesman-Review's Northwest Passages community forums series -- which helps to offset the costs of several reporter and editor positions at the newspaper -- by using the easy options below. Gifts processed in this system are not tax deductible, but are predominately used to help meet the local financial requirements needed to receive national matching-grant funds.
Subscribe now to get breaking news alerts in your email inbox
Get breaking news delivered to your inbox as it happens.
---