News > Spokane
After land sale to Central Valley School District, Spokane Gun Club wonders about its future
July 15, 2018 Updated Sun., July 15, 2018 at 10:25 p.m.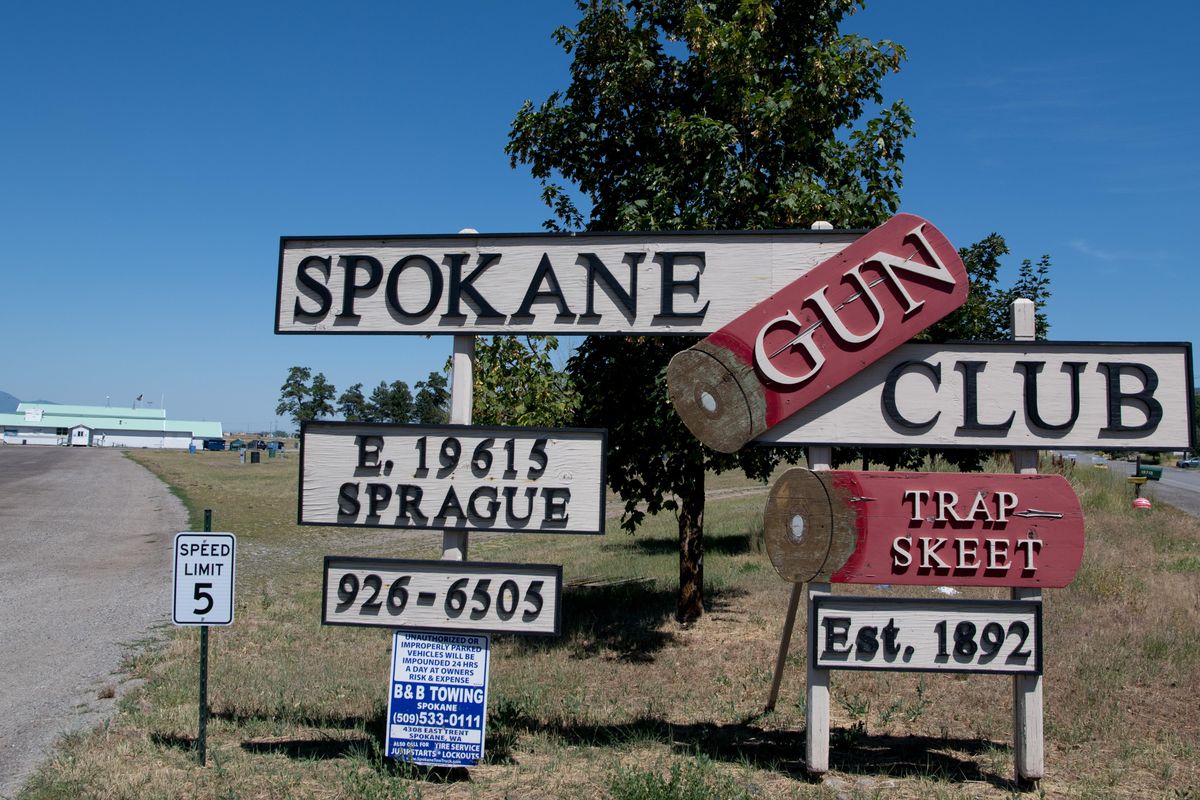 The Spokane Gun Club is seen on Friday, July 13, 2018, in Greenacres, Wash. (Tyler Tjomsland / The Spokesman-Review)
When the Central Valley School District Board approved purchase of more than 99 acres from the Spokane Gun Club last week for a third high school, it left the club's future – as well as plans for an interpretive center near Saltese Flats – up in the air.
The school board agreed to buy the gun club site for more than $8 million to construct a new high school and a future elementary school.
When the Spokane Gun Club held a June 30 membership meeting to vote on the property sale, it was a heavy decision for some members, said Pete Rayner, gun club member.
"Membership of the club is declining, but this has been home to the guys for an activity that has been sacred to them. There was a lot of emotions and fear of the future," Rayner said. "That club has been home to many of them for 50 years. It was a hard decision for everybody. I hope it's for the best."
The vote passed among 82 members, with 41 in favor of the sale to the school district. The Spokane Gun Club board of directors approved the sale July 2.
"A concern for all members was having a place to move to and rebuild the club. The leadership hasn't been able to do that yet," said Dave Baker, gun club member. "The biggest concern is being able to buy a piece of ground that's big enough for the club that has good access. It's very difficult sometimes to get a gun club set up and approved."
Gun Club president Robert Thornton said the club will remain open until 2021, but is looking at about six potential sites west and south of its current location.
"I think (the sale) is the best opportunity that club has had in a long time," Thornton said. "In 1949, it was a perfect site. But, if you look at the club now, it's surrounded by housing development. It doesn't make sense to have it there. When the school came to us with an offer, I thought it was a gift from heaven."
Careful consideration
Central Valley School District Superintendent Ben Small said the school board's decision to purchase the gun club site was made with careful consideration.
The board looked at three additional options for a high school, including a full campus at 16th Avenue and Henry Road near Saltese Flats and a split design placing sports fields on a 40-acre parcel of land at Sprague Avenue and Henry Road, which the district purchased in 2017.
However, because the county required the school district to improve the entire stretch of Henry Road as well as extend sewer, water and electricity to the Saltese site, costs increased more than $6 million.
The Saltese site has building height restrictions, so the district would also be required to build a proposed theater halfway below ground, adding up to more than $950,000. The district found it would face construction delays and a more than $3 million deficit if it moved forward with plans for a high school at that site.
"Any decision to move from this site was taken very seriously. It was a really thorough look at all the options," Small said. "And it's taken me through this process to understand that maybe it can't happen in a timely fashion or is a best use of taxpayer dollars."
The interpretive center
The school district announced a partnership earlier this year with Spokane County to include an interpretive center with design plans for a high school near the Saltese Wetlands.
The county is restoring the Saltese Wetlands to include trails, a bird habitat and viewing areas.
Bud Morrison, who operates a cattle ranch in the Saltese Flats, sold more than 300 acres to Spokane County in 2010 for the restoration project with an agreement to build an interpretive center in honor of his mother, Doris, a former school teacher.
The Doris Morrison Interpretive Center will include an auditorium, classrooms, meeting space and an exhibit area providing views of the Saltese Flats as well as showcase history of the Morrison family, who homesteaded the land in the 1890s.
"The county is committed to the project. Whether the school district does a share in it – I don't know," Morrison said. "But, I think the interpretive center will be built."
Small said the school board is reviewing plans with the county to build the interpretive center as a stand-alone facility.
"We believe the Saltese Wetlands is a tremendous learning environment for our kids and we don't want to walk away from that environment," Small said.
The district will evaluate its land near Saltese Flats for potential future use, Small said.
"The 16th and Henry site is beautiful. It would be a one of a kind learning environment that you just can't replicate," Small said. "So, we're losing that. But, at the same time what we gain from the Sprague and Henry site is visibility and a presence in our community that is more accessible."
A new beginning
Small said the new high school site will provide greater access and reduce construction costs because infrastructure is already in place.
"I think this is a better location for our growing school district. I think it's a win-win as the gun club evaluated their options and the desire to relocate," Small said. "It allows an institution that's been in our community for 126 years to continue. It provides them an avenue to move forward as well."
There's a plan in place to address environmental issues with the site, Small said.
The Spokane Gun Club is dedicating $1 million to mine the land for lead and clean up the site, which will be inspected by the Washington state Department of Ecology.
The school district will pay cleanup costs exceeding $1 million, Small said.
"We can point to other sites that gun clubs have been located, have been mitigated and put into residential use and so we know that we have a good plan dealing with environmental concerns," Small said.
Small said the district is committed to exceptional stewardship of taxpayer dollars. The $95 million high school will be delivered within budget and on schedule for a 2021 opening.
"I really have come to appreciate the Sprague and Henry site," he said. "It's really beautiful as you stand there and look around at the mountains. It can serve as a great learning environment for our kids."
Local journalism is essential.
Give directly to The Spokesman-Review's Northwest Passages community forums series -- which helps to offset the costs of several reporter and editor positions at the newspaper -- by using the easy options below. Gifts processed in this system are not tax deductible, but are predominately used to help meet the local financial requirements needed to receive national matching-grant funds.
Subscribe now to get breaking news alerts in your email inbox
Get breaking news delivered to your inbox as it happens.
---