Sports > Area sports
Derek Bayley finishes strong, earns second Rosauers championship
July 15, 2018 Updated Sun., July 15, 2018 at 9:09 p.m.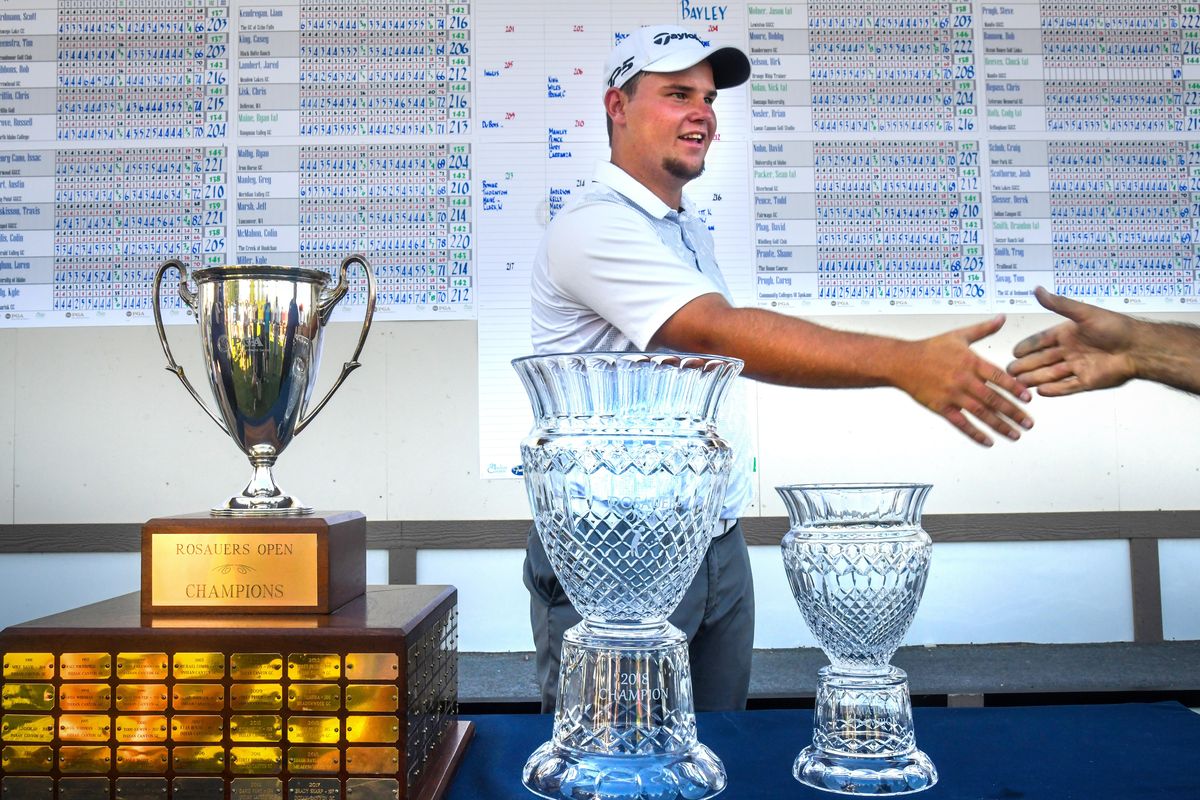 Derek Bayley took home all the hardware Sunday after winning the Rosauers Open. He was low amateur, overall champion and also gets his name on the permanent trophy. (Dan Pelle / The Spokesman-Review)Buy a print of this photo
Derek Bayley was in the middle of his seventh consecutive day of tournament golf and everything was going just fine.
The former Washington State Cougar made the turn with a four-stroke cushion in Sunday's final round of the Rosauers Open Invitational at Indian Canyon. Three holes later, Bayley's lead was down to one after a couple of bogeys with a pack of quality players in pursuit.
Bayley needed a strong finish and he found plenty left in the gas tank. The amateur played the final six holes in 3 under, including birdies on Nos. 17 and 18 to clinch his second Rosauers title.
Asked if was tired of playing, Bayley said, "Never, no, absolutely not. I live for this. I love the game of golf. I'm enjoying it more and more, and obviously winning helps.
"I enjoy the grind. You're going to be tired and fatigued, especially the guys that play every week on the (PGA) tour. I'm kind of mentally and physically preparing myself for that and hopefully later on down the road I cross that path."
Bayley, who moved into contention with a 9-under 62 Saturday, closed with a 66 to finish at 13-under 200. He's the only amateur with two Rosauers titles and the only player in the 31-year history to win at the Canyon and MeadowWood, site of his eight-shot victory two years ago.
There was a six-way tie for second at 10-under 203 with Lewiston amateur Jason Molner and pros Jeff Coston, Tim Feenstra, John Eisentrout, Scott Erdmann and Shane Prante. Bayley, who tentatively plans on turning pro this winter, received $750 instead of the $11,000 first-place check. The five pros each earned $6,300.
"I'm hoping a few years down road that $11,000 will be miniscule to me," said Bayley, who spent the first part of the week competing at the Pacific Northwest Amateur. "At the time, it's always easy to say I wish I had 11 grand in my pocket but I'm hoping this leads to bigger and better things for me."
Bayley's scorecard was a jumbled mix of circles (seven birdies), squares (four bogeys) and one double circle (eagle). He took control with three straight birdies, dropping a 4-foot putt on No. 6, a 13-footer on No. 7 and stuffing his tee shot on the tough, 224-yard eighth within 3 feet of the cup.
Bayley's biggest circle came on the par-3 13th. He made messy bogeys on 10 and 12, but he quickly atoned by dropping his tee shot on No. 13 about 10 feet from the hole. He rolled that putt in to get to 11 under.
Bayley was just off the right side of the par-4 17th green and he lobbed a tricky pitch about 7 feet past the hole. He offered a fist pump when the birdie putt disappeared, knowing he held a two-shot lead. He finished with a two-putt birdie on No. 18.
"That was a roller-coaster for sure," Bayley said. "The funny part is I kind of pride myself on making a lot of pars. That's just golf. I say it all the time: golf happens."
David Brown, assistant pro at Arrowhead Golf Club in Molalla, Oregon, led by one after the second round but a slow start left him two back after No. 2. He shot a 71 and finished in a four-way tie for sixth along with North Idaho College golf coach Russell Grove, who took the lead briefly with birdies on 2 and 3.
"It just wasn't meant to be," said Grove, who shot a 70. "Honestly I didn't play well this week and nothing really went my way."
Bayley's busy summer continues with a U.S. Amateur qualifier Wednesday at Palouse Ridge, WSU's home course. That's followed by the Pacific Coast Amateur in San Francisco and the Western Amateur near Chicago.
He's earned a rare day off, but don't count on it.
"We'll see," Bayley said of his Monday plans. "I might play in the Pro-Am."
Local journalism is essential.
Give directly to The Spokesman-Review's Northwest Passages community forums series -- which helps to offset the costs of several reporter and editor positions at the newspaper -- by using the easy options below. Gifts processed in this system are not tax deductible, but are predominately used to help meet the local financial requirements needed to receive national matching-grant funds.
Subscribe to the sports newsletter
Get the day's top sports headlines and breaking news delivered to your inbox by subscribing here.
---