News > Idaho
Leaders behind 'Add the Words' terminate PAC
UPDATED: Mon., July 16, 2018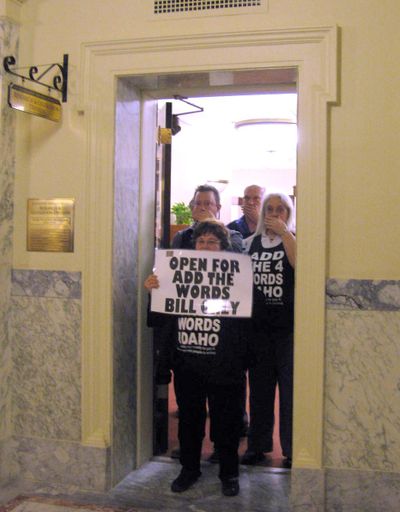 BOISE – A group that has long pushed for Idaho lawmakers to pass legislation to protect lesbian, gay, bisexual and transgender people from employment and housing discrimination has shuttered its political action committee.
The PAC was terminated in June because organizers are currently working to broaden the group's platform and change the name, said Chelsea Gaona-Lincoln, the chair of Idaho's Add the Words.
"We are getting our ducks in a row," Gaona-Lincoln said. "We're making internal changes."
Gaona-Lincoln declined to disclose the upcoming changes, but said the group would unveil the new look and focus of the group soon.
The Add the Words PAC was originally launched in 2011. The most recent campaign disclosure report showed the group raising a little more than $2,000 in 2016 and had $1,000 remaining cash balance. The group didn't file a campaign disclosure report this year during the primary election season
The original purpose of the group was to lobby lawmakers to add the words "gender identity" and `sexual orientation" to the Idaho Human Rights Act, according to the Add the Words' website. The law bans discrimination based on race, sex, color, religion and national origin in housing, employment and public accommodations.
But that effort has been blocked for more than a decade because the state's Republican-controlled Legislature is concerned the amendment could infringe on religious freedoms.
Activists gained ground in 2015 when GOP legislative leadership agreed to introduce a bill that would have added the four words to the Human Rights Act. But the proposal died on a party-line vote after a multiday hearing that included hours of emotional testimony from people across the state. Attempts since then to find a compromise proposal between lawmakers and activists have failed to gain traction.
Currently, 20 states have passed anti-discrimination laws that include sexual-orientation and gender-identity protections. A handful of states have laws banning discrimination just based on sexual orientation.
However, Idaho is one of 20 states in a federal circuit with a ruling explicitly interpreting existing federal bans on sex discrimination to include discrimination based on gender identity. This means the Idaho Human Rights Commission can investigate possible sexual orientation or gender identity discrimination allegations regarding employment under federal law – housing and public accommodations are not included.
Meanwhile, 12 Idaho cities have bypassed the state and approved their own anti-discrimination laws.
Local journalism is essential.
Give directly to The Spokesman-Review's Northwest Passages community forums series -- which helps to offset the costs of several reporter and editor positions at the newspaper -- by using the easy options below. Gifts processed in this system are not tax deductible, but are predominately used to help meet the local financial requirements needed to receive national matching-grant funds.
Subscribe to the Coronavirus newsletter
Get the day's latest Coronavirus news delivered to your inbox by subscribing to our newsletter.
---