News > Idaho
No more sad stories: In memory of men who drowned in Salmon River, life jacket station aims to prevent more tragedies
Mon., July 16, 2018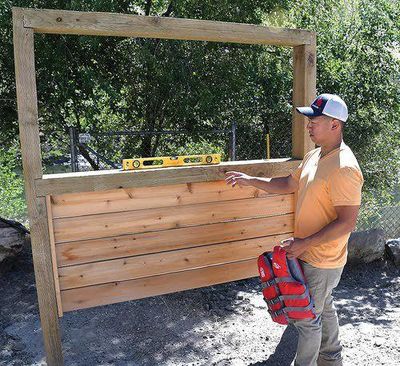 RIGGINS – Megan Richerson Lusk still has trouble remembering the dreadful three weeks between the time her husband, Patrick, and a friend disappeared in the Salmon River near French Creek and when his body was finally found by a fisherman.
"You know, it's all kind of a blur to me," Lusk said. "But I remember I was going through the motions. I was the only one that was responsible for them to check in with. So I just remember thinking: 'I have to keep myself together because I'm the contact point.' "
Even though family members were fairly certain the men had drowned, there still was a part of her that feared they might be lost in the woods or injured and suffering somewhere along the bank.
"Looking back on it, it's all just really a blur, those three weeks," she said. "I don't have a lot of memories."
In mid-May, 2015, Patrick Lusk, 27, and Jason Gritten, 35, both of Coeur d'Alene were canoeing on the Salmon River near French Creek, about 18 miles east of Riggins, when their canoe capsized and the men were swept downstream.
Gritten's body was located two weeks later about 9 miles from where he disappeared. Lusk's body was found another week later about a mile downriver from French Creek.
Neither of the men was wearing a life jacket.
Last week Lusk, 29, oversaw a lasting tribute to her husband and his friend erected at the Riggins City Park. Beside a plaque mounted on a rock at the park near the boat ramp is a new life jacket loaner station, a project initiated by Lusk and installed by the boating safety division of the Idaho Parks and Recreation Department.
"I never really noticed it in the past, but it was one of those things – 'Oh, this is a sad story'- every time I read in the newspaper that somebody drowned down there," Lusk said.
After reading about a 26-year-old man who drowned near where Lusk and Gritten disappeared, Megan Lusk decided to do something about it.
She contacted the Idaho agency and found out about the life jacket program.
Sam Hoggatt, boating education safety coordinator for the department, said the life jacket loaner program has been operating in Idaho since 2010.
"We build the loaner stations and get all the life jackets, so it's no cost to anybody else," Hoggatt said.
"It provides public access to free life jackets that (people) can use for the day and return at the end of the day," he said. "That way if people show up and they don't have them, we'd prefer, obviously, that they wear them on the water."
The Riggins life jacket station is the 109th to be installed in Idaho since the program began.
Hoggatt said money for the stations comes from a U.S. Coast Guard grant, and the cost of installation is about $700, not including the life jackets. Once the station is in place, he added, the department will replace used or missing life jackets.
Vandalism and theft, so far, have not been much of a problem. Hoggatt said occasionally life jackets will not be returned, but he suspects it's mostly because people who borrow them forget about them, rather than intentionally take them.
"So it's a pretty good public program," he said. "We're not having all the life jackets disappear on a weekly basis. They are getting returned. It's awesome."
Data on whether the life jacket stations have saved lives is not available in Idaho, but Hoggatt said in Alaska, which has had the program for many years, there is evidence that there has been a decrease in boating fatalities and drownings since the stations were installed.
"We always are a proponent for making sure people are safe on the water," he said. "They need to have all the required safety gear, and life jackets are a huge part of that. So it gives people an opportunity to not only obey the law, but have a safe opportunity for their family and friends. And it's right there in front of you, so you might as well take advantage of it."
For Matt Laine, a member of the Riggins dive team who has helped recover many drowning victims from the Salmon River, the life jacket station, "is 20 years too late. I own a rafting business, and I loan life jackets daily. So I think it's just a good thing to have for Riggins and for all we've been doing for whitewater rafting. I've never pulled a body out of here that had a life jacket on."
Brenda Tilley, Riggins city clerk, said the program won't cost the citizens of Riggins anything, but will benefit the community hugely.
"It's been a long time coming, and so if it saves one life it's worth it," Tilley said.
Lusk said seeing the life jacket station in place will be a way for her to find some peace from her own loss.
"I don't want this to be as much about my story as about the education and awareness that (the river) is a dangerous area, and you have to exercise caution," Lusk said. "Eighty percent of the victims who drown in accidental drownings are male, and I just want the word to be out that men are not invincible. It's more manly to wear your life jacket and come home to your family than it is to drown.
"I want to tell people that it is an important thing to do."
Local journalism is essential.
Give directly to The Spokesman-Review's Northwest Passages community forums series -- which helps to offset the costs of several reporter and editor positions at the newspaper -- by using the easy options below. Gifts processed in this system are not tax deductible, but are predominately used to help meet the local financial requirements needed to receive national matching-grant funds.
Subscribe to the Coronavirus newsletter
Get the day's latest Coronavirus news delivered to your inbox by subscribing to our newsletter.
---