A&E > Stage
Review: Spokane Valley Summer Theatre's 'Into the Woods' teaches audiences a valuable lesson
July 16, 2018 Updated Tue., July 17, 2018 at 8:45 a.m.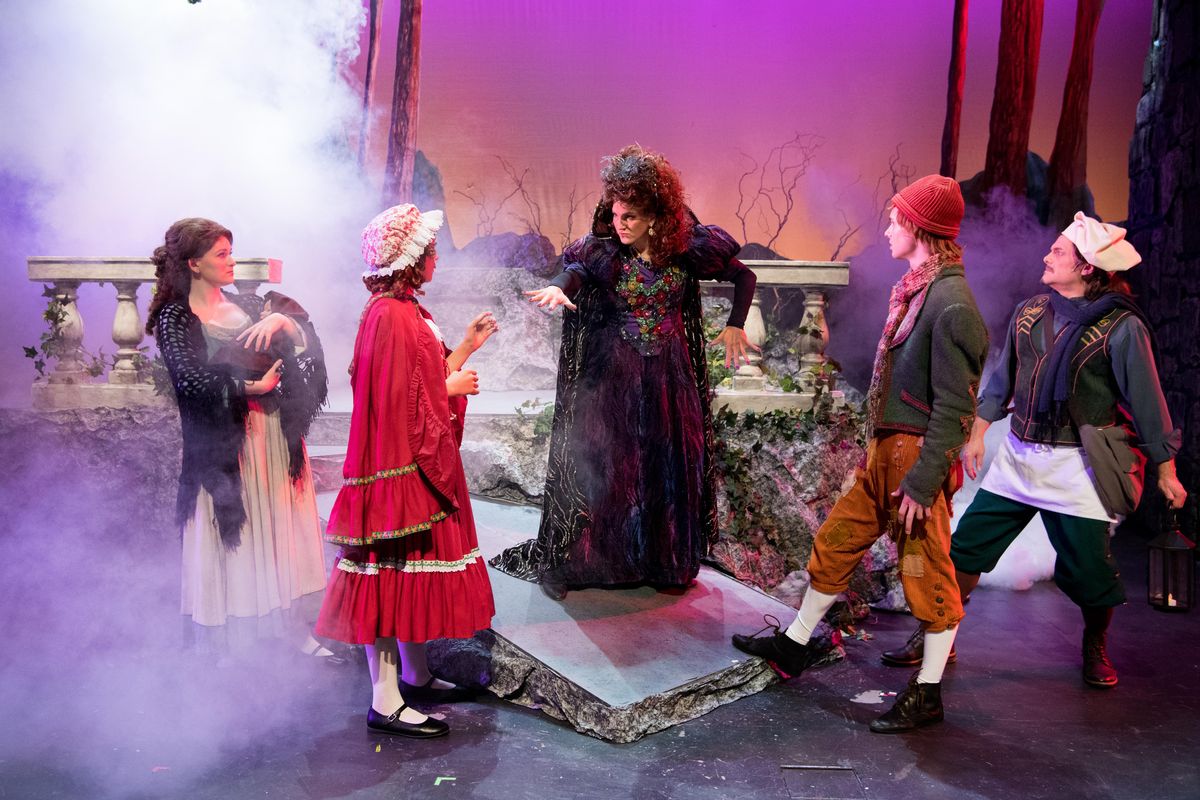 Andrea Olsen, center, playing the part of the Witch, center, acts out a scene from the Spokane Valley Summer Theatre's musical, "Into the Woods" with, from left: Callie McKinney Cabe, playing the Baker's Wife; Noelle Fries, playing Little Red Ridinghood; Kyle Adams, playing Jack; and Michael J. Muzatko at Central Valley High School in Spokane Valley. (Tyler Tjomsland / The Spokesman-Review)
If anyone should be reminded to be careful what they wish for, it's the characters in "Into the Woods."
The musical, which features a book by James Lapine and music and lyrics by Stephen Sondheim, follows fairy tale characters from stories by Charles Perrault and the Brothers Grimm as they make a wish and, at the end of Act 1, receive exactly what they hoped for.
But it also deals with the unexpected consequences of receiving those wishes, which is where the stories we're familiar with get turned on their heads.
The cast and crew of Spokane Valley Summer Theatre's production of "Into the Woods," which is directed by Yvonne A.K. Johnson, did a wonderful job of bringing the musical's fantastical elements to life.
From the get go, Michael J. Muzatko's scenic design and set construction by Eric Rorholm, Lydia Fout and Will Long, including individual sets for Cinderella, Jack, and the baker and his wife, looked like scenes pulled straight from a book of fairy tales.
The woods too were impressive, with a giant tree on stage right and Rapunzel's tower on stage left.
Cinderella's dress featured a magical transition from dirty and plain to a festival-ready gown, shadow play made the giant seem life-sized, and Linay Robison's animatronic two-person Milky White costume, with its blinking eyes and wagging tail, brought life to what could have been a very bulky set piece.
On the subject of Milky White, props to Piper Burney and Gunnar Rorholm for navigating the set, and dancing, while in the cow costume.
But of course, you can't rely on special effects to carry a show; you have to have a strong cast.
Jennifer Tindall and Gracie Dibble, with their crystal-clear voices, made for the perfect Cinderella and Rapunzel, respectively, and Kyle Adams, himself a strong singer, especially during "Giants in the Sky," was great as the somewhat naive Jack.
Singing through a wolf mask was no problem for Austin Burrowes, and Darnelle Preston played Jack's mother with the perfect mix of love and exasperation.
Muzatko as the baker and Callie McKinney Cabe as the baker's wife, both of whom have fantastic voices, were just right in their roles, showing how far hopeful parents would go for a child.
Noelle Fries, a talented singer, added a lot of humor to the show as Little Red Ridinghood, who could often be found skipping and singing with her mouth full of sweets, and Paul Villabrille was great as the narrator, who reluctantly gets pulled into the action near the end of the musical.
Clark Marchese (Rapunzel's prince) and Cameron Bonsignore (Cinderella's prince), brothers who are less than charming, as it turned out, were especially fun to watch, as were Amy D'Orazi and Emma Larson as Cinderella's stepsisters Florinda and Lucinda and Tamara Schupman as Cinderella's stepmother.
Dennis Craig's role as Mysterious Man was small but impactful, especially during "No More" with Muzatko, and, no surprise there, Andrea Olsen shined as the witch, both pre- and post-curse.
Music director David Brewster and the orchestra tackled the Sondheim score with ease, and lighting designer and light board operator Logan Tiedt deserves a special shoutout for handling the show's many, many light cues.
"Into the Woods," like all stories must, eventually comes to an end, though it's an ending none of the characters envisioned for themselves in the beginning.
They've dealt with the consequences of their wishes and have learned a valuable lesson, which they share during the finale "Children Will Listen": "Careful the wish you make."
Local journalism is essential.
Give directly to The Spokesman-Review's Northwest Passages community forums series -- which helps to offset the costs of several reporter and editor positions at the newspaper -- by using the easy options below. Gifts processed in this system are not tax deductible, but are predominately used to help meet the local financial requirements needed to receive national matching-grant funds.
Subscribe to the Spokane7 email newsletter
Get the day's top entertainment headlines delivered to your inbox every morning.
---