Wildlife experts say cute goat selfie on Scotchman Peak is dangerous, irresponsible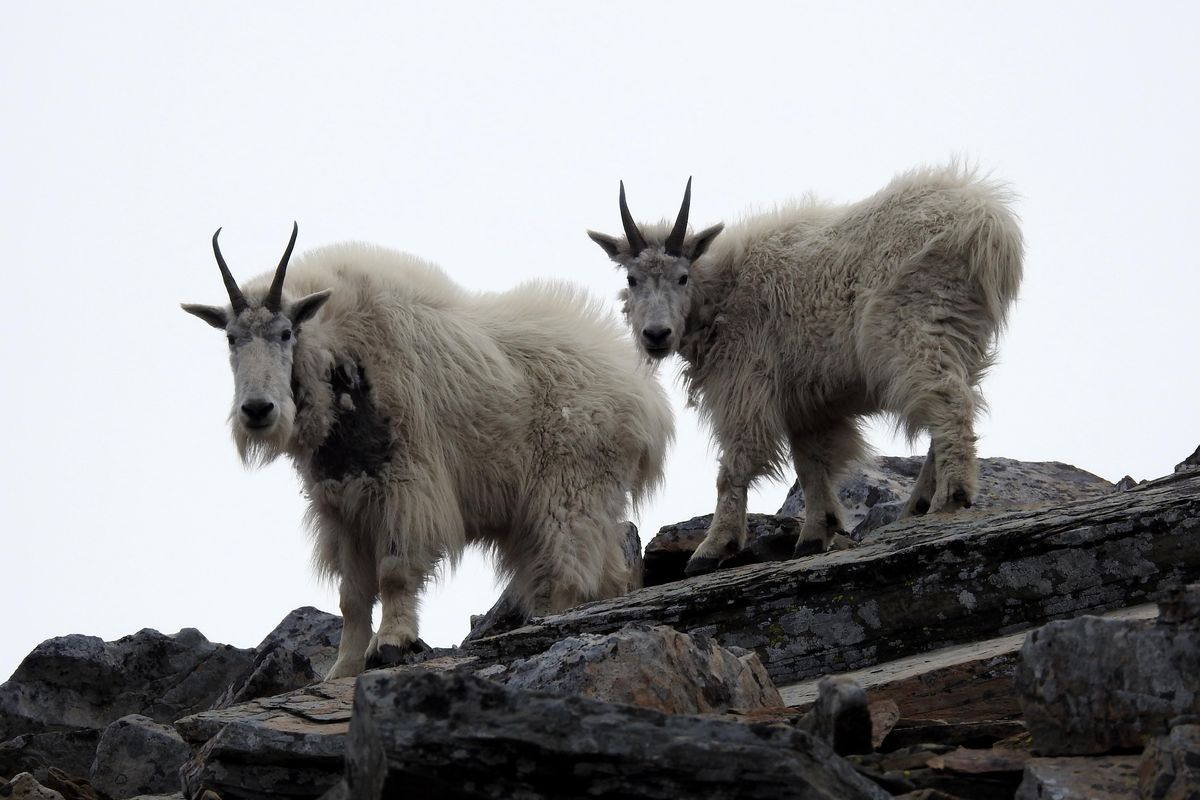 Buck Alderman just doesn't get it.
On Tuesday, the Post Falls resident hiked up Scotchman Peak northeast of Clark Fork, Idaho. On the way up a group of mountain goats approached him. They didn't seem aggressive, Alderman said, so he let the goats flock around him. Some licked the salt off his skin.
In one of the photos he took, he's grinning while a goat licks his face.
When he returned home, he posted the photos and a short video to the Facebook group North Idaho Life. As any outdoor enthusiast worth his salt would.
The photos quickly went viral, tallying more than 1,000 likes and 100 shares in just a few days. The photos and video garnered mostly positive comments.
But the truth is, the photos promote dangerous and irresponsible behavior, according to officials with Idaho Fish and Game, the U.S. Forest Service and the Friends of Scotchman Peaks.
Behavior that, in the past, has ended with people, or goats, killed.
"It has ramifications," said Phil Hough, executive director of the Friends of Scotchman Peaks Wilderness. "The real-world ramifications are it could lead to hiker injury, death, lethal removal of the goat or closure of the trail."
The issue is one of habituation. Wild animals are by nature wary of humans. In the case of the Scotchman Peak goats, they're overcoming their natural wariness of humans in an effort to get salt.
"While they may seem cute and furry, they're not. They're salt addicts," Hough said. "They're overcoming their natural fear in order to lick salt."
Once the goats become accustomed to humans giving them what they want – salt – they can become aggressive and violent if denied.
One person alone isn't going to make that happen, Hough said. But when amplified on social media, as Alderman's photos were, the issue can quickly get out of hand. Alderman is hardly the only person to promote the dangerous behavior on social media, Hough said.
"By glamorizing it, which social media does, it encourages that behavior in others," he said.
Hough's worries are not unfounded. In 2010, a goat killed a man in Olympic National Park. More recently, Scotchman Peak was closed to hikers after a goat bit a hiker.
Shoshana Cooper, a spokeswoman for Idaho Panhandle National Forests, said the decision to close the trail in 2015 was made to allow the "goats to not rely on humans as a salt source."
"I think people think that just because the goats approach you it's OK," she said. "But that's part of being responsible. Not allowing them to approach you."
Biologists estimate there are about 15 goats living on or near Scotchman Peak. The goats are a major draw for hikers.
Officials recommend hikers stay 100 feet away from the goats, which Cooper points out is still close enough to enjoy the wildlife. If goats do approach, it's recommended you yell, wave clothing or otherwise try to scare them.
Despite the concerns expressed by the experts, Alderman remained defiant in an interview Thursday.
"I really don't care if people are mad. I didn't do anything wrong," he said in a message. "I was reading the body language of the animals. I was sitting down enjoying the view and then they all came up and over to me in a nonaggressive way just grazing their way up to me and so I took advantage of the situation and got a few photos. Those people that are angry can enjoy nature in their own way. I'm going to continue to enjoy it my own way."
There isn't anything Hough or others can do to stop Alderman. Signs all along the Scotchman Peak trail warn people to leave the goats alone. The goat ambassador program stations volunteers along the trail during the weekends and holidays.
Chip Corsi, Fish and Game's regional manager in Coeur d'Alene, pointed out that despite what Alderman might think, his actions don't only impact him.
"When people habituate wildlife, especially wildlife that is roughly as big as people are and have sharp objects on their head, maybe you're putting yourself at risk and in a sense that's your business if that's what you want to do," Corsi said. "But you're also putting other people at risk."
---