Sports
Grip on Sports: Memories of the home run derby need to be dusted off and updated for the next generation
Tue., July 17, 2018 A GRIP ON SPORTS • Somewhere in a storage locker on Spokane's South Hill sits a box. It contains as many VHS tapes as would fit. And among those tapes are eight special ones. Every home run derby Ken Griffey Jr. ever appeared in. Read on.
••••••••••
• If you had a child born around here in the 1980s, chances are he or she was a fan of Junior. And the odds are good they became a mega-fan.
After all, Junior was baseball cool. The best all-around player of his generation. A trendsetter. The brightest smile in the West.
He was who every young baseball player wanted to be.
My sons were no exception. Heck, one of them built his left-handed swing around Griffey's, no matter how many times his father tried to explain to him Junior was a once-in-a-generation talent and other players should probably find a swing that better fit their abilities.
He didn't listen. After all, that swing produced 630 career home runs (sixth all-time), back-to-back 56 home-run seasons and three home run derby championships.
The derby back in the mid-1990s to the early 2000s was a must-see event. Sure, many of the participants had bodies built by BALCO – their motto: better hitting through chemistry – but that was OK for an exhibition event like the derby. The ball always seemed to be flying far into the night.
Griffey won the derby in 1994, 1998 and 1999. Which happened to coincide with the prime youth baseball years of my sons. And, to be honest, my prime softball-playing years as well. So the derby, and the all-star game as well, was oftentimes preempted on the family schedule by a game somewhere.
But that didn't stop this family. No sir.
Thanks to the magic – or was it cutting-edge technology? – of the aptly named Video Cassette Recorder, the derby could play out when it did and then be waiting for us when we got home. Plus, if we wanted, we didn't even have to watch the commercials, though I'm sure there was some subliminal message absorbed as they passed by in double or triple speed.
But it wasn't just those first viewings late at night that mattered – even if they were really cool because the four of us would gather together to watch, sharing a small snack and large oohs and aahs.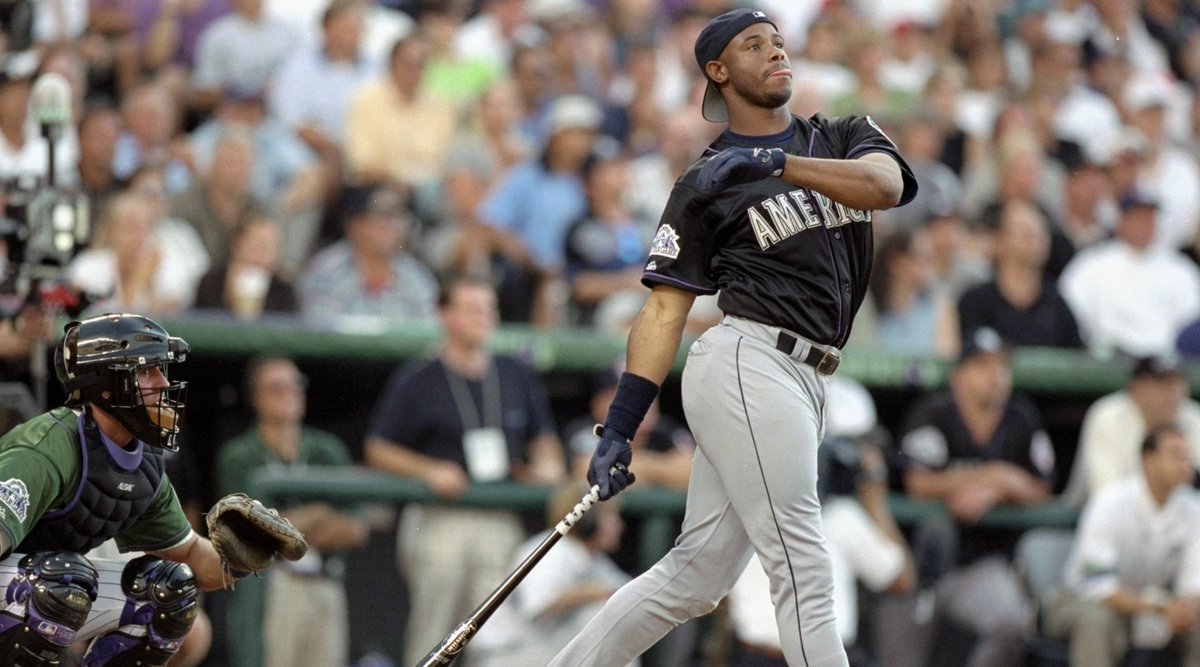 It was the next few weeks that really mattered. Ty would pad down to the TV room, pull out the tape that was labeled with the year (always followed by "Home Run Derby – Griffey!") and pop it into the VCR. He would sit in front of the TV set again and again, playing that tape, watching Griffey's stroke and then imitating it off the batting tee in the basement. 
Or maybe he would just watch the competition. It had to be fun to root for the eventual winner – or runner-up, as Junior did that three times as well. 
Whatever the motivation, the derby was there for him to watch whenever he wanted. And they were there until he went off to college – or the last VCR we ever owned gave up the ghost. Then, like Woody and his Toy Story pals, they were boxed up and put into storage.
One of these days I'm going to grab those tapes, have them converted to a newer technology and give copies to my sons as birthday or Christmas gifts. 
It may not seem like much but maybe someday they will gather their own son or daughter close, pop in the video stick or whatever technology is in use then and watch the best swing in baseball history explode off the screen.
And they can tell their children of their childhood, when they watched Junior do his thing with their mom and dad.
• The derby was held last night in the nation's capital. Hometown hero – for this year at least – Bryce Harper won the darn thing by seemingly hitting more home runs in 40 seconds than Mark Belanger did in an 18-year career. 
Tonight, baseball's All-Star Game will be held in D.C. It is the best of the professional star reviews, though that's not a high bar to hit. But its importance is more about earning the honor than the game itself. Being an "All Star" is a label that's next to your name forever.
Our buddy Howie Stalwick put together an all-star team composed of players who attended Washington high schools. It's fun to read.
•••
WSU: The middle of summer is Watch List season in college football, as every postseason award puts out a long list of players who the award selectors are considering. Now. Other names are added later. That doesn't mean making a list isn't an honor. It is. And the Cougars' Jalen Thompson is honored to be on the Bednarik Award list. Theo Lawson has more in this story. … The conference announced the weekly basketball pairings for the upcoming season with weekend dates. The Cougars open with UW and then travel to Colorado and Utah. It's a tough start. Theo has all the particulars. There are also stories about the pairings concerning Washington, Utah, USC and UCLA. … Elsewhere in the Pac-12, Oregon State is the latest school to suspend relations with Papa John's pizza. … Colorado will be young at outside linebacker. … A former USC player's burglary case is moving forward. … Utah has added a veteran head coach to its football staff. … Arizona picked up a basketball transfer.
Gonzaga: A couple of former GU players will face off in the NBA summer league championship game.
EWU and Idaho: The Big Sky Conference held its annual football media day on Monday and it was in Spokane. Ryan Collingwood was at the DoubleTree Hotel for the event and has a couple stories, including the news Eastern is the consensus pick to win the title. … John Blanchette was also there. His column focuses on the new Montana coach, Bobby Hauck, who also happens to be an old Montana coach. Hauck hopes to bring the Griz back to prominence. …There is coverage of the media day in other places around the conference, including from Montana, Southern Utah, North Dakota, Weber State and Idaho State.
Indians: One of these days Spokane will win a road game. It wasn't last night, though, as the Indians lost 7-4 at Everett. The AquaSox have a two-game lead in the North. … Around the Northwest League, Eugene rallied past visiting Salem-Keiser.
Mariners: The M's have four players in tonight's All-Star Game. Two of them, Jean Segura and Mitch Haniger, came to Seattle via one trade. … The M's still have one goal: to make the postseason.
Seahawks: Earl Thomas took to social media yesterday to put some pressure on the Hawks. He wants a contract extension or a trade.
•••        
• We are going to be on the road for the next week. It's vacation time. Not from this column, though. We will take one day off – Thursday – but otherwise have a post each day. Until later … 
Local journalism is essential.
Give directly to The Spokesman-Review's Northwest Passages community forums series -- which helps to offset the costs of several reporter and editor positions at the newspaper -- by using the easy options below. Gifts processed in this system are not tax deductible, but are predominately used to help meet the local financial requirements needed to receive national matching-grant funds.
Subscribe to the sports newsletter
Get the day's top sports headlines and breaking news delivered to your inbox by subscribing here.
---