Sports > National sports
Courtney Vandersloot has taken her game, leadership skills from Gonzaga to the WNBA
Wed., July 18, 2018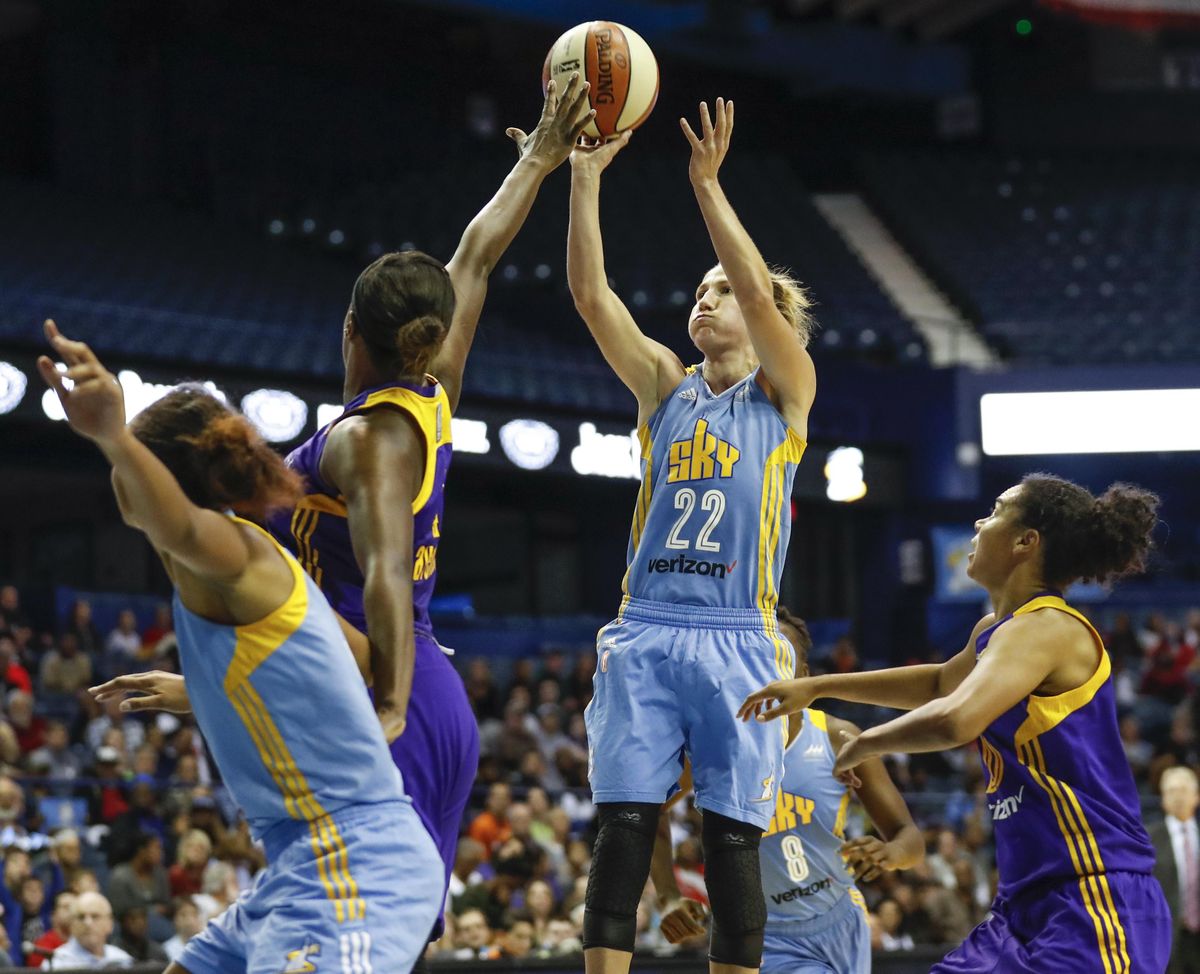 Chicago Sky guard Courtney Vandersloot shoots against the Los Angeles Sparks during the second half of Game 3 of the WNBA basketball semifinals, Oct. 2, 2016, in Rosemont, Ill. (Kamil Krzaczynski / AP)
LAS VEGAS – When Courtney Vandersloot steps on the court at KeyArena in Seattle, there is always a moment before the ball goes up, while players high-five one another and the crowd intensifies, that she enjoys one of life's simple pleasure.
Coming home.
When she steps on the court Wednesday in Chicago with a struggling Sky team that has lost six of seven since a three-game win streak closed out June, there will be no warm and fuzzy feeling.
Welcome to Chi-town.
The Kent, Washington, native appreciates the team from her hometown, but business is business, and the Sky have their hands full against a Seattle team (16-6) that sports the WNBA's best record and has won eight of its last 10.
Vandersloot, who leads the league with 7.7 assists per game and ranks sixth in the league in 3-point percentage (42.3), continues to jockey with Minnesota's Tanisha Wright for 12th all time in assists. Vandersloot currently leads 1,265-1,259.
While the milestone stats are nice, Vandersloot said the most elusive notch on her WNBA belt has been a championship. The Sky have been to the WNBA Finals one time, losing in 2014 to the Phoenix Mercury. They returned to the postseason the next two seasons and missed the playoffs last year.
Now Vandersloot is hoping she can help her young teammates get focused on the critical things they should know, taking step by step, and learning roles.
"Definitely competing for a championship is what every athlete works hard for. Right now, it's just getting this franchise into a situation where we are competing for a championship," Vandersloot said. "It's not gonna come overnight. We're young. Me, I'm just trying to get better every year, trying to understand the game better. I feel like at this point in my career I'm understanding the game a lot better than I was early on."
That's what makes her a role model on the team, and essentially an extension of the coaching staff on the floor.
Chicago coach Amber Stocks said Vandersloot is extremely valuable to the franchise because she represents the pinnacle of competitiveness and work ethic, with the ability to play to her strength and play within herself.
"She does all that so well on the court, and represents the city of Chicago extremely well," Stocks said. "Sloot is a great person. Her teammates just adore her. But at the same time, they know, she's gonna get on them on both ends of the court if something isn't up to standard."
On July 5, in a road game against the surprising Las Vegas Aces, it only took a couple of minutes before Vandersloot had a reason to become vocal with rookie Diamond DeShields, who made a defensive mistake. Within seconds, Vandersloot was mentoring.
"I respect her, so of course I just say, 'OK, I understand,' " DeShields said. "It's all love. She only wants the best for me and for this team. So when she speaks, we listen."
That's because Vandersloot exudes a sense of confidence that is contagious, clearly apparent when watching teammates on the floor with her. Vandersloot seems to take away any hesitation or uncertainty her teammates have just by being on the court. Sky players know they have an experienced point guard who allows them to play the way they do and lends tutelage when necessary.
Vandersloot, a three-time West Coast Conference Player of the Year at Gonzaga, said she chooses her words wisely when pressing her teammates, and it's only when she deems it necessary and her mentoring is warranted. She said she won't correct anyone just to exert her leadership, because she's not comfortable being vocal. At least not off the court.
"You won't hear me talking a lot, because that's not me. It doesn't come natural, but on the court it does," Vandersloot said. "I want it to be raw, I want it to be genuine. I'm not just gonna blow smoke."
As humble as she is, Vandersloot said she strives to be a better leader every time she steps on the floor. This is what she's dreamed of her entire life, including in the third grade, when she wrote a school paper about playing in the WNBA.
That's why the thing she's most proud of is the longevity of her career in a league that features many of the best women's basketball players in the world.
"There was a point in college that I didn't even think I could be in the WNBA," she said. "There was a point in my rookie year that I really felt like I wasn't good enough. For some reason, I still feel like the underdog. I'm always trying to make sure I stay here.
"There's a lot of players that should be in the league that aren't. We just don't have the spots for them. I just continued to work hard, did things the right way and now this is my eighth season for the same team. I'm proud of that."
Local journalism is essential.
Give directly to The Spokesman-Review's Northwest Passages community forums series -- which helps to offset the costs of several reporter and editor positions at the newspaper -- by using the easy options below. Gifts processed in this system are not tax deductible, but are predominately used to help meet the local financial requirements needed to receive national matching-grant funds.
Subscribe to the sports newsletter
Get the day's top sports headlines and breaking news delivered to your inbox by subscribing here.
---