A&E > Art
Ballet Arts Academy welcomes Icelandic dance students for the summer
July 20, 2018 Updated Mon., July 23, 2018 at 10:27 a.m.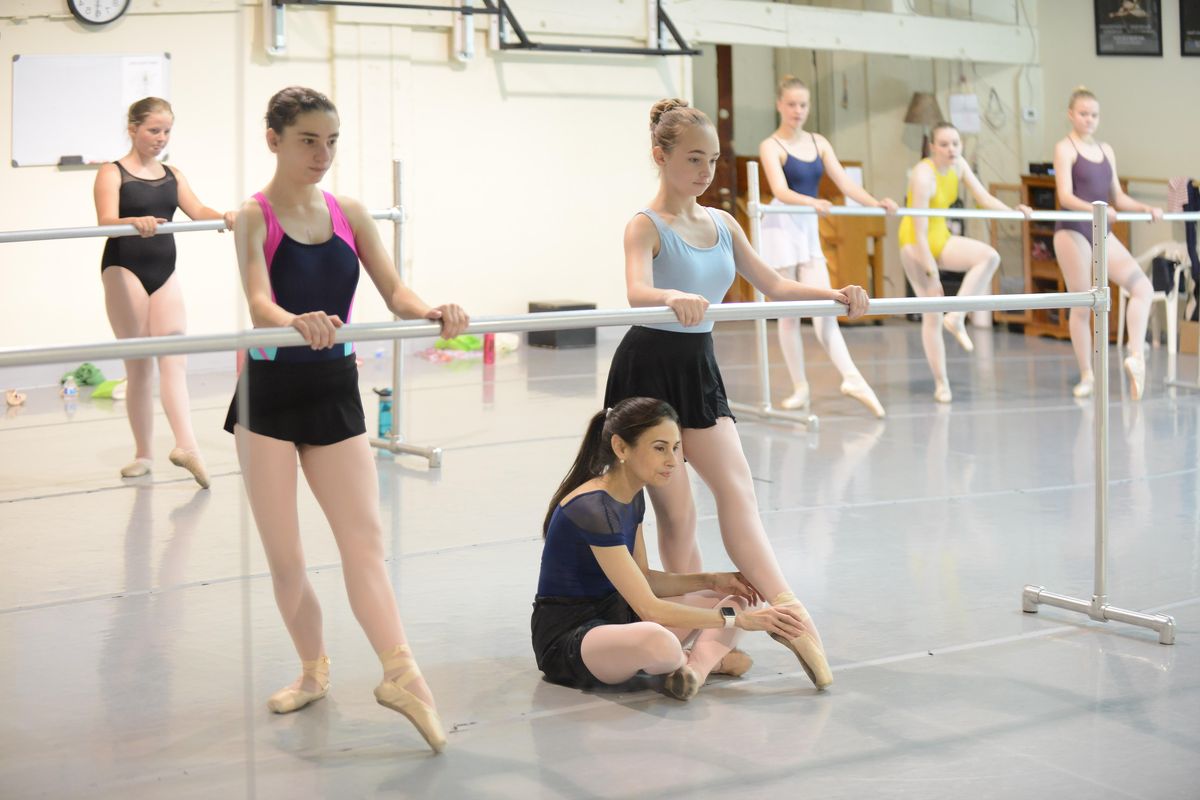 Mimi Ewers, director and owner of Spokane's Ballet Arts Academy, assists students in doing a tendu. (Courtesy of James and Kathy Mangis)
Spokane's Ballet Arts Academy is in the midst of its summer dance intensive, and although the three-week dance program is a yearly event for BAA, this year is unprecedented. The dance studio will become a second home to nine Icelandic dance students for the duration of the intensive period.
"I want to open the world to all the kids I teach," said Mimi Ewers, the director and owner of BAA.
The students from Reykjavik, Iceland's classical dance school will get to experience dance in a different country, meet new friends and explore everything the Spokane area has to offer.
"The positive repercussions are infinite," Ewers said in a news release.
Teresa Era, 15, and Birgitta Mariudottir, 13, are among the visiting dancers. Both have been dancing for years and dream of careers as professional dancers.
Era and Mariudottir believe their international experience this summer will help them to achieve their goal. The ability to embrace learning from new teachers and the opportunity to experience a variety of classes will be an advantage in their training, they said.
"We do different types of classes. They teach differently. They do conditioning and pilates. In Iceland, we only have ballet and contemporary and pointe," Era said.
Ewers noted the differences in training. American dance schools emphasize different aspects of movement than other schools around the world.
"I think they are going to grow from this experience … go out of their comfort zone. It's a great experience from all aspects," said Ragna Maria Aradottir, who accompanied her daughter and the other dancers on the exchange.
The students are welcoming each opportunity for growth with open arms.
Spokane BAA students also have much to gain from the exchange, Ewers said. Befriending and learning alongside Icelandic dancers will expose them to a different culture, opening them up to new ways of thinking and seeing the world.
"They all learn from each other," she said. "They are working very, very hard and they are getting so much out of it."
All students participating in the summer intensive arrive at the dance studio at around 11:45 each morning. The day starts with 30 minutes of conditioning, followed by 1 1/2 hours of ballet technique and one hour of pointe. The dancers then get time for lunch, and in the afternoon they take a variety of classes ranging from flamenco to ballet partnering. Classes continue until 5 p.m., when the dancers have time to explore Spokane and the surrounding areas.
The Icelandic students said they are particularly enjoying the warm weather in Spokane and mentioned swimming in Clear Lake as a favorite experience thus far.
"(The weather) is warmer and drier," Era said. "There are big trees. In Iceland, there are not many big trees."
The dancers have also been to Riverfront Park, shopping downtown and to a cooking and nutrition class held by local chef LJ Klink.
The partnership between BAA and Klassiski Listdansskolinn began last August when Ewers went to the annual teacher training at the Central Pennsylvania Youth Ballet. She met Soley Frostadottir and Hrund Eliasdottir, two teachers from the school. Ewers was planning to travel to Iceland the following month and was invited to be a guest teacher at the Icelandic dance school.
"It was fantastic because the different schools of ballet around the world have particular nuances," Ewers said. She then began to consider how the Icelandic students – and her students at home – could benefit from exposure to these nuances.
Ewers proposed the idea of a student exchange program to Hrafnhildur Einarsdottir, the director of Klassiski Listdansskolinn; this summer's dance partnership is the inaugural event.
"It has been definitely exciting to see the dream crystallize," Ewers said.
There are plans in the works for BAA students to travel to Iceland next summer to study in Reykjavik.
"It brings up so much potential for anything in the future," Ewers said. "It's the exposure of a different country, a different culture. Now (the students) will be curious: 'We want to see Iceland. We want to see the world.' "
Local journalism is essential.
Give directly to The Spokesman-Review's Northwest Passages community forums series -- which helps to offset the costs of several reporter and editor positions at the newspaper -- by using the easy options below. Gifts processed in this system are not tax deductible, but are predominately used to help meet the local financial requirements needed to receive national matching-grant funds.
Subscribe to the Spokane7 email newsletter
Get the day's top entertainment headlines delivered to your inbox every morning.
---