News > Spokane
Spokane's newest soul food eatery aims to impart life skills to teens
Fri., July 20, 2018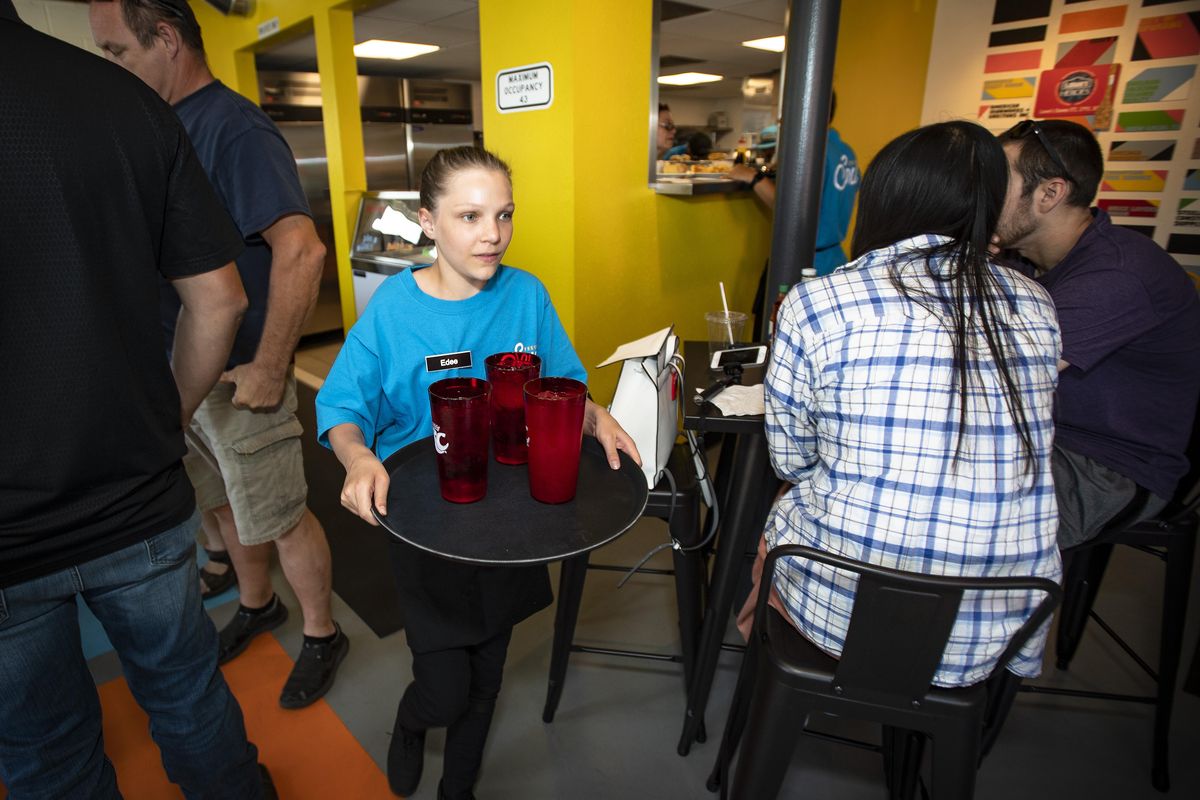 During the grand opening of Fresh Soul, a new soul food restaurant in Spokane's East Central neighborhood, Edee Morse, 14, brings water to patrons Thursday, July 19, 2018. Morse is one of the teens ages 14 to 18 that earn minimum wage at Fresh Soul as they take part in a 16-week-long internship and tutor program. (Colin Mulvany / The Spokesman-Review)
As an employee at Fresh Soul, Spokane's newest soul food restaurant, Edee Morse, 14, said she's happy to be learning real skills like food safety.
"Otherwise, I'd probably just be sitting down on the couch," she said.
Morse, along with Jacob Robins and Ashley Niewald, joined the Fresh Soul team for the restaurant's grand opening on Thursday afternoon, at 3029 E. Fifth Ave., where a crowd of about 60 buzzed with anticipation for the their first bites. The restaurant is set apart by its youth training programs, where young people can earn minimum wage while acquiring life skills.
The smell of smoked ribs and collard greens drifted through the multicolored building on Thursday.
Robins, 16, said working at Fresh Soul has helped him in his day-to-day life with organizational and cleaning skills.
"I'm excited," he said. "It's a new and different restaurant."
The staff starts students off slowly, teaching them restaurant-business basics like worth ethic, politeness and timeliness, said Sandra Roberson, the restaurant's assistant manager.
Niewald, 16, considers herself a shy person. But training at Fresh Soul has helped her break out of her shell, she said.
"I am more open," she said. "It's amazing that I can talk to people."
Fresh Soul is the third program hosted by Fresh Soul's nonprofit ownership company, the Spokane Eastside Reunion Program. The program also hosts a basketball camp and provides tutoring, in which Morse, Robins and Niewald all heard about Fresh Soul.
Staff member MacKenzie Hamilton has helped train the three students and has seen them become more confident. "Seeing them doing things successfully that they practice," she said, "that's what excites me."
As 3 p.m. rolled around, the three students and the professional staff were slammed with orders, but they carried on with their dishwashing, busing and hostessing duties, just as they were trained to do.
Lowe's Home Improvement has been a major sponsor of Fresh Soul in its three and a half years of development. Zane Denison, store manager of Lowe's on East Sprague Avenue, said the company donated $75,000 in products and labor.
"I'm excited about the project," Denison said while standing by the smoker. "Youth education is what (Fresh Soul) is doing here."
Mayor David Condon spoke to a crowd of about 60 outside the front door for the grand opening. He said that Brown has brought this community together.
"It's about community building," Condon said.
Local journalism is essential.
Give directly to The Spokesman-Review's Northwest Passages community forums series -- which helps to offset the costs of several reporter and editor positions at the newspaper -- by using the easy options below. Gifts processed in this system are not tax deductible, but are predominately used to help meet the local financial requirements needed to receive national matching-grant funds.
Subscribe now to get breaking news alerts in your email inbox
Get breaking news delivered to your inbox as it happens.
---