News > Spokane
Sister Paula Turnbull, artist behind many of Spokane's most iconic works, dies at 97
July 21, 2018 Updated Sat., July 21, 2018 at 8:33 p.m.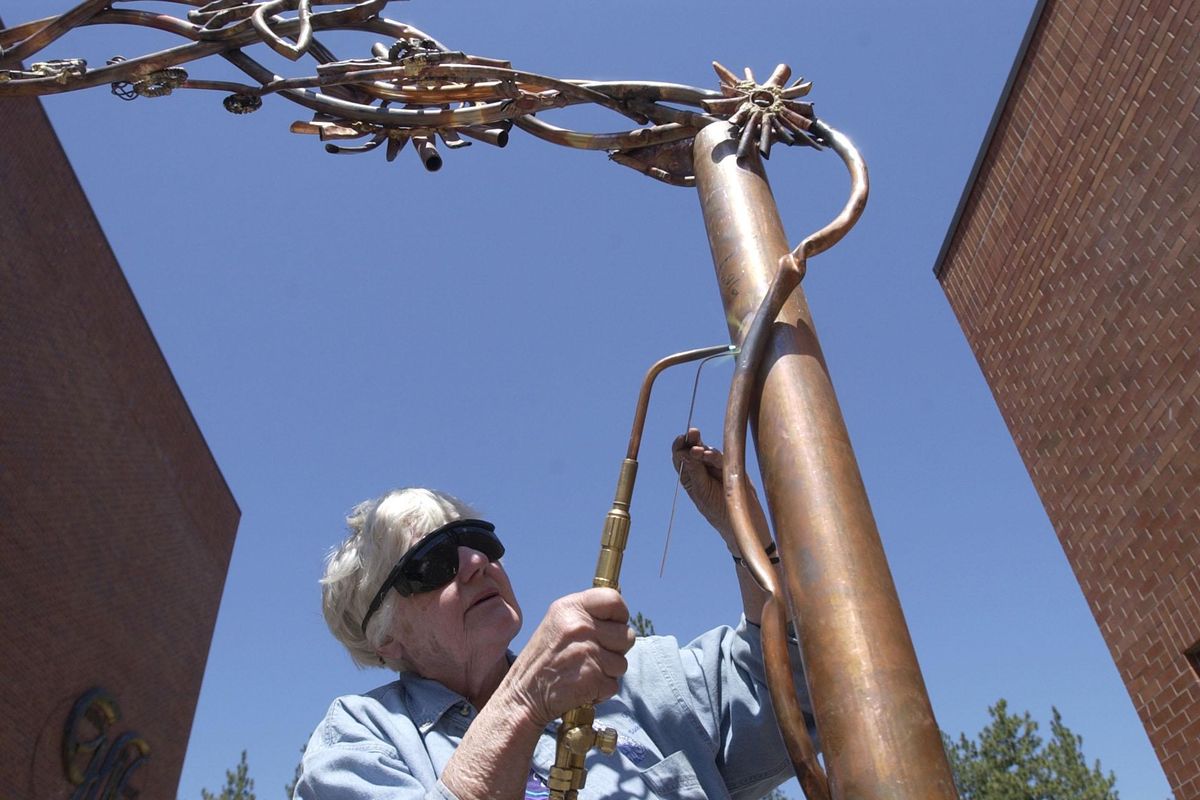 Sister Paula Turnbull welds a copper vine to an entrance gate to the Blessed Marie-Rose Garden of Life at the Convent of Holy Names. (Dan Pelle / The Spokesman-Review)
Sister Paula Mary Turnbull, the revered Spokane artist and nun who created the Garbage Goat and other iconic sculptures in Spokane and beyond, has died.
Longtime family friend Tom Keefe confirmed that Turnbull died around midnight Friday. Her health gradually had been declining for several months, he said. She was 97.
Sister Paula dedicated the last 80 years of her life to producing art and teaching others. Until her health started to fail, she lived at Spokane's Convent of the Sisters of Holy Names of Jesus and Mary. Her international fame as the "welding nun" resulted in a studio being built exclusively for her more than 25 years ago on the convent's grounds.
Sister Paula was welcoming to visitors to her studio, giving tours and holding classes. She served as a kind of creative ambassador for the other sisters there who devoted their lives to God, once writing that art and art education was her "ministry … a gift from God to be developed and shared."
Sister Paula pushed at the edges of what could be done as a woman back when she first decided to join the order. Her life as a nun was not the stereotypical picture some hold of quiet devotion and Bible reading. The artist found opportunities for creativity, education and adventure.
She worked and studied at the University of Washington (she was born and raised in Seattle), The Art Institute in Chicago, and Parsons School of Design in New York City. She broke the rules early on and stopped wearing her heavy woolen habit in the studio, making it easier to wield her hot welding torch. To the dismay of some, she nonchalantly engaged nude models for her weekly figure-drawing classes at the convent. Over the years, she took groups on highly anticipated trips abroad, guiding art history lovers through churches, museums and galleries.
Internationally recognized for her liturgical works, Turnbull was known locally for dozens of public commissions and art installations around the city, including the statue of Anna Stratton Browne and her daughter in Browne's Addition, Spokane Community College's Sasquatch statue and Central Valley High School's bear. An avid reader and thinker, Sister Paula explored God's glory in her rendering of "Cosmos – In the Beginning" in the Chapel at the Convent of the Holy Names.
"Whether it was the gates of a church or any of her statues around Spokane, her work came from her spirit and her really great sense of humor," Keefe said. "She really believed in the role of art in making life better for people. She was a great ambassador for that intersection of art and life."
While perhaps best known for her works in welded metal, Turnbull also delved into ceramics, wood carving, watercolors and numerous other media, striving not for purely representational art, but for something more contemporary. She explained in her writings that "the art of the early church was semi-abstract and sought to bring out spiritual feelings. When a work gets too realistic, it can become less spiritual."
She continued that work even in the autumn years of her life, only retiring from her studio in the spring of this year.
Turnbull's impact on Spokane extends far beyond the thousands of artworks she left behind. "I think of Sister Paula as an artist first," said artist Karen Mobley, who worked with Turnbull on several public projects. "But she was also able to live in this between-space of so many worlds – of a teacher, of a spiritual being, of an artist who is aware of the contemporary art context in which she lived, of a mentor to younger artists, of a community leader."
When she was a Holy Names college art instructor in the 1950s and '60s, Turnbull made a name for herself creating liturgical works for public and private places all over the region, including birch figures on mahogany crosses, ceramic holy-water fonts, walnut statues for cemeteries, welded saints made out of bronze and gates for private homes.
In 1972 she was named to the Expo Visual Arts Advisory Committee, which led the effort to install sculptures at the 1974 World's Fair. Her work to bring more than a dozen quality large-scale art pieces to Riverfront Park to benefit those walking along the river has endured to this day. She once told The Spokesman-Review that she particularly appreciated the sculptures by Harold Balazs and George Tsutakawa, which still exist.
Turnbull's own Garbage-Eating Goat that she created for Expo '74 may be the most memorable. At a 40th birthday party held for the metal farm animal in 2014, the City of Spokane Parks & Recreation Department estimated that the goat had eaten more than 14,000 yards of litter in four decades, while delighting generations of children and their parents.
"She nailed it," said Spokane artist Ken Spiering, as his own 27-foot-long red Radio Flyer wagon sculpture approaches its 30th anniversary. "Sister Paula absolutely nailed it in terms of how to create a public piece that was loved by everybody, that was functional, and that would perpetuate itself by people caring for it.
"She's got public art all over the country now."
Spiering, whose aunt who was also a member of the Holy Names order, said that Turnbull was, above all, a tireless worker who was devoted to her craft and her vision to create beauty.
"Every time you stopped by her studio she would give you a tour, but first, she would have to turn the torch off," Spiering said. "And then the minute you waved goodbye, she was lighting the torch again before you could walk out the door."
Turnbull's strength was her trademark. Mobley recalled watching the artist when she was already in her 80s, lifting one of her bronze sculptures while installing it in Browne's Addition.
"There was Sister Paula out there in her steel-toed boots and leather gloves and heavy flannel shirt," Mobley said. "If you met her for the first time, you might not even know that she was a woman, the way she worked like some old-school farm laborer.
"That sense of her physical presence will never leave me. She was just really vital."
Describing what Sister Paula meant to the arts community is nearly impossible, Spiering said. "It's like trying to define (the late) Harold (Balazs)," Spiering said. "It can't be done in just words.
"Sister Paula was an inspiration to younger artists … helping us understand that we could pursue art as a viable way of life. She led a life of devotion to God, and her devotion to her artwork was also very godly.
"How do you live an example of industry better than that? She certainly taught us that art isn't waiting until you are inspired, it's just getting to it."
Local journalism is essential.
Give directly to The Spokesman-Review's Northwest Passages community forums series -- which helps to offset the costs of several reporter and editor positions at the newspaper -- by using the easy options below. Gifts processed in this system are not tax deductible, but are predominately used to help meet the local financial requirements needed to receive national matching-grant funds.
Subscribe now to get breaking news alerts in your email inbox
Get breaking news delivered to your inbox as it happens.
---