News > Spokane
'Closer to culture': Final day of Julyamsh steps out Sunday
July 22, 2018 Updated Sun., July 22, 2018 at 5:43 p.m.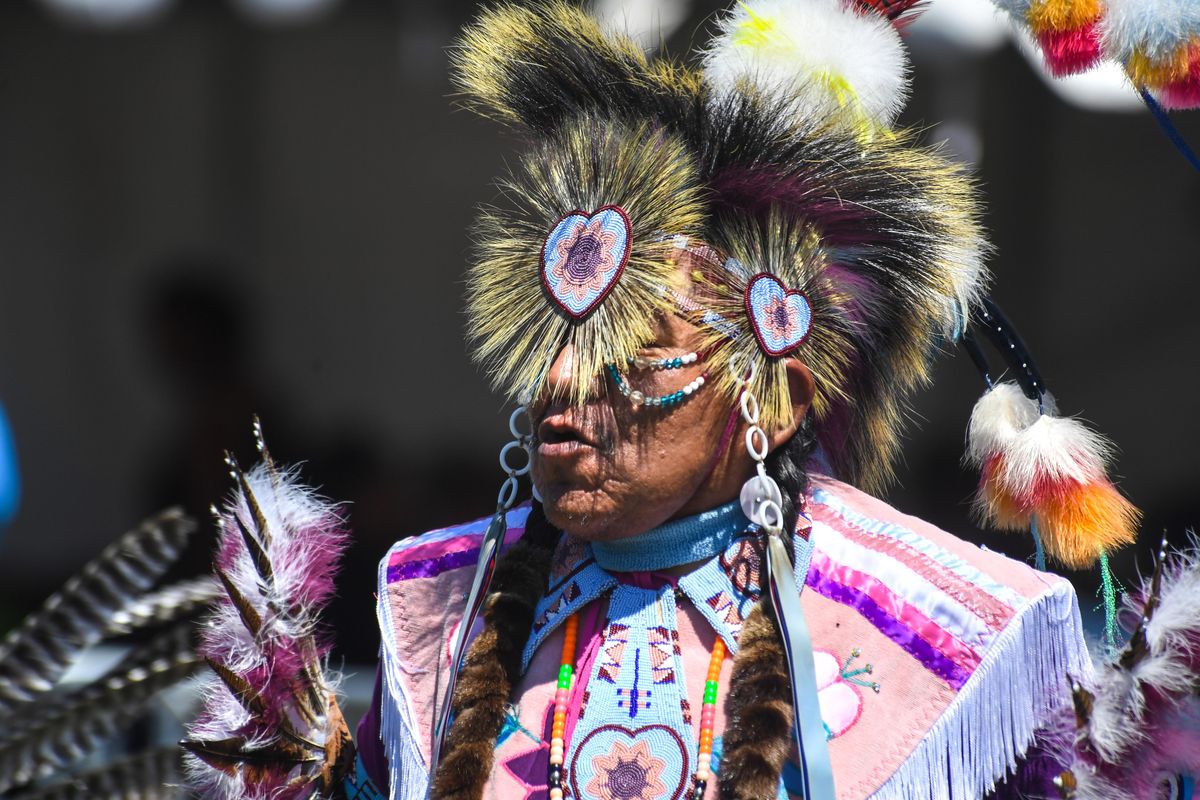 An elder participants in the Julyamsh Powwow Grand Entry, Sunday, July 22, 2018, at the Kootenai County Fairgrounds. (Dan Pelle / The Spokesman-Review)Buy a print of this photo
Color, percussion and dancing that capped off this weekend's annual Julyamsh powwow in Coeur d'Alene on Sunday.
With weather right at the moderate edge of summer, a crowd of some 300 flocked to the Kootenai County Fairgrounds, where scores of Native Americans from around the region, all of them dressed in vibrant regalia moved to the beat of drums and a chorus of singers.
There were longtime dancers, from far off places like Detroit, Utah or Canada. There were young dancers, from Coeur d'Alene and Spokane. Noah Adam, a 14-year-old from Ronan, Montana on the Flathead Indian Reservation, estimated he'd been to over 100 powwows during his time on Earth – yet he still looks forward to each one.
"We're closer to culture," he said, dressed head-to-toe in a striking orange and white regalia. "Pretty fun too."
That enjoyment, particularly on the faces of the children doing their best to keep up with their adult cohorts, was easily recognizable from the large bleachers where hundreds of viewers sat. Others were down below, perusing the various wears and trinkets for sale – wood carvings of war memorabilia or jewelry.
Rebekah Hendricks sat near the front row on a bench, transfixed by the music. As a music teacher at Lakeside Elementary and High School in Plumner, Idaho, she guessed some of her students were probably out on the field.
Before the dancing began, the crowd heard from David BrownEagle, the Spokane Tribe's vice chair, who delivered a sobering message. For about 10 minutes, he spoke about suicide and mental health wellness in the Native American community, saying they've reached troubling levels the past few years.
Then, from Dave Matheson of the Coeur d'Alene Tribe, who talked about Native American heritage and pride.
"We were not created by treaties, or governments, but by the great creator himself," he said. "We will remain who we are. Who we will always be – Native America people of America."
Local journalism is essential.
Give directly to The Spokesman-Review's Northwest Passages community forums series -- which helps to offset the costs of several reporter and editor positions at the newspaper -- by using the easy options below. Gifts processed in this system are not tax deductible, but are predominately used to help meet the local financial requirements needed to receive national matching-grant funds.
Subscribe now to get breaking news alerts in your email inbox
Get breaking news delivered to your inbox as it happens.
---