Sports > Seattle Mariners
Marco Gonzales on mound, Ryon Healy at plate lead Mariners over White Sox
July 22, 2018 Updated Sun., July 22, 2018 at 7:38 p.m.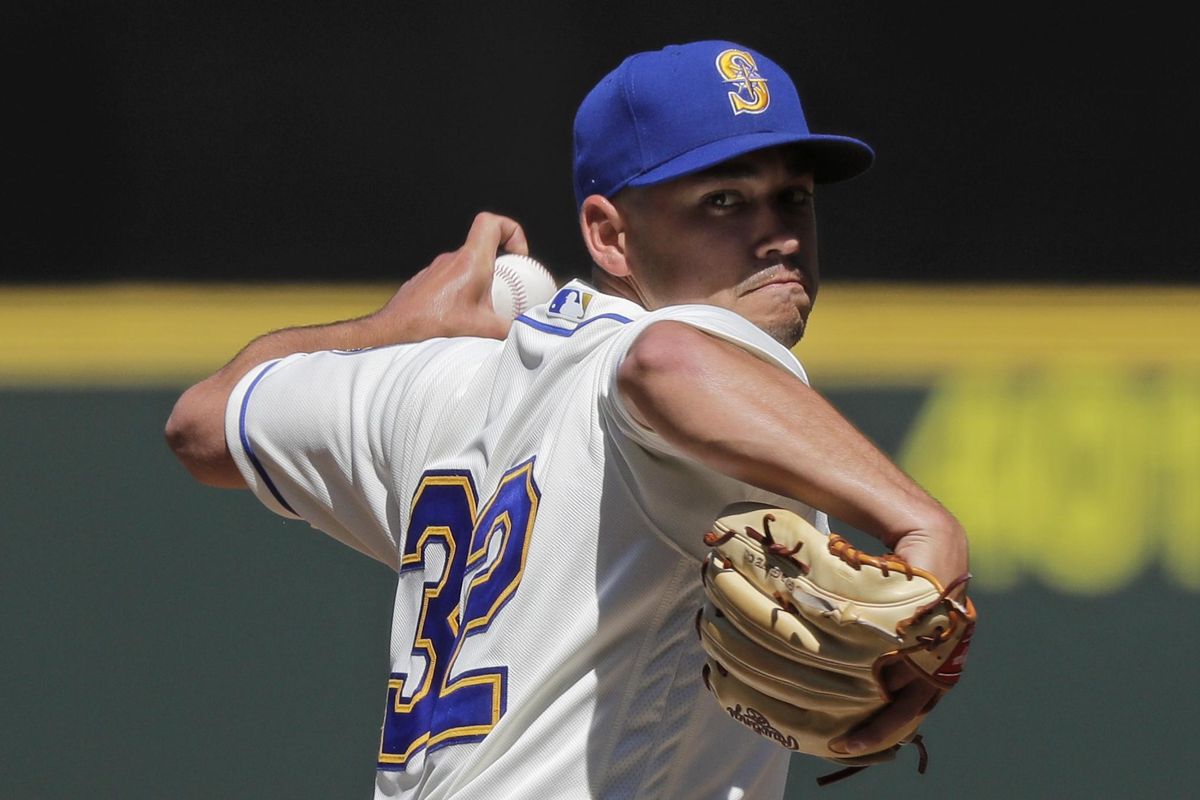 Seattle Mariners starting pitcher Marco Gonzales throws against the Chicago White Sox during the fifth inning of a baseball game, Sunday, July 22, 2018, in Seattle. (Ted S. Warren / Associated Press)
Mariners manager Scott Servais benched Ryon Healy for Saturday's game against the White Sox, hoping a day to reset might help him get out of his hitting slump.
Back at the plate on Sunday, Healy showed no signs of sluggishness. In fact, it was quite the opposite.
Healy blasted two three-run home runs that accounted for all but two of the Mariners' runs, leading them to an 8-2 victory Sunday over the Chicago White Sox (34-64) at Safeco Field. The win delivered the club's first series win since July 5 and improved its record to 60-40, including 7-4 in rubber games.
In his seventh career multihomer game and third this season, Healy finished 3 for 4 with a career-high six runs batted in and home runs Nos. 19 and 20. It was a pleasant change for the first baseman considering he entered Sunday's game with only nine hits, one walk and a .189 on-base percentage in his 52 at-bats this month.
"Good for him," Servais said of Healy's performance. "When he slows it down and gets in good counts, he's got really good swings, and he's got power."
"For Ryan, it's not about physical ability, it's about approach," Servais added. "Guys ahead of him get on base often, so slowing it down, not putting too much pressure on himself — that's what he did today. He's got a lot of talent. He just has to let it come out."
Given that Healy's second homer didn't come until the ninth, the first baseman's resurgence appeared to be a footnote for most of the game – all eyes were on starting pitcher Marco Gonzales, who held the White Sox hitless for 5 2/3 innings.
Through five, Gonzales struck out five of 15 batters, and the White Sox had only a single base runner reach due to a fielding error from Jean Segura. Some heads-up defensive plays from Segura and Dee Gordon also helped Gonzales preserve the no-hit bid through the fifth.
"(Gonzales) sets the tone," Servais said. "There's a reason there's a lot of good defensive plays made behind Marco — he works really quick, he's throwing the ball over the plate, he keeps attacking, our fielders are on their toes — our defense today was outstanding."
A two-out infield single from Adam Engel in the sixth gave the White Sox their first hit of the day, and Tim Anderson's two-run home run on the next at-bat erased the shutout.
Gonzales said after the game that he didn't realize he was working through a no-hit bid — he thought the fielding error in the second inning had been counted as a hit — which he said helped maintain his cool for the rest of his outing.
Gonzales (11-5) completed 6 1/3 innings, allowing two runs on four hits and recording six strikeouts and one walk on 84 pitches.
His performance marked a continuation of what he brought to the mound in his three starts before the All-Star break. Gonzales has allowed four runs over his past four starts (28 1/3 innings pitched), going 4-0 with a 1.27 earned-run average. He's lasted at least six innings in each game, as well.
Gonzales also had the benefit of a comfortable five-run cushion for most of his outing. The Mariners got out to an early lead when Reynaldo Lopez walked Kyle Seager with the bases loaded, and Denard Span followed with a sacrifice fly to plate Mitch Haniger. Healy then made it a 5-0 game with his first three-run home run, a shot to left field.
Healy went 0 for 3 on Friday before Daniel Vogelbach, who had been called up from Tacoma, took over at first base in the starting lineup Saturday. Servais said Friday that Healy would probably get the start in the series finale and that the team would "play it by ear" after that. They could platoon Healy, a righty, and Vogelbach, a lefy, at first base, though things will get more complicated when Robinson Cano returns from suspension on Aug. 14, as Servais indicated that Cano will see a lot of time at first.
Regardless of what Servais goes with moving forward, Healy is trying to focus on the things he can control, mainly his individual performance and contributing to the team however he can.
"I'm not a guy that needs to try harder. I think I almost try too hard at times," Healy said. "All I can do is go out there and be Ryan Healy. This isn't the first time this has happened to me or anyone else in this game. I want to help this team win every single day, whether I'm in the lineup or not, and I'm going to find a way to do that when Cano comes back or whatever.
"I want to compete and I want to win and I want to go where this team hasn't gone before, and I know I'm going to be a big part of that," Healy added. "My job is to make their job as hard as possible when that opportunity comes."
The offensive surge powered by Healy was welcomed considering the team came into Sunday's game averaging 2.87 runs per game in July. Healy's first-inning homer was the first home run hit by the Mariners since July 11 – a six-game stretch that ties the longest drought for any team in the league this season.
The club will have a day off Monday before hosting the San Francisco Giants for a two-game series starting Tuesday at 7:10 p.m.
Local journalism is essential.
Give directly to The Spokesman-Review's Northwest Passages community forums series -- which helps to offset the costs of several reporter and editor positions at the newspaper -- by using the easy options below. Gifts processed in this system are not tax deductible, but are predominately used to help meet the local financial requirements needed to receive national matching-grant funds.
Subscribe to the sports newsletter
Get the day's top sports headlines and breaking news delivered to your inbox by subscribing here.
---