News > Spokane
Christmas in July: Festive Mayor David Condon announces new driveway gates for city's snow plows
July 23, 2018 Updated Mon., July 23, 2018 at 3:10 p.m.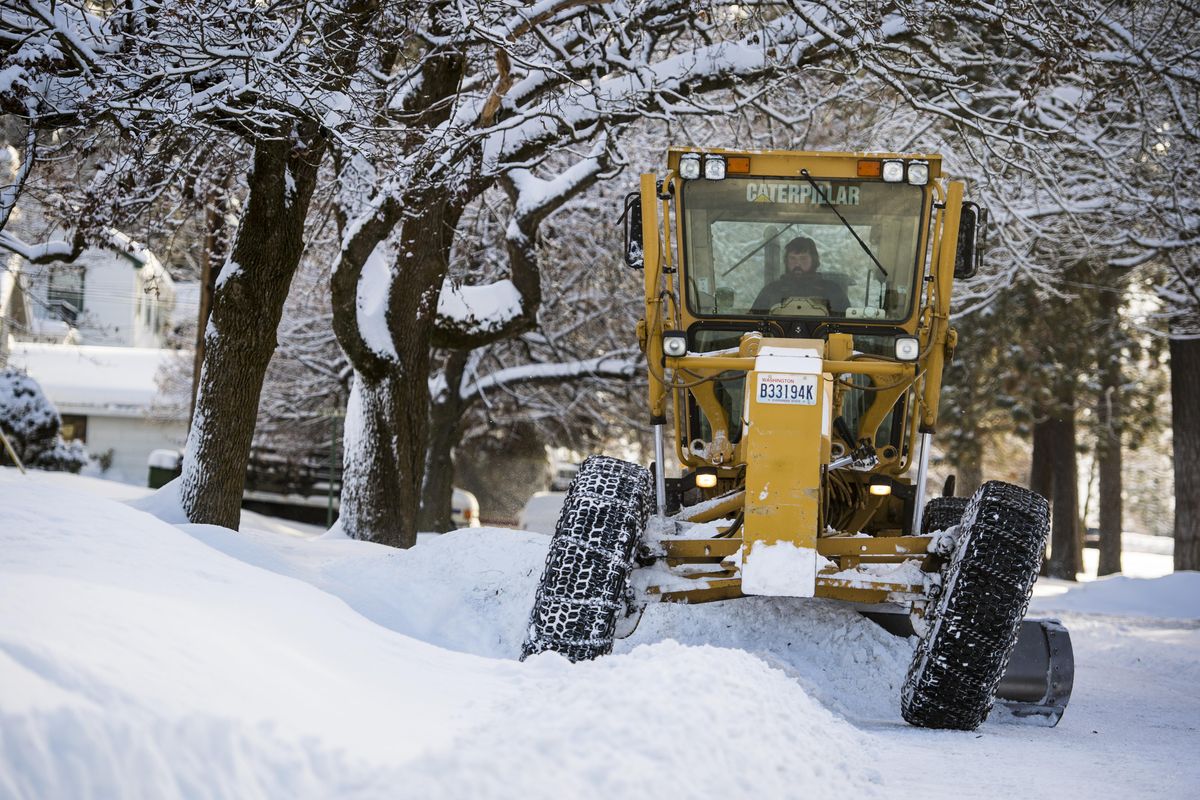 FILE - A City of Spokane snow plow removes snow from South Jefferson Street on Spokane's South Hill, Tuesday, Jan. 10, 2017. (Colin Mulvany / The Spokesman-Review)
Mayor David Condon played the part of a tropical Santa Claus on Monday morning, announcing the city will more than double its fleet of snow plows equipped with driveway-clearing gates this winter.
"Our citizens loved them," said Condon, clad in a Bahama-themed shirt and Kris Kringle hat in front of a new, $25,000 snow gate festooned with a blue gift ribbon at the city's service center. "When they received the surprise of no berm, our citizens got excited."
The city will purchase nine additional Hi-Gate devices that are affixed to the plow's blade, blocking pushed snow from piling up at the ends of driveways. That will bring the total number of snow gates in the city's fleet to 16, which will allow their use in more widespread areas throughout the city, said Gary Kaesemeyer, head of the city's streets department.
"The new equipment won't completely eliminate driveway berms, particularly for those who live along an arterial which sees frequent plowing," Kaesemeyer said. "But it will make a big difference for our citizens."
When a gated plow moves through a residential area, it's joined by a more traditional plow that works in the center of the street, Kaesemeyer said. The city dispatched seven such devices on a rotating basis throughout the city last year, part of a larger effort to clear residential streets more quickly by assigning workers in other departments to snow removal during workdays.
The money to purchase the gates, along with two new front-end loader vehicles that can be repurposed for snow removal, will come out of the street department's annual request for fleet replacement paid for through a combination of taxes, including property tax, sales tax and taxes on utilities, Condon said.
Condon gave credit not only to the Streets Department for pushing the acquisition of the new equipment, but also South Hill resident and retired child care center operator Hans Herzog. Herzog sent the mayor a letter in 2013 pleading for the city to consider some way to eliminate thrown snow from landing in driveways, requiring homeowners to clear it. He did his homework, calculating how many driveways were in the city by looking at assessor's data and adding up the costs of renting out equipment and man hours to clear clogged driveways.
"I considered it a total disservice, and neglect, to taking care of our citizens," Herzog said Monday. "They demand for us to clear our sidewalks, yet they come along and blow us shut."
Herzog let out a holler of approval when he heard the city was adding new gates to its fleet, and credited Condon for listening to his suggestion from many years ago, as well as Kaesemeyer for being open to changing the city's approach to snow removal after a brutal winter two years ago.
"I am proud to have been a small cog in the wheel of the city's operations," Herzog said.
Condon said it was Herzog's suggestion, and the positive feedback from citizens on the gates, that prompted their purchase.
"It makes sense to give our citizens more of what they ask for," Condon said.
The snow season won't begin until Nov. 15, when citizens will be asked once again to not park on the odd side of the street during heavy snowfalls and to remove large vehicles, such as RVs and boats, from parking spaces on the street. Kaesemeyer said he expected delivery and installation of the new gates to be completed in October.
Local journalism is essential.
Give directly to The Spokesman-Review's Northwest Passages community forums series -- which helps to offset the costs of several reporter and editor positions at the newspaper -- by using the easy options below. Gifts processed in this system are not tax deductible, but are predominately used to help meet the local financial requirements needed to receive national matching-grant funds.
Subscribe now to get breaking news alerts in your email inbox
Get breaking news delivered to your inbox as it happens.
---