A&E > Food
Food truck frenzy: What to eat when the food trucks park in downtown Spokane
Tue., July 24, 2018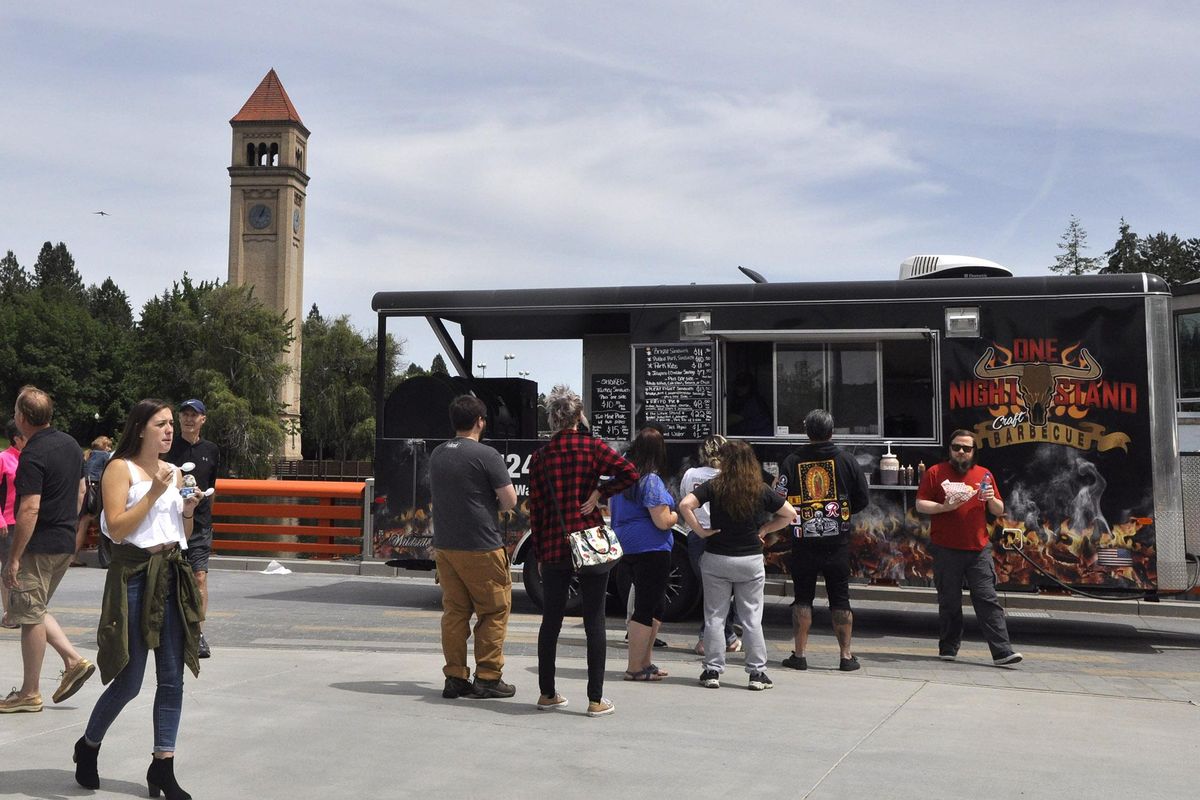 The One Night Stand Craft Barbecue food truck parks is scene at Riverfront Park on a recent Tuesday during a Riverfront Eats food truck rally. (ADRIANA JANOVICH/The Spokesman-Review)
It's a food truck fest on Tuesdays and Fridays, when a half-dozen or so mobile food vendors take over the Howard Street Bridge in Riverfront Park or North Wall Street in downtown Spokane.
This is the first summer that downtown Spokane gets to see food trucks in the same two spots twice a week for lunch. Trucks rotate, but they'll be out there through August, slinging wraps and bowls, burgers, barbecue and cups and cones of ice cream during Riverfront Eats on Tuesdays in the park and Food Truck Fridays in the downtown core.
Prices run from about $2 for a single street-style taco to $22 for a hearty barbecue combination plate. It's fun to share and sample items from different menus.
You'll want to arrive early if you don't want to wait in line. The lunchtime food truck rallies tend to draw a crowd. Find the week's participating food trucks at http://greaterspokanefoodtrucks.com/events/.
Meantime, here's what to order at 10 of the region's most popular food trucks.
Mixed Plate Food Truck and Catering
It's a mixed plate, all right. This food truck specializes in a wide variety of cuisines: Thai, Korean, Filipino, Vietnamese, Chinese and Pacific Island food as well as Mexican and American fare. It's run by Tony Epefanio, president of the Greater Spokane Food Truck Association, and his partner, Nat Vargas, a Thai native who grew up in Guam. The catering menu is extensive. Food truck offerings are streamlined but flavorful and filling. Expect chicken, pork, beef or tofu tacos and rice bowls. The tofu tacos are vegan; the tofu rice bowl is both vegan and gluten-free. Each comes with a rich Thai peanut sauce. That same sauce is also on the pork satay tacos and rice bowl, which also come with cucumber, carrot and cilantro. The Island chicken tacos and rice bowl come with pineapple, green onion and sesame seeds. And the popular beef bulgogi tacos and rice bowl feature thinly sliced and marinated steak with Korean flavors, green onions and sesame seeds. (509) 280-6115. www.mixedplatefoodtruck.com.
Skewers Food Truck
Here's a hashtag for you: #SpokaneHasShawarma. This food truck specializes in Mediterranean street food. Think shawarma, of course, as well as falafel and – for dessert – pakhlava. Instructions are easy. First, pick your protein: fava-bean-and-cilantro-based falafel, chicken shawarma or beef-and-lamb shawarma. Then, select your style: pita wrap with fries, rice bowl with pita wedges and tabbouleh, or salad with a spring mix, feta, olives and pita chips. Finally, get saucy: taratour, tzatziki, tahini or garlic aioli. (509) 282-8501. www.facebook.com/SkewersTruck/
The Jamaican Jerk Pan
You'll want extra napkins for the Jamaican jerk and curry chicken-and-rice bowls at this truck. Most entrees fall in the $9 to $15 range. The Jamaican jerk chicken is tangy, moist and falling-off-the-bone tender. This skin-on, bone-in chicken comes with coconut rice peppered with black beans and doused in sauce. Combos with one or both kinds of chicken and a side of cabbage salad are also available. Wash it all down with bottled water for a dollar or Gatorade for $2. Consider bringing your own wet naps and rethink wearing a white shirt – just in case. (509) 795-9050. jamaicanjerkpan.com.
Bistro Box
This food truck specializes in sliders and wraps. Recommended is the OMG signature slider with – now don't freak out – a beef patty slathered with crunchy peanut butter on a brioche bun. It's rich and filling and surprisingly good. It's also a hearty offering, additionally topped with pepper jelly, crispy bacon and cheddar. Look, also, for banh mi, Italian, and chipotle, blue and bacon specialty sliders as well as classic cheese, no cheese, and cheese and bacon sliders. Specialty sliders are two for $10, four for $18 and six for $24. Classics come with chips or salad and two sliders for $6 to $12. Wraps are the caprese or banh mi with a choice of chicken, salmon, steak or mushrooms. A few salads are also available. Proprietor Barb Pagarigan, a 1980 Shadle Park High School grad, returned to Spokane five years ago after cooking for many years in the Seattle area. (509) 808-6195. www.facebook.com/bistrobox/.
Crate
Crate specializes in fresh, seasonal and scratch-made street food. Menus can vary by event and location, but Crate has a few staples. Among the most popular are the Thai rice bowl, Thai burrito and Cubano sandwich. The bowl and burrito, both $9, have the same ingredients: jasmine rice, cabbage, carrot, cucumber, spicy peanut sauce, seared chicken or tofu, cilantro and roasted peanuts. The burrito comes in a warmed flour tortilla. Smaller appetites might want to split it; it's a hearty and flavorful offering. The Cubano is $10 and comes with pulled pork, smoked ham, aged Swiss cheese, dill pickle and yellow mustard on a griddle-pressed roll with cole slaw. Look, also, for a $10 Tex-Mex quesadilla on a grilled flour tortilla with black bean and corn relish, seared chicken, cheese, cilantro, chipotle sour cream and smoky salsa. The vegetarian version is $8. The $11 Spicy Tampa sammy features pulled pork, smoked ham, Genoa salami, aged Swiss cheese, dill pickle, banana pepper and yellow mustard on a griddle pressed roll with slaw. (509) 542-7436. www.cratefoodtruck.com.
Compass Breakfast Wagon
This 1972 camping trailer specializes in biscuits and breakfast items. Dishes cost between $4 and $6.50. Most expensive is avocado toast with black bean mash, tomatoes, lime, sea salt and egg. Portions "aren't insanely huge," said proprietor Ross Carper, who graduated from Mead High School in 2000 and earned his MFA from Eastern Washington University in 2009. He started his food truck business last fall. Biscuits are trailer-made, baked inside the vintage camper he's converted into a kitchen. Top them with honey, syrup, butter, jam or cinnamon and sugar. Or, order a biscuit with sausage gravy. There's a biscuit breakfast sandwich with egg and cheese, too. Add meat for $1.50. Biscuits are made with flour from Shepherd's Grain. Eggs, meat and produce are sourced through LINC Foods, a cooperative that sells foods grown and raised in the Spokane area. The coffee – cold brew and Chemex – comes from Indaba in Spokane or Doma in Post Falls. The One-Eyed Jack is made with bread from Common Crumb Artisan Bakery, cheese and an egg or two, depending on how hungry you are. The Fire-in-the-Hole is a One-Eyed Jack with hot pepper sauce, Sriracha aioli and pepper jack cheese. The B-Fast Burrito has hash browns, pepper jack cheese, egg and sauteed peppers, all wrapped in a flour tortilla. Add bacon for a dollar. Or, "sauce it" with Sriracha aioli and salsa verde from De Leon Foods. (541) 371-2993. www.facebook.com/thecompass breakfastwagon.
One Night Stand Barbecue
No sauce is necessary for the slow-smoked meats from this food truck, which specializes in Texas-style barbecue. On the menu, look for sandwiches and combination plates with brisket, pulled, beef and pork ribs, jalapeno-and-cheddar sausage or chicken and turkey breast as well as a bunch of sides. Menu items run from $7 for a sausage and side to $22 for the Whole Stand with brisket, pulled pork, sausage, pork rib and three sides. Sides include potato salad, cole slaw, beans or chips. Two-meat plates with two sides are $15 each. The popular brisket sandwich is $11.50. It comes with one side. Do try the $8 Frito pie with beans, brisket, cheese, onions, sour cream, jalapenos and, of course, Fritos. (509) 724-7776. www.facebook.com/onsbbq.
Tacos Camargo
This popular taco truck, done in white with lettering that boasts "real Mexican food" in both English and in Spanish, is known for its street-style tacos and other authentic Mexican fare. The logo features a Sombrero-wearing cactus. Owners are David and Lupe Camargo. Their cooking style is rooted in the cuisines of the Mexican states of Durango and Guadalajara. Tacos are carnitas, asada, spicy chicken tinga, chicken fajita or al pastor with onion and cilantro on corn tortillas. The tortas, or Mexican sandwiches, are also popular. They come with a choice of meat, refried beans, lettuce, tomato, onion, avocado, jalapeño, cheese, cilantro and a mayo-mustard spread. Also on the menu: quesadillas, chimichangas and more. (509) 822-1939. tacoscamargo.com.
Couple of Chefs Catering and Food Truck
Then-dating, now-married chefs Joile Forral and Allen Skelton launched their catering company in 2011 and followed it with a food truck in late 2013, specializing in burgers and sandwiches. The signature menu item is the 82nd burger, named in honor of the 82nd Airborne Division. Skleton spent four years in the U.S. Army after high school, including a tour in Afghanistan with the 82nd Airborne. He calls it their "all-American burger." It features bacon, American cheese, tomato, onion, lettuce, their couple's signature and secret Russian sauce and a brioche bun. It's $9.50 at the truck and $12.50 at Bruncheonette, the brunch eatery the couple opened in 2016 on West Broadway Avenue across the street from the county courthouse. Other popular menu items are the Rude-Ben, the "Reuben's Drunk Uncle," with corned beef, Dubliner Irish cheddar, caramelized onions, Guinness-braised sauerkraut and that secret Russian sauce on dark rye bread. Look, also, for a turkey guacamole BLT, Hawaiian burger, Korean Philly, brisket sandwich and burrito with fries wrapped inside a flour tortilla with spicy beef, cheddar, avocado, sour cream and more. On the side, there's a variety of tater tots and shoe string fries with different seasonings. (509) 290-9408. www.coupleofchefs.com.
Meltz Extreme Grilled Cheese
The mobile version of this Coeur d'Alene eatery specializes in the same thing as the brick-and-mortar location: gourmet grilled cheese sandwiches – from the Classic Kid Comfort with a choice of cheese and bread as well as additional cheeses, meats or toppings, if desired to the Pork Belly Banh Mi. In April, Meltz was featured in USA Today's "50 States: 50 Grilled Cheese Sandwiches," representing Idaho. Meltz "makes big and bold sandwiches packed with ingredients that push the definition of grilled cheese to the limit." For example, "The We Be Jam'in is made with three cheeses – mozzarella, Gorgonzola and white cheddar – along with turkey, slow roasted tomatoes, pesto, and the kicker, black pepper bacon jam." Even earlier this year, in January, the shop was recognized as one of the best sandwich shops in America by Thrillist which hailed the eatery's signature Ultimate Meltz special with white cheddar, mozzarella, fontina, provolone, chevre and Gorgonzola cheeses and "the extra cheese getting crispy and crunchy as it seeps out onto the grill." (208) 664-1717. www.meltzextreme.com.
Local journalism is essential.
Give directly to The Spokesman-Review's Northwest Passages community forums series -- which helps to offset the costs of several reporter and editor positions at the newspaper -- by using the easy options below. Gifts processed in this system are not tax deductible, but are predominately used to help meet the local financial requirements needed to receive national matching-grant funds.
Subscribe to the Spokane7 email newsletter
Get the day's top entertainment headlines delivered to your inbox every morning.
---