News > Spokane
For some patients, opioids provide only hope
July 24, 2018 Updated Wed., July 25, 2018 at 3:44 p.m.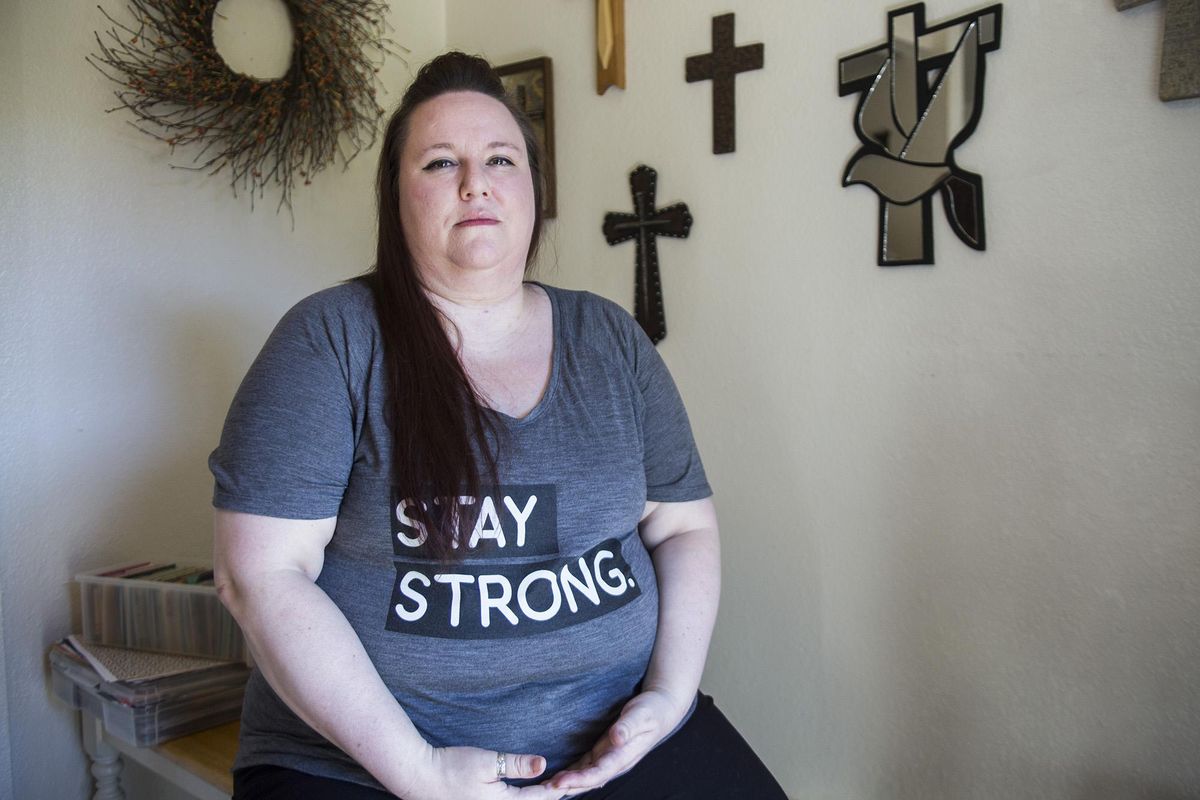 Julie Collette-Thompson (Olivia Vanni / For The Spokesman-Review)
Julie Collette-Thompson started taking painkillers after a decade of trying everything else.
The Spokane native, who now lives in Everett, ruptured a disc in her spine at 18 years old and went through three surgeries to repair it before eventually being diagnosed with post-laminectomy syndrome, meaning the surgery had failed to alleviate her pain.
Now in her early 40s, she's been on a variety of opioids and significantly reduced her dosage. But without the medication, she's reduced to sitting in bed in agony.
Her experience, and the experience of chronic pain patients like her, are at the heart of a number of questions researchers are trying to answer.
A new study from Washington State University, published earlier this month in the journal Pain, is the latest in a growing body of research showing that many chronic pain patients who have been prescribed long-term opioids don't on average see substantial increases in their pain if they transition off those medications.
But many of the scientists and health providers who work with chronic pain say research like this, which should be guiding health care providers on the best ways to care for individual patients, is too often used to justify overly broad policies limiting opioid prescribing for patients who still need the medication.
"One of the takeaways from this is the chronic pain story is more complicated," WSU researcher Sterling McPherson, an associate professor at the Elson S. Floyd College of Medicine, said. "It's a call to action in many ways to continue to explore novel ways to help these patients."
Chronic pain and how to best treat it remains a contentious subject. Some researchers and providers feel the drugs create physical dependence without providing significant pain control and believe the best course of action for patients is getting off of them.
Others say that while opioids have been overprescribed, the number of chronic pain patients who are able to complete daily activities thanks to the drugs is not insignificant.
And pain patients themselves say a growing crackdown on prescribing and abuse has painted them as villains and made them jump through extra hoops because they want to live a normal life.
It all comes against the backdrop of a national opioid epidemic.
Drug overdoses have been climbing across the country. By some estimates, the numbers are higher than 64,000 a year, making drug overdoses the leading cause of death among Americans younger than 50.
'Tried everything'
Collette-Thompson believes her experience over the past two decades mirrors the evolution in American attitudes toward opioids.
After rupturing her disc, she tried "everything" to relieve her lingering, agonizing pain: follow-up procedures, physical therapy, non-narcotic medications.
"Nothing really seemed to give me any relief," she said. Finally, at 27, she decided pain medication was the way to go. Her doctors started her out on high doses of hydrocodone and oxycodone.
"They drugged me almost into oblivion," she said. "They basically threw every painkiller at you to make you feel better."
That, she said, was the standard not long ago.
Doctors were encouraged to view pain as the "fifth vital sign" and treat it aggressively. That quickly led to unintended consequences.
Some patients grew accustomed to high doses and found their pain wasn't well controlled anymore. When doctors said they couldn't prescribe more, desperate patients turned to buying medication illicitly.
"The whole epidemic was started by doctors that thought they were doing the right thing," Collette-Thompson said.
The WSU study looked at Veterans Affairs medical records to find patients who were on long-term opioid therapy and discontinued it. A total of 551 veterans nationally were included, and researchers looked at their medical records for one year before and one year after discontinuation.
"Typically when patients are prescribed opioid therapy, what the literature suggests is it's effective up to three months post-surgery or post-event," McPherson said.
A majority of the patients, 85 percent, were transitioned off opioids by a member of their care team, which may have been initiated because a patient didn't comply with clinic rules for receiving opioids or failed a urinalysis. The others initiated the transition off themselves.
Pain tends to fluctuate over time, which can give people who taper off opioids the impression that their pain is worsening.
"You can ask patients to rate their pain every two hours of the day and you'll see these wild oscillations in pain scores," said Travis Lovejoy, a doctor at the Portland VA medical center and co-author of the study.
But in their study, patients who saw an initial uptick in pain reported similar or lower average pain scores over the course of the following year.
Like any research, their study has caveats. Since McPherson and Lovejoy's study looked at patients who remained off opioids for a full year, it wouldn't include patients who went back on the drugs, killed themselves or died during the study period.
Lovejoy said about 20 percent of the patients in the sample they drew from didn't come back to the VA following discontinuation of opioids, which could mean they sought care, and possibly pain medication, elsewhere. They're hoping to do follow-up research to look more closely at suicides, patients who seek care elsewhere and clinical measures other than pain scores, such as anxiety and depression.
Tim Lamer, the president-elect of the American Academy of Pain Medicine and an anesthesiologist at the Mayo Clinic, said the results aren't surprising.
"I think pretty much everybody in the field would agree that opioids have been overprescribed for the past 15 years or more," he said. In many cases, that means people with chronic pain that should have been cared for using other methods were given opioids first.
But, Lamer said, just because something is broadly true in research doesn't meant that experience holds for every single patient.
"While studies show that on average patients can be tapered off of opioids and not have their pain increase, that's on average. You have to remember within that group of people there are patients who do not do well and have not done well," Lamer said. "There is a subset of patients who have tried many many non-opioid therapies without any success who go on to have a trial of opioids and do either OK or reasonably well."
Collette-Thompson is one of those patients.
She remained on high doses of opioids for years and was gradually able to taper down. Two years ago, she weaned herself off methadone, a painkiller that's commonly used to treat patients with heroin addiction who need opioids in their system to function normally.
Getting off that drug was a milestone for Collette-Thompson, less because of any impact it had on her body and more because of the stigma she faced when seeking care.
"Somebody like me that has a lot of ER visits … you tell them you're on methadone, they right away think you're a heroin addict," she said.
Now, she takes 4 milligrams of Dilaudid, a brand name for hydromorphone, two to four times a day.
Her current doctor at a pain clinic in Lynwood supports her treatment plan, but she said she's had other providers who had a rigid view that all long-term opioid users should go off the drugs.
A year ago, she did just that, tapering off Dilaudid to prove a point. She spent about a month "basically on bed rest," she said, unable to do chores around the house or paint.
"Every single joint in my body hurt," she said. "It feels like your body's been through a rock tumbler or a dryer with a bunch of rocks in it. Just touching my body would hurt and the joints were very, very painful."
Back on her medication, she's able to make greeting cards and other art, which is her main source of income, as well as garden and walk her dog, Niko.
Doctors wary of opioid prescriptions
As state and federal agencies have cracked down on opioid prescribing, pain patients say doctors have become more fearful of prescribing painkillers, or even taking on patients who use them.
Collette-Thompson would like to move back to Spokane to be closer to family and has spent the past year looking at pain clinics and doctors to find someone who's willing to take her as a patient. Most, she said, see the medications she's on and say they can't take her. No one she's talked to would be willing to keep prescribing her Dilaudid.
"I just didn't understand that because you wouldn't tell a diabetic patient that something that's helping them, you wouldn't give it to them," she said.
Tom Norris, a veteran from Los Angeles with chronic pain, leads weekly support groups through the American Chronic Pain Association, a peer support and education group for chronic pain patients. He was taking fentanyl, a strong opioid painkiller, for his pain, but tapered off of it about a decade ago after deciding he'd rather live with the pain than the side effects of the drug.
Norris said he gets calls from pain patients all over the country, many of whom use opioids and are terrified of losing access to them. He used to have weekly calls with a woman dying of cancer who was in horrific pain.
"She was dying and the facility didn't want her to go become addicted to opioids so she died in agony. That's where I think the problem comes in. People aren't thinking about the individuals. We're thinking, 'Well we've got all these illegal opioid deaths, so let's control it,' " he said.
Douglas Crann, a north Spokane County resident who's been on oxycodone for chronic back pain since 2009, said he'd be stuck in bed in agony without his medication. He's had to jump through more hoops in recent years to get his medications, peeing in a cup every time he gets a refill and going in to the doctor in person. He said he worries about his doctor retiring, leaving him with nowhere to go.
"I would probably kill myself if not for the pain meds," he said.
Collette-Thompson said patients like her have been unfairly demonized in the push to right the wrongs of overprescribing opioids.
"I've been helped by being on the pain medications. I have a life because I take the pain medications," she said. "If I didn't take them I would be back to laying on the couch all day long."
Weighing the risk of opioid treatment
In spite of disagreement about the best ways to care for chronic pain patients, researchers and providers agree on two things.
First, there's broad consensus that opioids work very well for treating acute pain, including after surgery, as well as cancer care and end-of-life pain. With national attention focused on the "opioid epidemic," some researchers worry that message is getting lost in the mix.
John Roll, the dean of research at WSU's medical school, said he's seen this firsthand, after his father, then in his late 70s, didn't want opioids after falling and breaking his hip because he was worried about becoming addicted.
"People are afraid of opioids and maybe they should be, but they can alleviate tremendous suffering," Roll said.
But what's crystal clear to researchers doesn't always get reflected in laws and policies on prescribing that are often not written by people who have clinical experience. Anecdotally, many cancer patients report they're not getting adequate pain control as a result, even though opioids are clearly indicated for them.
Lamer said he's seen firsthand that patients who need opioids for clinically indicated reasons get hurt by overly broad policies: cancer patients having to refill medications more frequently, or people given only a few days of opioids after surgery who then have to come in for follow-up appointments when they're still in pain three days later.
"As soon as you start passing laws, it's very hard to get granular with some of these laws and to make exclusions for certain patients and certain populations, so you make these laws with broad strokes and that's exactly what happens," Lamer said. "Their access to opioids is more difficult, there's more regulatory hoops and paperwork that has to occur, more frequent medical appointments."
Second, even if you believe that chronic pain patients should try to stop using opioids, cutting people off medication cold turkey is counterproductive. Opioids create physical dependence, and quitting them without a pain management plan and ongoing care in place can lead people to seek out illicit drugs or commit suicide.
"There are many viable alternatives to chronic opioids, so it's not an automatic sentence to a lifetime of more pain if a patient is tapered off of opioids," Lamer said. "At the same time if you talk about tapering patients off of opioids you have to talk about other alternatives."
Lovejoy said he hopes their study will help patients considering transitioning off opioids with some of the anxiety and psychological concerns that can come with a change in treatment. Providers looking to help patients should work with them on other pain management strategies, he said.
"We're going to do our best to support you and give you other resources and strategies to live a functional life," Lovejoy said.
Local journalism is essential.
Give directly to The Spokesman-Review's Northwest Passages community forums series -- which helps to offset the costs of several reporter and editor positions at the newspaper -- by using the easy options below. Gifts processed in this system are not tax deductible, but are predominately used to help meet the local financial requirements needed to receive national matching-grant funds.
Subscribe now to get breaking news alerts in your email inbox
Get breaking news delivered to your inbox as it happens.
---