News > Nation
11-year-old girl catches piranha relative in Oklahoma lake
Wed., July 25, 2018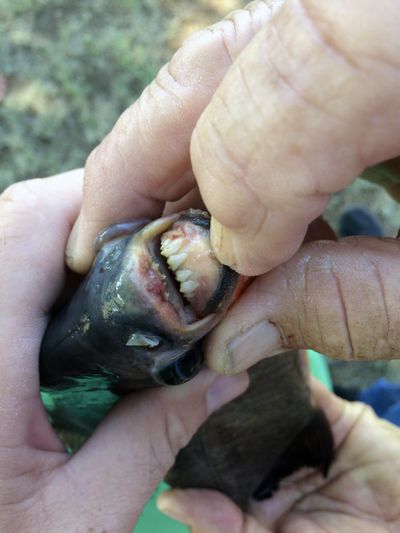 OKLAHOMA CITY – An 11-year-old girl has quite the fish tale: A rare pacu with human-like teeth chomped down on the worm at the end of her line while she was fishing with her grandparents and brother in an Oklahoma lake.
But Kennedy Smith isn't exaggerating when she describes her catch. Caddo County Game Warden Tyler Howser confirms that the fish was a pacu, a relative of the piranha that is native to South America and can grow up to 50 pounds.
Kennedy's fish weighed about 1 pound, according to Howser and Kennedy's grandmother Sandra Whaley.
Kennedy says she initially was "really excited" to have caught a fish Sunday in Fort Cob Lake, about 55 miles southwest of Oklahoma City. She was shocked when the fish bit her grandmother, as Whaley removed the hook from its mouth.
"I was confused because I knew that fish with teeth are not normal. It was weird. They were human-like and that made it even weirder," Kennedy told The Associated Press Thursday.
Whaley said she suffered no ill-effects from the bite.
Howser said the fish was likely purchased as a pet and was released into the lake when it grew too large for the aquarium of the family that owned it.
Pacu are considered an invasive species that can destroy the native Oklahoma fish ecosystem and habitat, so the fish Kennedy caught was taken by the Oklahoma Department of Wildlife Conservation and destroyed.
Howser said he recognized the species immediately.
"I've actually caught one myself," Howser said. "As soon as I saw (it) I said `I know what that is."'
Local journalism is essential.
Give directly to The Spokesman-Review's Northwest Passages community forums series -- which helps to offset the costs of several reporter and editor positions at the newspaper -- by using the easy options below. Gifts processed in this system are not tax deductible, but are predominately used to help meet the local financial requirements needed to receive national matching-grant funds.
Subscribe to the Coronavirus newsletter
Get the day's latest Coronavirus news delivered to your inbox by subscribing to our newsletter.
---