News > Spokane
House of Charity, city of Spokane agree to end 24/7 shelter, citing health and safety concerns
Wed., July 25, 2018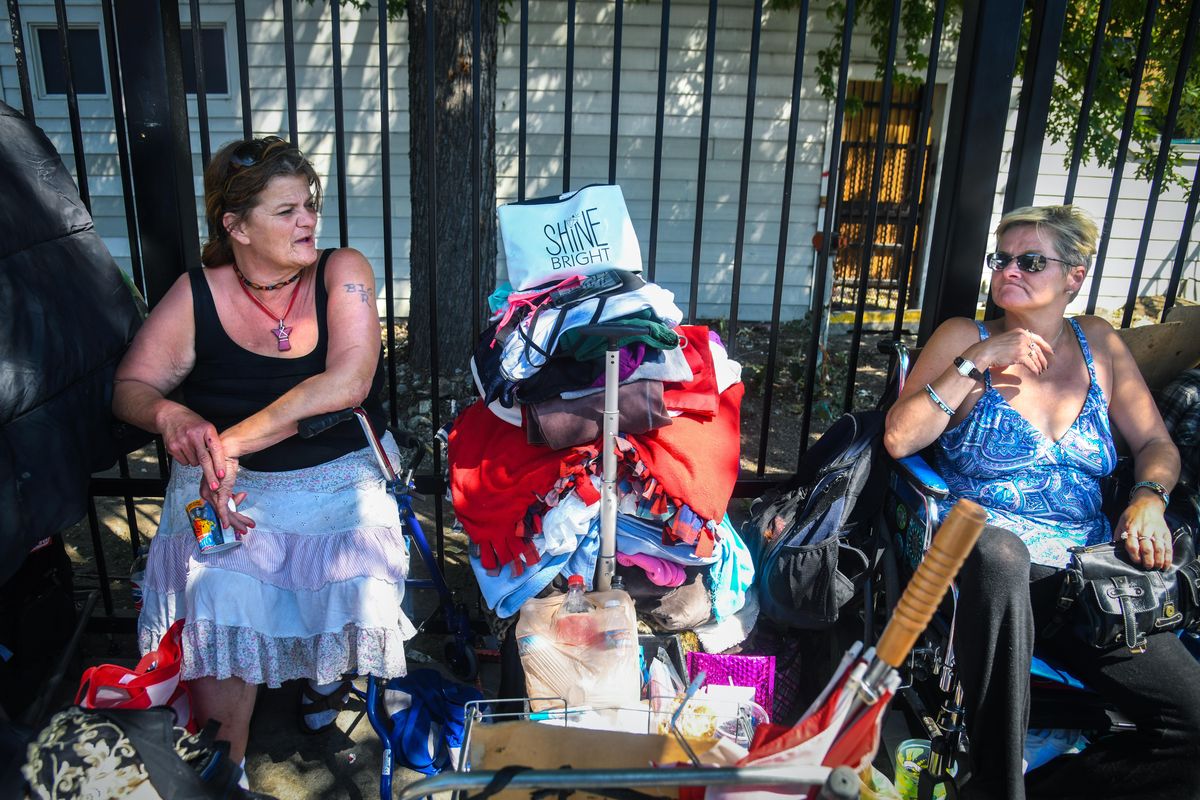 Sharon Richard, 54, and Amy Hopwood, 47, find a shady spot to sit and pass the time away, Tuesday, July 24, 2018 outside the House of Charity. HOC is ending it's 24/7 shelter policy on Sept. 1. (Dan Pelle / The Spokesman-Review)
The two-year experiment providing around-the-clock shelter to the city's homeless downtown will end in September, potentially displacing dozens of overnight patrons at House of Charity.
The decision, made jointly between the city of Spokane and the shelter run by Catholic Charities, is due to concerns about health and safety for the roughly 400 people staying nightly at the shelter and the staff members who assist them. The city has allocated an additional $160,000 in its budget this year to pay coordinators who work with the homeless on housing issues and anticipates building a new shelter expected to open by July 1 of next year.
City Council President Ben Stuckart acknowledged the decision would mean fewer sleeping spaces.
"There's no great option in this situation," Stuckart said. "We concentrated too many people in one spot. We had two norovirus outbreaks. We need a solution that is safe."
Dawn Kinder, the city's director of neighborhood and business services overseeing homeless assistance, said the city launched a 24/7 shelter in partnership with Catholic Charities to determine if it was a safe and effective way to provide emergency housing.
"The unfortunate piece here is, what we've learned over the last 20-ish months of doing this, is that our current scenario, House of Charity, is just not a safe and dignified solution," she said.
The new shelter will open in July and will be a targeted capacity shelter, meaning those interested in staying will have to be working toward permanent housing and the 100 beds will be assigned, Kinder said. It won't be located downtown.
Catholic Charities will continue to provide overnight sleeping options for men on the second floor of the shelter at 32 W. Pacific Ave., and women will be allowed to sleep on the first floor. Respite health services will also continue, as will regular service of breakfast and lunch. Dinner will be served four times a week in the facility.
Staff are anticipating about 100 people who make use of the shelter overnight will not be able to stay there beginning in September, said Ann Marie Byrd, development director of media relations with Catholic Charities. The shelter will be closed for several hours in the afternoon to give staff a chance to rest and clean the facility, Byrd said. The information was shared Tuesday with people staying there, 90 percent of whom are from Spokane.
"We need to scale back in order to do this in a safe and healthy way," Byrd said.
Those staying or visiting people at the facility, which will continue its 24-hour operations through the end of August, agreed Tuesday morning that safety had become an issue, citing overt drug use and theft of property. Some said they'd return to encampments in parks, which under a new city law will lead to an appearance in community court, if the shelter closed during the day. Others will be out on the city's streets without a place to go.
"We're not allowed to camp anywhere, anywhere," said Amy Hopwood, who has stayed on and off at House of Charity and was sitting on the sidewalk on Pacific Avenue on Tuesday morning with friends Sharon Richard and Le'Shia Ethengain. "So we're stuck here."
Hopwood said after two years, she'd secured a housing voucher and planned to move into an apartment Tuesday. Richard has been sleeping on the street with Ethengain, who'd been banned from the shelter, and has stayed in other shelters, including Hope House. She stayed in the respite care center after being struck by a car downtown earlier this year.
"I've been here, I've been outside for five years," Richard said. "I'd rather sleep under that bridge."
Kinder pointed out that there are many like the three women sitting in front of the shelter Tuesday who weren't interested in staying at the House of Charity.
"That's one of the tough parts of this situation," Kinder said. "House of Charity has not been a solution for everyone. We have seen people out of shelter this entire time, regardless."
In addition to the funding for outreach coordinators and construction of the new shelter, Spokane also has plans to open an integrated social services center that will combine the efforts of eight or nine firms providing support to low-income residents, Kinder said. The city also signed a contract this summer with Catholic Charities and Goodwill to provide accelerated assistance in obtaining Social Security and disability benefits.
But the immediate effect will limit the number of beds for 10 months, including several weeks when warming shelters won't be open. Raymond, a House of Charity client who refused to give his last name, said the change would push others out onto the street.
"That's going to put 60 to 80 people in the street," he said. "They think it's bad now? They're going to have a lot more people on the street than they have now."
Kevin Mack, an Austin, Texas, native who's been in Spokane for about four months after being forced out of a home in Hillyard, praised the shelter staff for keeping order inside when the lights go out.
"I've never seen anything like this, shelterwise," Mack said. He said he planned to move back to Texas next month, anyway, but anticipated a lot of the bad behavior would return on the streets if the shelter closed its doors during the day.
"I think a great many of them will end up in jails and institutions," Mack said.
Polly Lambert, sitting and smoking on the sidewalk in front of the shelter, said many considered the House of Charity "a last resort" because of the low barrier for entry overnight. While other shelters require drug tests and background checks, as well as limiting animals coming in the front door, the House of Charity hasn't, which would allow her to bring her 11-year-old Australian shepherd, Ginger, in to sleep with her.
But Lambert doesn't want to stay at the shelter, because her boyfriend is trying to kick a drug addiction and there's too many temptations on the street.
"We don't get too many complaints, me and my boyfriend, we clean up after ourselves, we don't make too much noise," Lambert said. "He's been clean for almost a month now, and we've been trying to stay away from here. There's too many thieves, too many people, too much drugs."
Bear Davidson, a 51-year-old infrequent visitor of the House of Charity whose stocky build lives up to the name his mother gave him growing up outside Johnson City, Tennessee, mopped the floor where he intended to make his bed Tuesday night. Davidson credited the staff at the House of Charity for helping him secure a spot on the wait list to get into the Park Tower apartments.
"It was one of the case workers here, that got me into it," Davidson said, pointing down Browne Street to the towering downtown apartment building near the Spokane Convention Center.
Both Byrd and Stuckart emphasized that it was not a lack of funding that was leading to the shelter scaling back its hours. Twice before the city has pitched in emergency funding to keep the shelter's doors open around the clock, but city and shelter officials said Tuesday they couldn't raise enough money to make House of Charity safe enough for patrons.
"We asked, what if we put in a million dollars in reserves? It still wouldn't create the environment we need to create for our citizens," Stuckart said.
Catholic Charities will continue to operate warming shelters throughout the winter, including at House of Charity, when temperatures plummet to dangerous levels. A family shelter at St. Margaret's operated by Catholic Charities and the Open Doors program for families operated by Family Promise will continue to provide all-day shelter services, Byrd said.
Davidson has his housing to look forward to and said he could return to camping in the winter on the South Hill if his apartment doesn't come through. Heating his tent costs him about $14 in propane tanks each day.
But he'd lose out on the support he gets from those around him in the shelter – the same people who made the small gesture of buying him a cup of coffee and a box of donuts on his birthday last month.
"This is my family," Davidson said, his Southern drawl quieting into tears. "I don't have no brothers or no sisters over here. If I need a cigarette, one of the homeless people give it to me. If I need a little extra change to get a soda pop, it's one of the homeless people that give it to me."
Local journalism is essential.
Give directly to The Spokesman-Review's Northwest Passages community forums series -- which helps to offset the costs of several reporter and editor positions at the newspaper -- by using the easy options below. Gifts processed in this system are not tax deductible, but are predominately used to help meet the local financial requirements needed to receive national matching-grant funds.
Subscribe now to get breaking news alerts in your email inbox
Get breaking news delivered to your inbox as it happens.
---