World-record holder Sabra Harvey kicks off rust in Cheney at USATF Masters Championships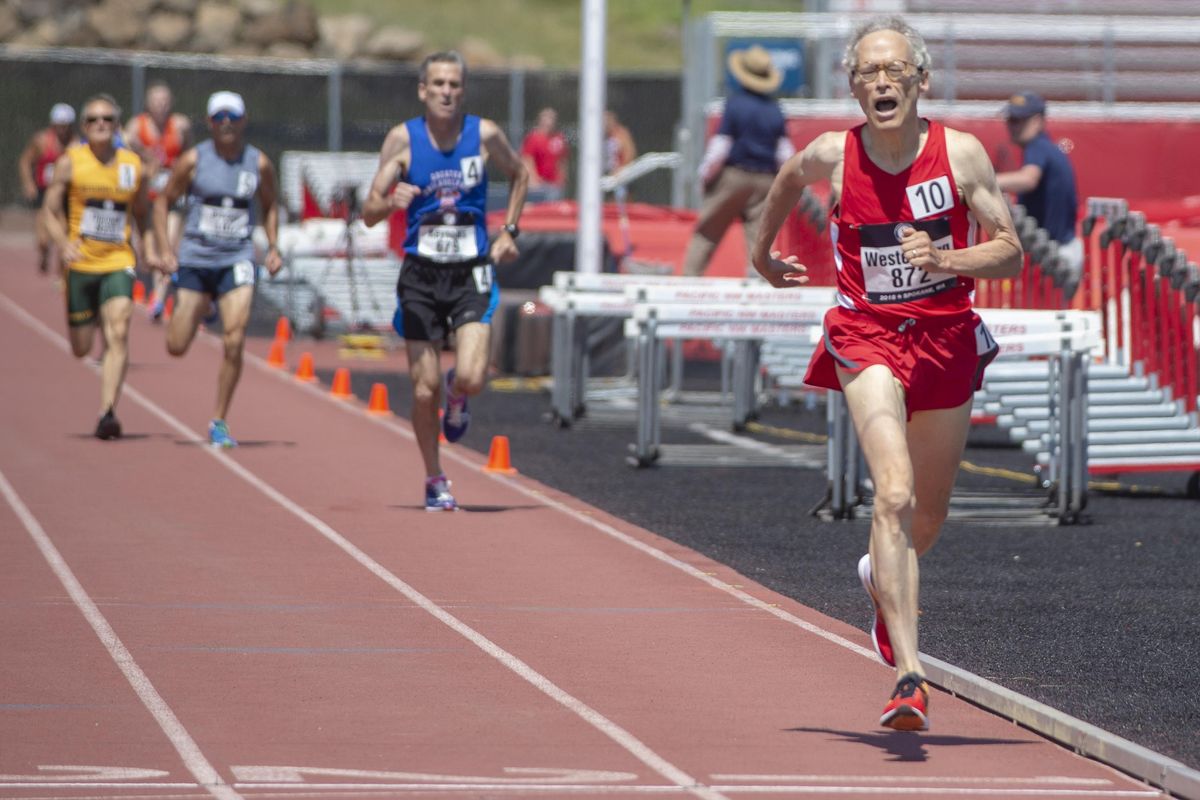 Hurricane Harvey and its rainfall-triggered flooding of Houston displaced thousands last year, including a decorated senior distance runner with the same namesake.
Sabra Harvey, the 2017 U.S. Track and Field Masters Athlete of the Year, is still dealing with the aftermath. She and her husband have lived out of a camping trailer for months awaiting the finished rebuild of their home, which was destroyed in the disaster.
When the 69-year-old kicked through the 93-degree heat Thursday at the USATF Masters Championships at Roos Field, it was her first competition in three months.
A slight knee injury and the cumbersome process of preparing her home derailed her preparation, she said.
"It should be done in a couple weeks. We're moving in if it's done or not," Harvey said. "I'm so tired of that trailer."
Harvey still won her 5,000- (21 minutes, 57.74 seconds) and 800-meter (2:49.63) races on Thursday, substantially slower than her best times a year ago, but enough to help get her back in the swing of things.
Harvey, who will be competing at the World Masters Championships in Spain in September, regularly clocked less than 20 minutes last year in the 5,000 when she was a quadruple national champion.
She owns multiple world records, including an 800 time of 2:39.61, a mark she registered in 2016 at the World Masters Championships in Perth, Australia.
Many of the country's top senior-aged athletes are competing in Cheney through Sunday in the Masters Championships, which feature 900 athletes in 15 age groups, each vying for a national title.
It wasn't until her late 50s when Harvey, a retired graphic designer, took up competitive running. In UTASF meets often littered with ex-Olympians and former college national champions, Harvey's thin resume didn't matter.
Her first major UTASF meet was the 2008 Masters Championships at Spokane Falls Community College.
"Back then is when I learned I have a very competitive edge and I like to win." Harvey said. "I want to run at a high level as long as I can."
The annual event, in its 51st year, rotates around the country and is in the Spokane area for the fourth time.
Cheney resident Carl Combs had a nice showing at home in the men's 5,000, clocking 16:14.14, the day's fastest time for ages 30-59
Virginia native Roy Englert, 95, set a world record for his age group in the men's 800 (5:18.15), shattering the previous record set by Herb Kirk (6:02.94) in 1991.
William Harvey of Glenbrook, Nevada, took first in the men's 70-74 shot put with a throw of 45 feet, 3 3/4 inches. New York resident Oneithea Lewis won a national title in the women's 55-59 shot put (46-1 1/4).
Ex-Olympian racewalker Michelle Rohl (50-54 division) won a national title in the women's 800 (2:32.78).
Sue McDonald of Santa Barbara, California, set the women's U.S. record in the 55-59 age group in the 800 (2:27).
Michael Janusey (60-64) won the men's 60-64 pentathlon with 2,976 points and Rachel Guest (40-44) won the women's pentathlon with 3,348 points.
---