Sports > Area sports
Former Spokane Chiefs great Ray Whitney wins fifth annual Showcase celebrity golf tournament
July 28, 2018 Updated Mon., July 30, 2018 at 3:35 p.m.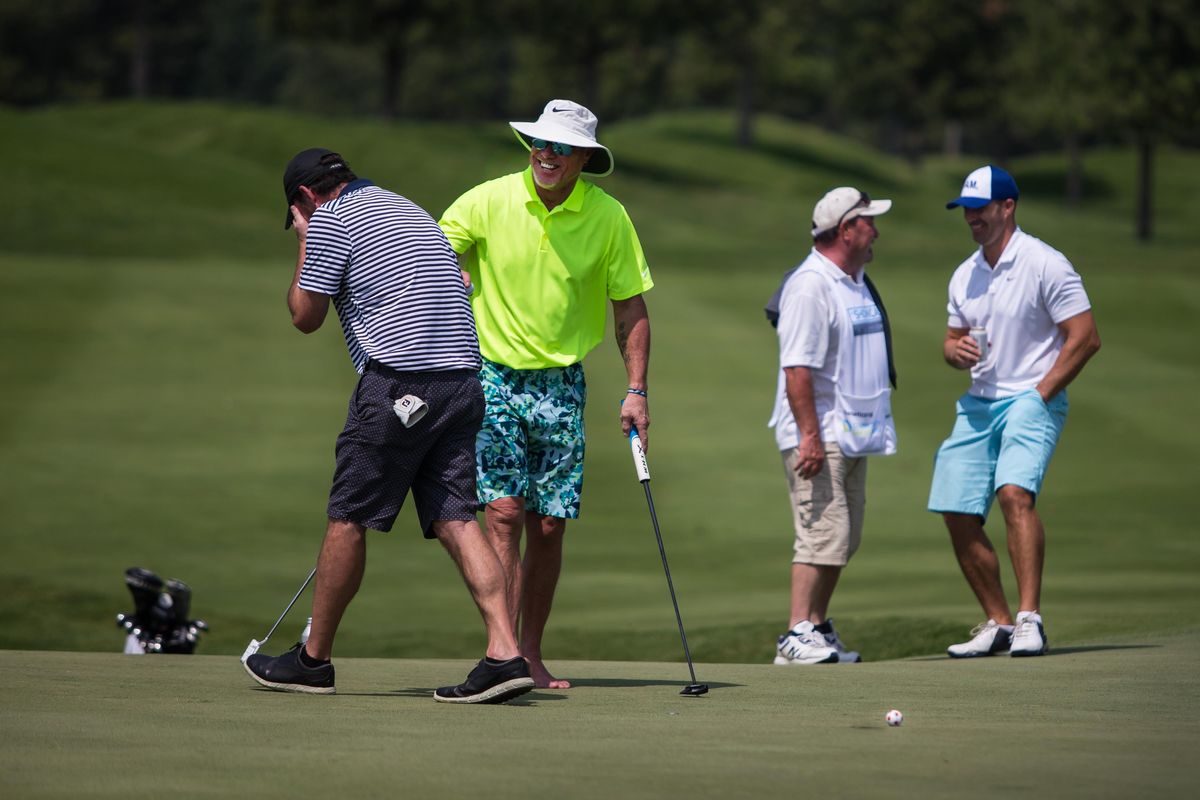 Actor Kevin Dillon, left, hides his face and former NFL quarterback Jim McMahon laughs after Dillon missed a short put on the final hole of the round Saturday, July 28, 2018, while playing in The Showcase at The Coeur d'Alene Golf Resort Saturday afternoon. The annual event benefits the Community Cancer Fund, which raises money to fight cancer. (BRUCE TWITCHELL / For The Spokesman-Review)
Jim McMahon sipped a tall Coors Light as he approached the tee box of the Coeur d'Alene Resort's famed floating green Saturday, the beer's silver bottle matching the hooped earring in his left ear.
He was barefoot, clad in a neon polo, floral-print shorts and his iconic shades. The former Chicago Bears quarterback's outlaw persona had innocently carried over to the fifth annual Showcase celebrity golf tournament.
McMahon, one of 32 current and former famed athletes, actors and musicians at the two-day fundraiser tournament, dumped his first shot into Lake Coeur d'Alene. He landed cleanly on the island with his next shot.
He parred the hole Friday but walked away with a double bogey Saturday. Shoes didn't seem to matter.
"Too many fat guys stepped on my feet all those years (in the NFL)," said McMahon, a two-time Super Bowl winner. "My feet feel a lot better without shoes."
Ex-NFL stars dotted the celebrity lineup, but for the third straight year, an ex-NHL sensation took home the tournament's plaid jacket.
Former Spokane Chief Ray Whitney, who had a 24-year pro career before retiring in 2013, shot a 4-under-par 105 over the 27 holes, edging two-time defending Showcase tournament champion Brendan Morrow (1-under), another retired NHL star.
Whitney, Morrow and former Washington State quarterback and Super Bowl MVP Mark Rypien (6 over) were in the same three-man group, finishing first, second and tied for seventh, respectively.
Seth Joyner, Eric Dickerson, Shane Victorino, Ryan Longwell and Roger Clemens finished third through seventh. Joyner, a retired three-time Pro Bowl linebacker, earned a bright orange jacket for shooting the tournament's lowest net score at 12 under.
"This jacket may be the best accomplishment of my athletic career," joked Joyner, who starred for the Philadelphia Eagles and Arizona Cardinals.
Whitney said he planned on drinking a beer from his trophy later in the evening.
On the 14th hole – which features the floating green – Whitney took advantage of Rypien and Morrow each sending two shots into the lake. Whitney's first attempt fell into the island's bunker, but he made par.
"It claims victims," Whitney said of the floating green. "And fortunately I wasn't one them today. But this is a great event for a great cause. It's always a fun experience."
The Showcase's first four years generated nearly $10 million, which the Community Cancer Fund distributed to the fight against cancer in the Inland Northwest.
Some of the tournament's most famous figures included NHL Hall of Famer Wayne Gretzky, NFL Hall of Famer Marcus Allen, five-time MLB All-Star Fred McGriff, Dickerson and Clemens.
Local stars included former Gonzaga star Adam Morrison, Spokane native and Tampa Bay Lightning standout Tyler Johnson, former Seattle SuperSonics player Desmond Mason and Rypien. Gonzaga coach Mark Few was scheduled, according to the event's website, but didn't compete Saturday.
The fundraiser provided a block party-like atmosphere for the golfers and spectators, where Clemens could be seen singing Wild Cherry's "Play That Funky Music" onstage.
Anthony Mackie, known for his role as Falcon in the "Avengers" and "Captain America" series, as well as "8 Mile" and "The Hurt Locker," provided playful banter for the crowd as he hacked to last place in his group.
When singer-songwriter Kelley James finished his nine holes, he strapped on a guitar and began to spout off-the-cuff lyrics to the rest of the golfers finishing up on the nearby final hole. The good-natured ribbing came in the form of rhymes and references to their careers, both good and bad, evoking plenty of laughs from spectators.
One of his freestyle rhymes claimed that Johnson still gets nervous around Gretzky. The Central Valley grad laughed between swings.
"Oh, man, I had to hide after I was done putting" Johnson said. "I didn't want him to spot me again and make me feel worse."
McMahon enjoyed watching the teasing.
"That was awesome," said McMahon, whom James teased over the loudspeaker in song after missing a putt, referencing his career after the Bears' 1985 Super Bowl win. "I'll remember that forever."
Local journalism is essential.
Give directly to The Spokesman-Review's Northwest Passages community forums series -- which helps to offset the costs of several reporter and editor positions at the newspaper -- by using the easy options below. Gifts processed in this system are not tax deductible, but are predominately used to help meet the local financial requirements needed to receive national matching-grant funds.
Subscribe to the sports newsletter
Get the day's top sports headlines and breaking news delivered to your inbox by subscribing here.
---