News > Crime/Public Safety
Firefighters douse fire near Newman Lake
July 30, 2018 Updated Tue., July 31, 2018 at 6:37 a.m.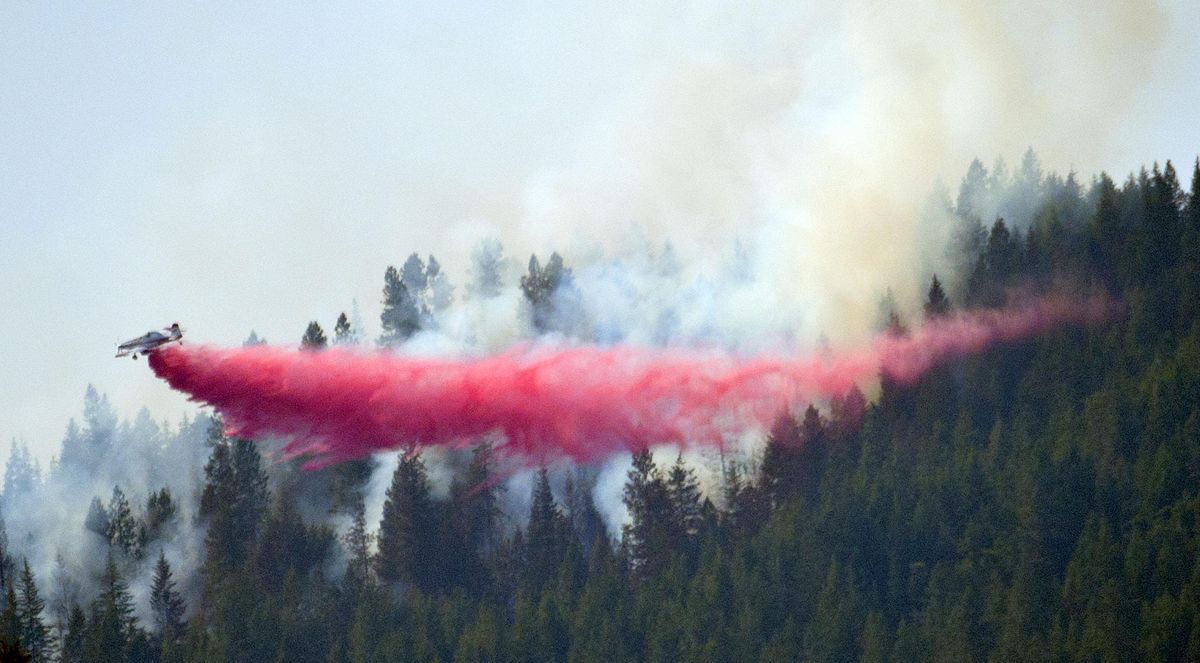 An airplane drops fire retardant on a hillside fire above Newman Lake on Monday, July 30, 2018. (Kathy Plonka / The Spokesman-Review)Buy a print of this photo
More than 10 fire agencies with a combined 60 firefighters responded to a five- to seven-acre brush fire north of Newman Lake.
The fire, which Department of Natural Resources spokesman Guy Gifford called the North Newman fire, started a little before 2:30 p.m. Monday near Muzzy Road and Thompson Creek. He said the blaze had fire lines built around 100 percent of it. The fire's forward progress had been stopped. A couple of engines are expected to stay on the fire all night and firefighters will be mopping up the fire Tuesday. As of 8:20 p.m. Monday all air resources brought in were released, no buildings were damaged and no people were reported injured.
"Progress is looking good," Gifford said.
He said the fire happened in a wooded area and because of the heat and lack of humidity, the fire spotted, throwing embers ahead that caused the fire to spread faster.
Air tankers scooped water from Newman Lake to fight the fire, Gifford said. A lack of strong winds helped with containment efforts.
The cause of the fire is under investigation.
Story reported by Rebecca White, Jonathan Glover and Amy Edelen
Local journalism is essential.
Give directly to The Spokesman-Review's Northwest Passages community forums series -- which helps to offset the costs of several reporter and editor positions at the newspaper -- by using the easy options below. Gifts processed in this system are not tax deductible, but are predominately used to help meet the local financial requirements needed to receive national matching-grant funds.
Subscribe now to get breaking news alerts in your email inbox
Get breaking news delivered to your inbox as it happens.
---