News > Spokane
Protesters target GOP backlash to Russia probe at Devin Nunes fundraiser for Cathy McMorris Rodgers
July 30, 2018 Updated Wed., Aug. 1, 2018 at 11:21 a.m.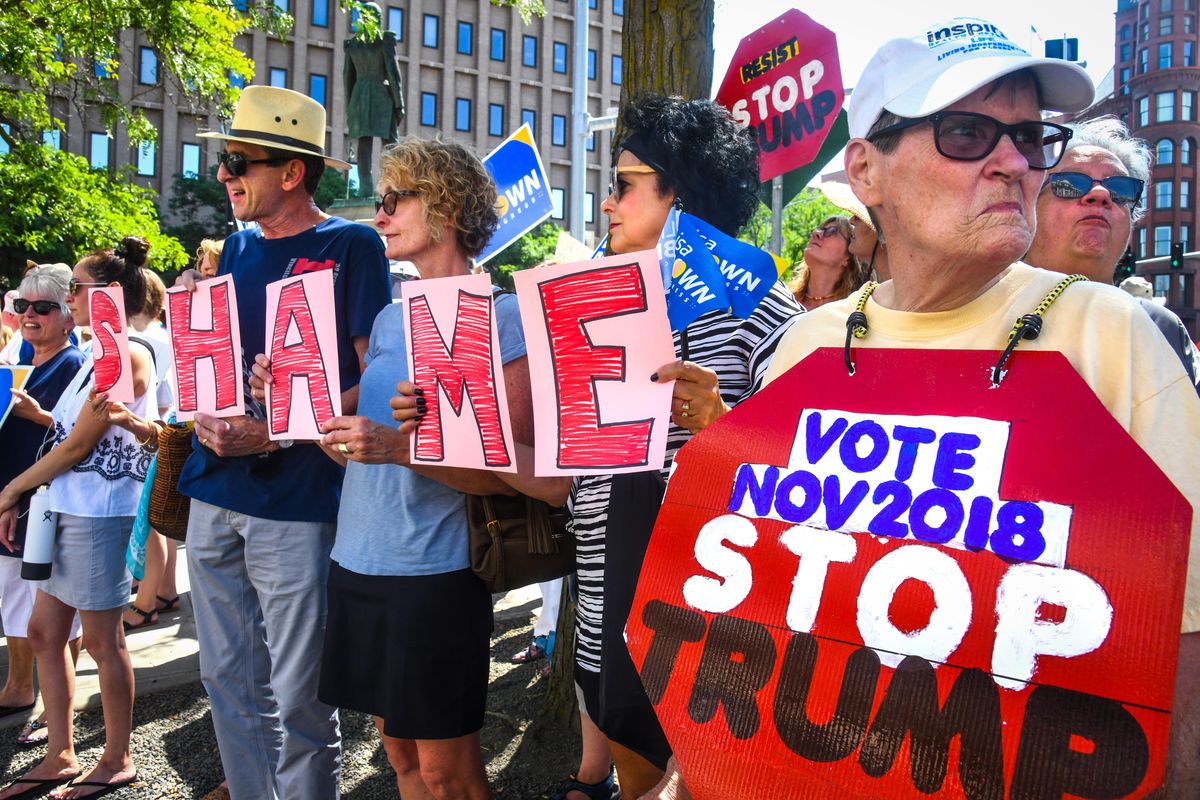 Protester display their signs outside the Spokane Club where a fundraiser for Congresswoman Cathy McMorris Rodgers was attend by California Congressman Devin Nunes, Monday, July 30, 2018. (Dan Pelle / The Spokesman-Review)
A campaign appearance in Spokane by U.S. Rep. Devin Nunes, the California Republican who has been critical of the probe into President Donald Trump's campaign ties to Russia, brought protesters to the front door of the Spokane Club on Monday afternoon.
"The worst possible person she could bring with her, almost, is here with her," said Vivian Coleman, a South Hill resident who carried a "Grab 'Em By the Midterms" sign in the shadow of the John R. Monaghan statue. "I don't know why she would have him here."
The chairman of the House Intelligence Committee, who suggested this weekend that the FBI and Department of Justice is stalling in its release of classified documents related to a federal warrant used to surveil a Trump campaign member, was invited by the congresswoman because of his ties to the intelligence community, McMorris Rodgers' campaign said last week.
The Spokesman-Review asked that a reporter be allowed to attend and report on the the fundraising lunch, which cost $250 a plate or $500 to meet with Nunes. McMorris Rodgers declined the newspaper's request.
More than 100 protesters gathered outside, many of them holding signs alleging a link between Trump and Russian President Vladimir Putin. Others criticized McMorris Rodgers for her ties to Trump that – while strained on issues involving trade – have been largely conciliatory regarding the president's policy positions.
"It's her deeply, uncritically partisan nature, is what I have the biggest problem with," said Chris Nerison, a Spokane Valley resident who hoisted his sign reading "No Mo Mc Mo Ro" for passing motorists on Monroe Street. "It's all about the party. It's all about partisanship. It's not about the country, and it's not about what's doing the best for working families."
Jared Powell, a spokesman for the McMorris Rodgers campaign, declined to comment on the protesters' messages Monday. He pointed last week to a statement by the congresswoman that while she believed Russia had meddled in the 2016 election, she is not yet convinced that there is evidence of collusion between the Kremlin and Trump's campaign.
Protesters remained out front of the Spokane Club for the first part of the noon hour, accompanied by a large inflatable rat. Monica Stenzel, a local history professor, brought her three teenage children to the protest, even though they aren't yet eligible to vote.
"The memo, and the whole Russian investigation, really makes me laugh," said Josie Stenzel, 16. "Because they're really defensive about it, but they say, 'Don't look into it.' "
"It's important to consider what our future is, especially because in a couple of years we'll be voting," said her sister, Diana Stenzel, 15.
Protesters moved to the rear of the club to continue chanting, drawing a spat with Marty Spadinger, who was walking back to his car parked nearby.
"Snowflakes in July! I love it!" Spadinger yelled across the street, drawing some boos from those protesting.
Spadinger said he supported Nunes visiting Spokane, and that he also shared concerns about the length of the Russian investigation.
"At some point, let's come up with some evidence," Spadinger, who moved to Spokane in late 2015, said. He identified himself as an independent voter who would be casting a ballot for McMorris Rodgers.
Spadinger said his health insurance premiums through the exchange rose 43 percent this year, a spike he attributed to the Affordable Care Act and the failure for young people to sign up to support the system.
"I think that's the failure of Obamacare," he said.
Rosemary Barile, a South Hill resident wearing a Lisa Brown T-shirt in the crowd of protesters, blamed rising costs on Republicans.
"I'm paying, basically, so that I don't go bankrupt," said Barile. "My deductible is $14,000 a year."
She said that she believed her premiums rose because Republicans voted to repeal the penalty for electing not to pay for health coverage.
"Even though that's not gone into effect yet, they're planning for the future because they know that's going into effect," Barile said. The individual mandate, as it's known, is set to expire next year.
A handful of Spokane police officers were on hand throughout the protest. There were no arrests.
The McMorris Rodgers fundraiser comes a little more than a week before ballots are due in what is anticipated to be one of the toughest primary challenges she's faced in Brown, a Democrat. Three others are running for the seat.
The McMorris Rodgers campaign reported more than $1.2 million in cash on hand for its re-election effort in the latest reports made to the Federal Election Commission. Brown reported about $920,000 on hand in her report.
Local journalism is essential.
Give directly to The Spokesman-Review's Northwest Passages community forums series -- which helps to offset the costs of several reporter and editor positions at the newspaper -- by using the easy options below. Gifts processed in this system are not tax deductible, but are predominately used to help meet the local financial requirements needed to receive national matching-grant funds.
Subscribe now to get breaking news alerts in your email inbox
Get breaking news delivered to your inbox as it happens.
---