News > Spokane
As hot weather sears Spokane, local cooling tricks provide relief
Tue., July 31, 2018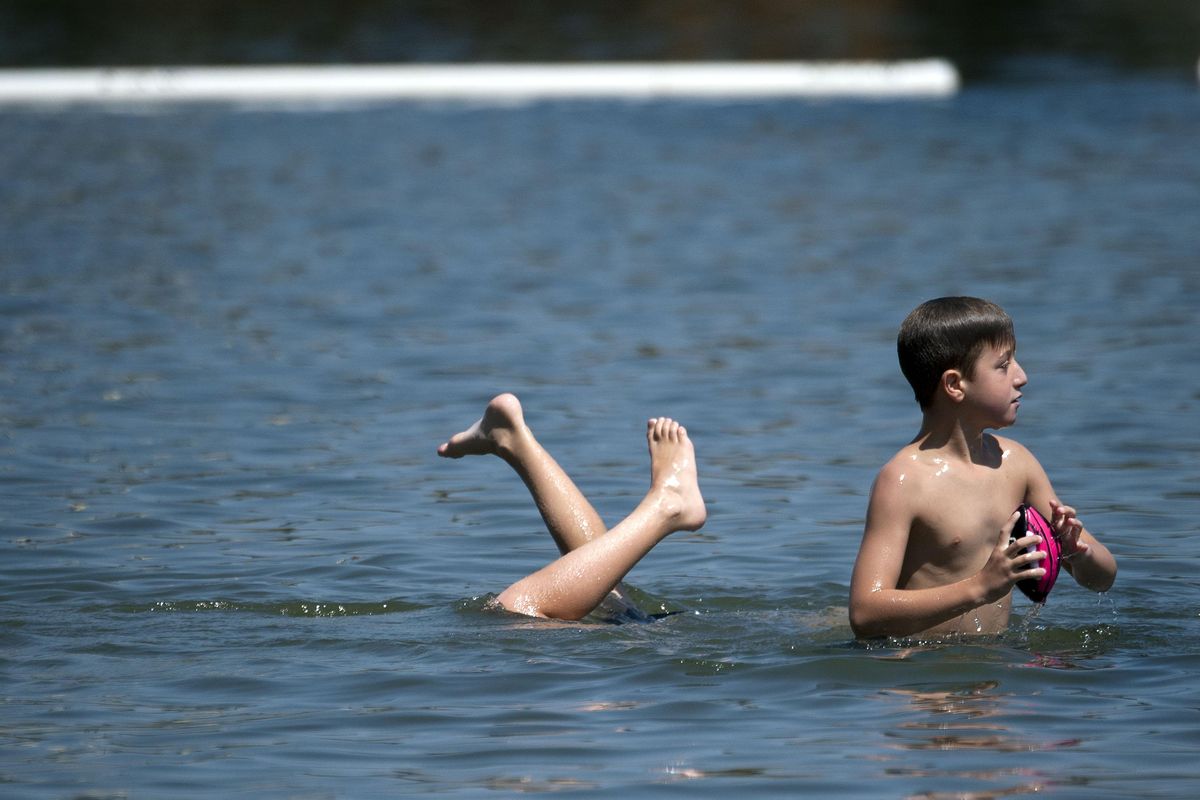 Ten-year-old Caleb Linder, left of Colbert does a hand-stand as his cousin Gavin Witte, 9, of Mead stay cool in the Spokane River at Q'Emiln Park on Monday, July 30, 2018 in Post Falls. (Kathy Plonka / The Spokesman-Review)Buy a print of this photo
The heat is on again today as much of Eastern Washington braces for hot weather flirting with 100 degrees. Some temperature records could fall amid an excessive heat warning that prompted local health officials to offer some options to keep homes cool.
Spokane Regional Health District officials said while hot temperatures increase chances for heat-related illness – especially for those without air conditioning – people can beat the heat by opening windows in the evening to allow air flow as well as keeping shades, curtains and blinds down during the hottest part of the day from 11 a.m. to 3 p.m.
"If, unfortunately, you don't have air conditioning, or the means to do evaporative cooling, have a fan blow over pans of ice or cold water to get cool air circulating," said Dr. Bob Lutz, health officer for the Spokane Regional Health District.
It's important to avoid heat buildup in the home during the day by avoiding indoor cooking and minimizing the use of artificial lights, said Omar Al-Hassawi, clinical assistant professor of architecture at Washington State University's School of Design and Construction.
Al-Hassawi, whose Ph.D research at Arizona State University focused on non-mechanical cooling methods for building design, said natural ventilation during the evening works well in the Inland Northwest since temperatures drop by 30 to 35 degrees.
"Opening windows after sunset until about 10 a.m. the next day will help flush out the heat generated indoors the day before and help prepare the interior space to absorb the heat that will generate throughout the following day," Al-Hassawi said in an email. "Closing windows during the hottest times of the day will minimize heat gain and take advantage of the now cool space because of nighttime ventilation."
Heat producing appliances such as dishwashers, dryers and ovens should be used after 7 p.m. to avoid adding excess heat in the home, according to Avista Utilities.
Residents can also keep homes cool by using bathroom and kitchen exhaust fans to draw out warm air and setting ceiling fans to a counter-clockwise rotation to create a "wind chill effect."
Lutz said another option to stay cool during Spokane's heat wave is to make use of city pools – which are free with a SplashPass that's available by visiting city hall or the city's aquatic recreation web page.
"It's a great community resource for physical activity, but also for cooling off in the heat of the summer," he said.
The record high of 103 degrees on July 31 was set in 1929, according to the National Weather Service. Temperatures are expected to be between 98 to 101 degrees on Tuesday in Spokane and Coeur d'Alene.
Lutz recommends people without proper cooling to spend part of the day in an air conditioned public area.
"There's plenty of places such as a mall, library, or grocery store where air conditioning is available to take advantage of," he said.
The Spokane Regional Health District urges people to know the signs of heat-related illness and stay hydrated by drinking plenty of water and juices during the heatwave, wear loose fitting, light-colored clothes, check on elderly neighbors and avoid leaving children and pets in vehicles.
Lutz said because temperatures have been in the upper 90s for the past week, people are a bit more tolerant to a slight heat increase. However, it's best to limit time spent outdoors during peak hours.
"The big thing to do is hunker down," he said.
Local journalism is essential.
Give directly to The Spokesman-Review's Northwest Passages community forums series -- which helps to offset the costs of several reporter and editor positions at the newspaper -- by using the easy options below. Gifts processed in this system are not tax deductible, but are predominately used to help meet the local financial requirements needed to receive national matching-grant funds.
Subscribe now to get breaking news alerts in your email inbox
Get breaking news delivered to your inbox as it happens.
---