News > Spokane
Weeks after crash, body and vehicle recovered from Spokane River
June 1, 2018 Updated Fri., June 1, 2018 at 10:46 p.m.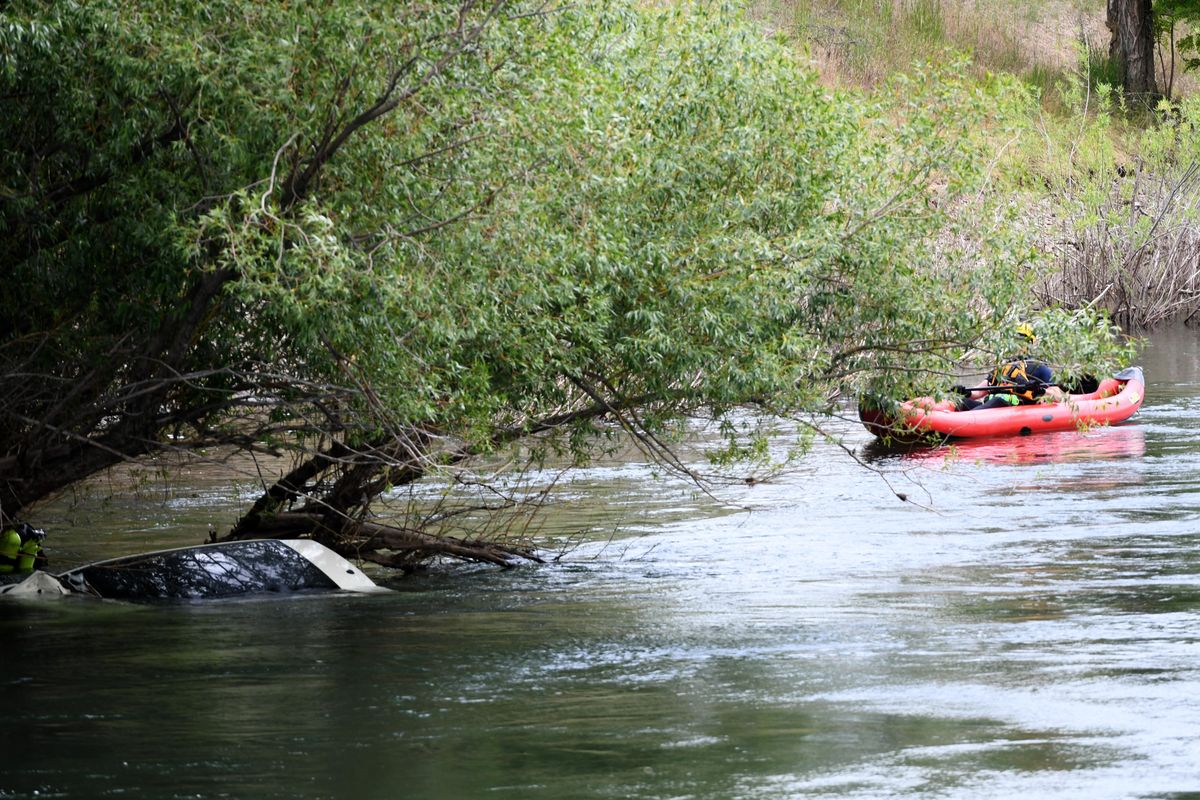 A water rescuer waits near the wreckage of a car that was caught in the branches of a riverside tree in the Spokane River near Sinto and Helena, close to the Mission Ave. bridge in east Spokane Friday, June 1, 2018. (Jesse Tinsley / The Spokesman-Review)Buy a print of this photo
As crews worked Friday to recover a vehicle submerged in the Spokane River for weeks, dozens of onlookers – many claiming a man was still inside the white SUV – stood anxiously behind yellow police tape.
The vehicle had been in the river near the Mission Street Bridge since April 21, appearing to have crashed through a guardrail near Riverton Avenue. The strong current, high water and placement of the vehicle under a tree prompted officials to delay the recovery, citing dangerous conditions.
When the Spokane Fire Department, with the help of a large tow truck, pulled the vehicle onto land Friday, Spokane police confirmed to a small group of grieving people at the scene that a body was also recovered, but couldn't give official identification.
"Is it James? He has a tattoo like this, can you look?" a man said to an officer as he pointed to a tattoo on his arm as two women near him cried.
Friends and family of 33-year-old James Monday believe he was behind the wheel when he crashed last month near his family's residence. The vehicle recovered Friday was Monday's, they said, and he had uncharacteristically been out of contact with his family, his two children and he hadn't shown up to work.
His sister, Kate Monday, said earlier this month that she believed her brother was dead, and noted parts of the man's car were found at the crash scene. Others held out hope.
"I always knew it was him inside (the vehicle), but I just prayed that somehow he wasn't in the car and got out. I was in denial," said Maria Monday, his wife who was at the recovery scene. "He was a good man who was always in a good mood."
James Monday, an Othello native, moved to Spokane in 2013, his family said, and worked at Spokane Galvanizing, a steel fabricator. He enjoyed fishing, his family and watching the Seahawks, they said.
"He was always trying to find ways to connect with others and bond with them," said Monday's friend, Sam Riojas.
Spokane police initially said they didn't believe anyone was inside the vehicle after it plunged into the river. The river conditions had been continuously monitored, and officials deemed Friday a safe time to attempt the recovery.
The Spokane medical examiner will officially release the identity of the body at a later date. The death is under investigation.
Local journalism is essential.
Give directly to The Spokesman-Review's Northwest Passages community forums series -- which helps to offset the costs of several reporter and editor positions at the newspaper -- by using the easy options below. Gifts processed in this system are not tax deductible, but are predominately used to help meet the local financial requirements needed to receive national matching-grant funds.
Subscribe now to get breaking news alerts in your email inbox
Get breaking news delivered to your inbox as it happens.
---