News > Spokane
Food Truck Fridays bring Spokane a street treat
Sat., June 2, 2018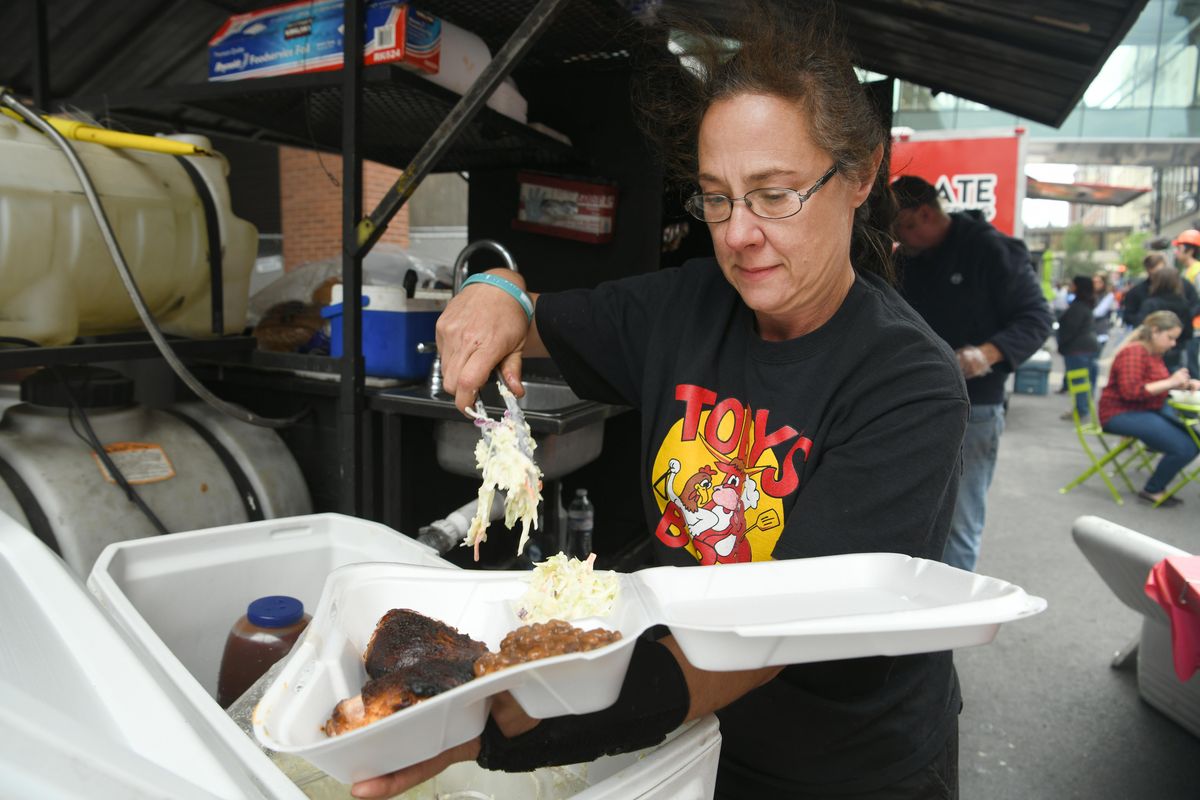 Sandra McNeilly serves up side dishes at Toby's B-B-Q, a mobile barbecue pit set up on Wall St. in downtown Spokane Friday, June 1, 2018 during a food truck rally that will happen every Friday through the summer. (Jesse Tinsley / The Spokesman-Review)Buy a print of this photo
As Josalyn Scantlin stood in line for the Asian-fusion food truck on Friday, the Silicon Valley resident said, "It's cool to see a smaller city doing things like this."
Food Truck Fridays returned to downtown this week, when a section of Wall Street is cordoned off for about six food trucks, music and games. They run until the end of September from 11:30 a.m. to 1:10 p.m., and feature a rotating variety of food trucks, offering barbecue, chicken satay, tacos, cubano sandwiches and raspberry sorbet, to name a few options.
"Anything to get people spending time downtown is a good thing," said Ross Carper, owner of Compass Breakfast Wagon.
The event is in its second year, and Friday was this year's first showing. The winds were strong enough to blow trash cans over and give a chill to the air, but it didn't stop people from lining up 15 deep for some of the trucks.
Liz Hooker, marketing director for the Downtown Spokane Partnership, said she was interested in bringing the events back for a second year. The DSP hosts the events and partners with the city.
A chain-link construction fence lined one side of the Main Street block, but Hooker said she expects to have the eyesore gone by next week. It's a signal of the redeveloped downtown area that's attracting more people with new businesses, she said.
Tony Epefanio, owner of Mixed Plate Food Truck, dished up fusion tacos and rice bowls with Korean beef bulgogi and chicken satay. He thought Food Truck Fridays last year had potential and wanted to get involved.
Epefanio is president of the Greater Spokane Food Truck Association, which partnered with the Downtown Spokane Partnership this year to bring a greater variety of food options.
"Last year was good. They had the same trucks every week," he said. "But we're bringing more variety. People get to try the foods that they haven't tried."
Epefanio said food trucks in Spokane are becoming more common. The association has seen its membership triple since 2011, he said.
Heather Hawley came to Food Truck Friday because she likes the variety, but she would like to see more seating.
"I think it's great for people who work downtown," said Hawley, an STCU employee. "We all talk about it at work."
The rotating trucks include Brain Freeze Creamery, Compass Breakfast Wagon, Couple of Chefs, Crate, D. Lish's, King of Tacos, Mac Daddy's, Mangia, Meat BBQ, Mixed Plate, One Night Stand BBQ, Skewers, Tacos Camargo and Toby's BBQ.
Hooker said one of the reasons it came back this year was because people kept asking about bringing it back. In the future, Hooker wants to attract more entertainers, performers and musicians to bring a new element to the weekly event.
"We just wanted to bring community to the street," she said, "and I think we've accomplished that."
Local journalism is essential.
Give directly to The Spokesman-Review's Northwest Passages community forums series -- which helps to offset the costs of several reporter and editor positions at the newspaper -- by using the easy options below. Gifts processed in this system are not tax deductible, but are predominately used to help meet the local financial requirements needed to receive national matching-grant funds.
Subscribe now to get breaking news alerts in your email inbox
Get breaking news delivered to your inbox as it happens.
---