In the Garden: Stock up on pollinator plants at Friends of Manito spring plant sale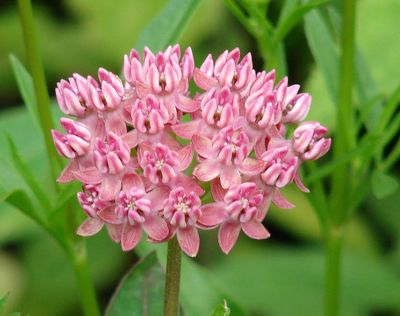 The best way to have a healthy, productive garden is by attracting pollinators. And the easiest way to accomplish this is by adding plants prized for their ability to bring in bees and butterflies.
A great source for these and many other plants is the Friends of Manito spring plant sale on June 9. It will be east of Manito Park's Gaiser Conservatory from 8 a.m. to 3 p.m. Members of the Friends of Manito will receive a 10 percent discount on their purchases. Those interested can become a member during the sale as well.
Plant sale manager, Janis Saiki, has made sure there will be plenty of pollinator plants available. Some of her favorites are bee balm (Monarda), butterfly weed (Asclepias), sage (Salvia), catmint (Nepeta) and goldenrod (Solidago).
Bee balm adds a lot of interest to the garden with its magical flower heads. Hummingbirds are powerless to resist them and dart from one to the next, eagerly sipping the nectar. There will be nine cultivars at the sale, ranging in height from 14 to 36 inches, and hardy down to zones 3 and 4. Blossom colors available include red, pink, lilac, lavender-blue and raspberry. Most are mildew-resistant.
While one might be leery of plants with the word "weed" in their name, milkweed has become very popular with gardeners in recent years. Both showy milkweed (A. speciosa) and swamp (Asclepias incarnata) are hardy to zone 3 and are host plants for monarch butterflies and their caterpillars. These milkweed species have pink flowers and grow anywhere from 30 to 48 inches tall. Showy milkweed is native to our region. The blooms of swamp milkweed have a pleasing vanilla scent.
There will be several hardy salvias at the sale. The flowers – available in blue, pink or violet – are appreciated for their lengthy blooming period. Two important attributes of these plants are their drought-tolerance and deer-resistance. Plants range in height from a compact 10 inches up to a standout 20 inches.
Catmint blends beautifully in flower borders with its gray-green foliage and blue blossoms. They're very popular with the pollinators, too. Gardeners will appreciate that it is fragrant, deer-resistant and drought-tolerant. The cultivars at the sale are hardy to zones 3 or 4 and grow between 12 and 18 inches tall.
Those looking for bright colors to add to their garden should consider goldenrod, which is a pollinator magnet. Its vibrant gold flowers provide texture as well. Offerings at the sale are hardy to zones 3 and 4 and grow 3 feet tall.
All of the above plants prefer full sun.
To make selecting plants easier, Saiki has put together a collection of her favorite pollinator plants: Grape Gumball bee balm, swamp milkweed, Blue Hill salvia, Walker's Low catmint, and Solar Cascade goldenrod. This collection – along with themed collections of "extra cold-hardy," "something always in bloom," and a lawn substitute mix – will be available at the sale.
Proceeds from the plant sale will benefit Manito Park. The Friends of Manito will also host their educational Pollinator Event on June 16 from 10 a.m. to noon in Manito Park's meeting room. Attendees will learn why pollinators are vital and have the opportunity to choose from plants that provide pollen and nectar.
Susan Mulvihill is co-author, with Pat Munts, of "Northwest Gardener's Handbook." Contact her at Susan@susansinthegarden.com. Watch this week's "Everyone Can Grow A Garden" video on her YouTube channel, youtube.com/c/susansinthegarden.
---