Mistakes by Bill Hamid, Matt Miazga help Ireland beat U.S. 2-1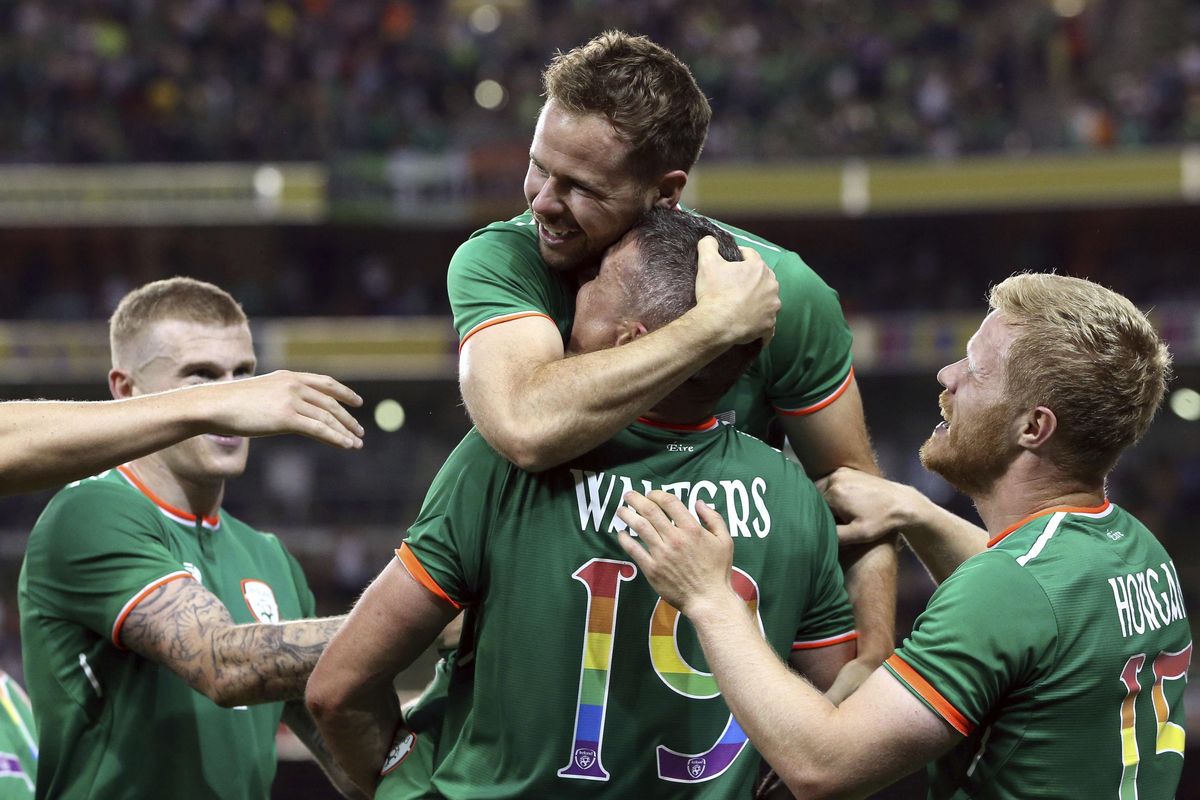 Facing far better opposition than earlier in the week, a young U.S. soccer team revealed its inexperience.
Goalkeeper Bill Hamid's mistake led to Graham Burke's tying goal in the 57th minute, Alan Judge scored after Matt Miazga's defensive lapse in the 90th and Ireland remained unbeaten at home against the United States with a 2-1 win at Dublin on Saturday night in an exhibition between nations that failed to qualify for the World Cup.
"We conceded two goals that we shouldn't be conceding, and we got to learn from it," Miazga said.
Bobby Wood put the U.S. ahead in first-half stoppage time, but the Americans lost for the first time since a 2-1 defeat at Trinidad and Tobago last October ended their streak of seven straight World Cup appearances. Coach Bruce Arena quit after that match and was replaced on an interim basis by Dave Sarachan, who led the U.S. to two wins and two draws, including a 3-0 home win Monday over a Bolivian team that started just one regular. Sarachan gave three more players debuts against the Irish, raising the total to 18 in five matches.
"For our young guys tonight, this is what these games are all about, knowing how to manage a game like this on away soil," Sarachan said.
Wood, among the few veterans of the loss in Trinidad, scored 34 seconds into first-half injury time. Wil Trapp took a free kick from about 40 yards and Matt Miazga, just inside the penalty area, headed the ball into the 6-yard box. Wood split defenders James McClean and Jeff Hendrick, stuck out his right foot about 4 yards from the goal line and poked the ball past goalkeeper Colin Doyle for his 12th goal in 38 international appearances.
"I kind of just read where the ball was going," Wood said.
Ireland ended a three-game losing streak and improved to 6-0 at home against the U.S., which plays France, among the World Cup favorites, at Lyon next Saturday in what may be the Americans' final match before a permanent coach is hired.
"We're all young kids that are hungry for a chance and we just want to prove that we can really compete with these guys," said 18-year-old Josh Sargent, who entered in the 70th minute in his second international appearance.
Before a loud crowd of 32,300, the Irish tied the score after a short corner by Hendrick. The ball was lofted to the far post, and Hamid came off his line only to run into midfielder Weston McKennie. Kevin Long headed the ball to the 6 where Darragh Lenihan, making his Ireland debut, took a touch off his chest to settle and then sent a shot on goal. Burke, who made his international debut in Monday's 2-0 loss at France, deflected the ball at the goal line and ended a 386-minute scoreless streak for the U.S. dating to a November exhibition at Portugal.
Judge, a second-half sub, scored his first goal in four international appearances from short range. Declan Rice made in a throw-in to Seamus Coleman and received the ball back. He centered to McClean, who cut past Miazga and allowed Judge to run onto the ball and kick it into the roof of the goal from 7 yards.
Hamid, playing his sixth international match, also was in goal for the Americans' previous game in Ireland, a 4-1 defeat in November 2014.
Sarachan's latest debutants were defender Tim Parker entered in the 61st minute, defender Shaq Moore, who came on in the 70th, and midfielder Luca de la Torre, who entered in the 77th.
"We need to just learn how to just manage games better," Moore said. "A good eye-opening experience for all of us."
Both teams wore rainbow numbers as part of a celebration of LGBTQ Pride Month.
John O'Shea started for Ireland in what he said was his international farewell. The 37-year-old defender, who came out in the 35th minute, made his 118th appearance, third on Ireland's career list behind Robbie Keane (146) and Shay Given (134).
"I think tonight we realized that it's 90 minutes," U.S. captain Wil Trapp said. "It's all about just continuing to compete, and I thought we lost that, especially in the last 10, 15 minutes."
---