So far, University of Idaho campus quiet on Staben's departure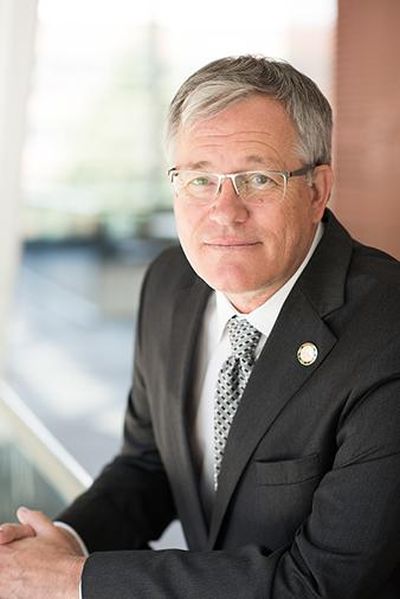 One week after the Idaho State Board of Education and University of Idaho President Chuck Staben announced his contract would not be renewed after the Spring 2019 semester, staff and the few students who could be found on campus Friday were reluctant to share what their feelings are – if any – on the decision.
In fact, all of the UI employees the Daily News attempted to speak with on the matter declined to comment.
Staff's hesitation didn't stop some students from voicing their opinions.
Nicole Skinner, president of the Associated Students of the University of Idaho, said the lack of response will not change in the fall when the large majority of students return to campus.
"Honestly a decision like this doesn't directly impact students who do not work with the president," Skinner said Friday.
She said as someone who has worked personally with Staben, though, she was shocked by the announcement.
"I know some alumni have raised their concerns (and) a lot of the decisions he has made have been controversial," Skinner said, "but he has been a really great advocate for the students in many ways."
In an email to students, faculty and staff announcing he would not be renewing his contract Staben wrote, "My candidacy for another position in fall 2017 caused a distraction. We've had disagreements about the appropriate place for our football program and other topics. Not every decision has been popular, and some issues have been divisive."
Skinner said the biggest concern she has is the effect Staben's departure will have on the sense of community on campus.
"Whenever there is a huge shift in leadership there is usually a loss of morale," she said.
Skinner said she hopes the next president has an even stronger dedication to diversity and inclusion and that he or she supports the student government's voice in fighting sexual assaults and harassment.
McKenzie McDonald, who was the ASUI President until she graduated in May, said she was also surprised to hear Staben's contract would not be renewed.
"Quite frankly I was really sad," McDonald said after reading the email.
She said as ASUI president she worked closely with Staben and saw a side of him that listened to the student's voice and cared deeply about providing a great college experience.
"I always felt he had a good vision and creative ideas," McDonald said, adding she hopes the new president will make an effort to build strong partnerships and provide a quality education.
"That is all you can really ask for," she said.
Alex Strauss, a recent May graduate from the athletic training department, said his view on Staben leaving the UI is far different from McDonald's and Skinner's.
"I was not surprised," Strauss said, citing the recent heat the university received over allegations it mishandled several sexual assaults.
While Staben said the decision to not renew his contract was not in connection to the allegations, Strauss said, he has a hard time believing there was no relation.
He said hopefully the next UI president will be more transparent with their beliefs and values.
---