News > Spokane
100 years ago: Wobblies lawyer clashes with judge in sabotage trial
Mon., June 4, 2018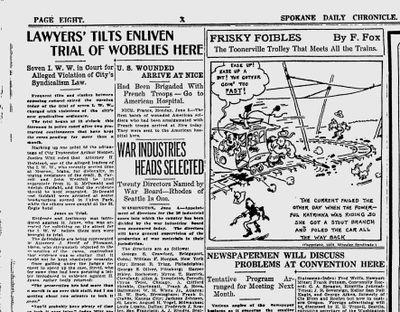 Seven Wobblies were on trial for "criminal syndicalism" – a law aimed directly at members of the Industrial Workers of the World – and the rhetoric in the courtroom was already growing heated on the first day.
J. Streif, of Plummer, the Wobblies' attorney, strenuously objected to the admittance into evidence of a "printed slip," which the prosecutor said was proof of sabotage.
"I cannot see how in the world this has any bearing on a syndicalism case," declared Streif. "A man belonging to the Mormon church could be found guilty of practicing sabotage if you are going to let it be proved this way."
At another juncture, the prosecutor introduced a letter into evidence. Streif took his time in reading it. When the judge admonished Streif for delay, Streif bridled.
"The prosecutor has had over a month to look over this stuff, and I am getting about two minutes to look it over."
When the judge replied that he would have plenty of time to look it over later, Streif hotly responded that "you may as well find all these defendants guilty right now and be done with it."
From the movie beat: Spokane's official film censors were watching a new film called "War Women," and they discovered it was exceptionally "hot stuff."
At least, that's what a headline in the Spokane Daily Chronicle called it.
Turned out, the headline was referring not to the movie's content, but to the film stock itself. The film caught fire during the screening. About 33 feet of film was destroyed. The theater planned to obtain a new print and show the movie at a later date.
Local journalism is essential.
Give directly to The Spokesman-Review's Northwest Passages community forums series -- which helps to offset the costs of several reporter and editor positions at the newspaper -- by using the easy options below. Gifts processed in this system are not tax deductible, but are predominately used to help meet the local financial requirements needed to receive national matching-grant funds.
Subscribe to the Coronavirus newsletter
Get the day's latest Coronavirus news delivered to your inbox by subscribing to our newsletter.
---