News > Idaho
Meridian man who murdered wife's friend gets life in prison with possibility of parole
June 5, 2018 Updated Tue., June 5, 2018 at 8:46 a.m.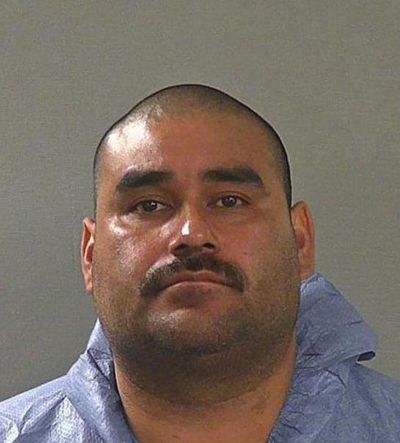 CALDWELL — A man who broke into his estranged wife's house in Nampa last year and fatally shot another man there was sentenced Monday to life in prison.
Phillip Cabrera, 39, of Meridian was sentenced in 3rd District Court for first-degree murder in the killing of Andrew Shepard, 34, and for aggravated assault against a law enforcement officer. He will be eligible for parole in 35 years.
Shepard was holding Cabrera's infant daughter when he was shot. The baby was not physically injured.
"I've been on a bench 24 years and never seen a sadder case than this," Judge Thomas J. Ryan told the courtroom Monday. "It's awful, and everybody in this room knows it."
On April 28, 2017, Cabrera kicked down the front door of his wife's house in Nampa, then kicked down the master bathroom door before shooting Shepard in the abdomen and head, just missing his daughter in Shepard's arms. Cabrera also shot at responding officers, and stray bullets hit a neighbor's house.
Canyon County Deputy Prosecutor Monica Morrison said Cabrera had hurt Amanda Storms, his now ex-wife, before murdering Shepard.
"Certainly we continue to have domestic violence homicides — from our perspective this is what it was," she said Monday.
According to Morrison, Cabrera believed his wife was cheating on him with Shepard, Morrison said. But Shepard's family, Storms and prosecutors said Shepard was only a friend to Storms.
"You let your evil thought of me destroy our lives forever," Morrison read from Storms' victim impact statement. "Take some responsibility for murdering my best friend, Andy, who was just that and nothing more."
Morrison said Storms sought a protection order against Cabrera but asked for it to get dismissed so he could visit their infant daughter. The protection order was dismissed April 4, 2017, just weeks before the shooting.
Cabrera sat expressionless before the court on Monday. Shepard's father, Merle Shepard, addressed him, saying, "Face me like the man you think you are." Cabrera briefly met his gaze, then stared blankly ahead.
Morrison claimed Cabrera has shown no remorse.
"He seems more concerned that he's lost 50 pounds in jail than brutally murdering Shepard while holding his daughter," Morrison said.
Cabrera's public defender, Randall Scott Grove, refuted that claim.
"It has sunk in, he does have remorse and regret," Grove said. "He himself has lost everything that he has."
Some attendees in the packed courtroom Monday cried and hugged each other as audio of Storms' 911 call from the day of the shooting played. What started out as a quiet call to the dispatcher, with Storms saying Cabrera was outside with a gun, turned to chaos when Cabrera broke into the house. Storms is heard screaming "get out" and eventually "help" after Shepard is shot. Children can also be heard crying in the background. Prosecutors also played body cam footage from the scene.
Storms said in her victim statement that their children are no longer the same. Cabrera's 11-year-old stepson who used to love fireworks can no longer listen to them because they remind him of gunfire.
Shepard's son, daughter and two brothers provided victim impact statements, and some family members spoke in court Monday.
"You are a coward, you will always be a coward, and you will die a coward," Shepard's father told Cabrera. Shepard's son, Alex, said, "My dad was the most loving, caring, protective man you'd ever meet. Your stepson will never be able to say that about you."
Morrison read a statement by Shepard's brother, saying, "Only a coward would shoot an unarmed man holding a child."
Nampa Police Sgt. Brian Jones, the responding officer shot at by Cabrera, also addressed Cabrera in court.
"I offer you a challenge," he said. "If you're truly remorseful, then I want you to not have your family talk, but come up here and admit why you did this. … Any other excuses I won't accept."
Cabrera declined to make a statement during the sentencing hearing, and no one spoke on his behalf.
Jones closed his statement by addressing the Shepard family.
"I want you to know this call has impacted me more than any other call," he said. "I feel like I failed you all."
Jones said he was not aware Shepard was in the house, and if he had known, it would have changed everything.
"When we see a police officer who has more guilt than the defendant, it is truly stunning and sad," Morrison said.
Sentencing
The prosecutors and defense came to a Rule 11 plea agreement prior to sentencing, which gave Cabrera a fixed 35-year sentence, followed by an indeterminate sentence of life in prison. Morrison also asked that there be no-contact orders for his children and Storms.
"The state believes he is at high risk to reoffend and likely to go kill again," Morrison said.
Cabrera, who was facing the death penalty, pleaded guilty to first-degree murder in February in exchange for a maximum possible sentence of life in prison.
Morrison also asked for a 10-year prison sentence for the assault on law enforcement to run concurrent with the first-degree murder sentence.
Cabrera's defense attorney, Grove, did not object to the sentence. But he suggested that rather than a no-contact order, the judge let Storms decide if Cabrera could see his daughter.
Ryan accepted the agreement, but he did put a no-contact order in place.
Ryan told the court that sometimes judges find themselves thinking, "Just how could a human being be so depraved that they would cause this type of damage?
"I wish there was a magic wand I had that could cure this. But I can tell you that I feel your emotion," Ryan said. "And wish I could do more."
Cabrera's sentencing follows two other fatal domestic violence attacks in Canyon County this year. Morrison told the Idaho Press, "It's extremely alarming."
Local journalism is essential.
Give directly to The Spokesman-Review's Northwest Passages community forums series -- which helps to offset the costs of several reporter and editor positions at the newspaper -- by using the easy options below. Gifts processed in this system are not tax deductible, but are predominately used to help meet the local financial requirements needed to receive national matching-grant funds.
Subscribe now to get breaking news alerts in your email inbox
Get breaking news delivered to your inbox as it happens.
---