A&E > Food
Patio season: Where to go for outdoor happy hour in and around Spokane
Tue., June 5, 2018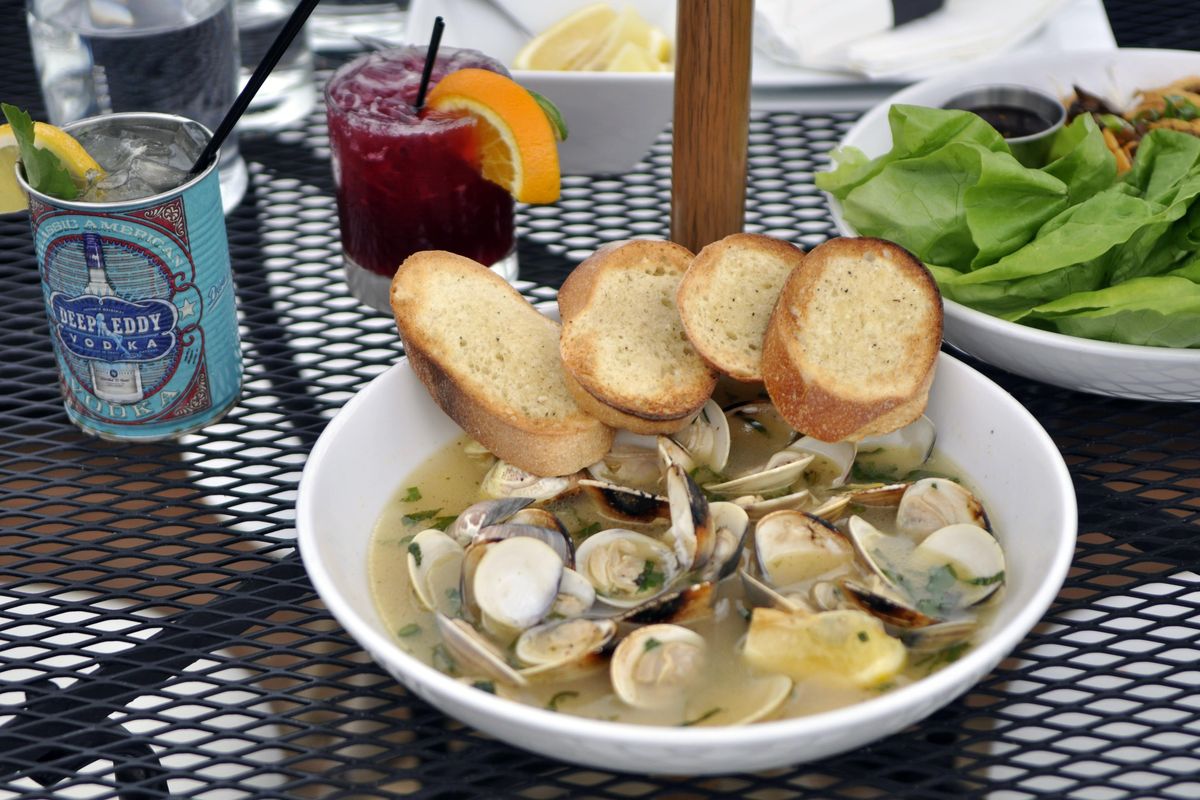 Appetizers, including these clams, are $4 off during happy hour at Remedy on the South Hill. Signature drinks are $7 and mules are $6. (Adriana Janovich / The Spokesman-Review)Buy a print of this photo
Patio season has arrived.
When the weather's warm and it stays lighter out later, there's nothing better than dining and drinking outdoors – except for outside eats and drinks at happy hour prices.
Everyone likes to save a few bucks. And, you're likely to linger a little longer – and order one more and maybe some snacks to go with it – when appetizers and drinks are on special.
Happy hour is even happier outside in summer. Here's where to go for happy hour on the patio or rooftop in and around Spokane.
1898 Public House
Happy hour on the golf course overlooking a manicured green and mature pines? Yes, please. Here's the best part: you don't even have to play golf or be a member. You used to. Since the Kalispel Tribe bought and reopened the former – and historically private – Spokane Country Club more than two years ago, the gastropub has been open to all. The expansive dining room and umbrella-dotted deck both offer sweeping views of the golf course. Happy hour runs from 4 to 6 p.m. And the menu offers lots of options. Pro tip: get the award-winning and very popular ahi tuna and avocado appetizer and a platter of calamari to share. Other items include crab cakes, Asian pulled pork sliders, smoked brisket sliders, oysters, clams, chicken wings and a lobster corn dog. Prices run from $2 to $9, or half price. Drinks are $2 off. 2710 W. Waikiki Road. (509) 466-2121. www.kalispelgolf.com/dining.
Clinkerdagger
Clink's has been a Spokane favorite for more than 40 years. The best two tables on its two-tiered patio are at the tail end of the uncovered section. It's a long drop down. But from this perch, which juts from the old Flour Mill, the views of the river and Riverfront Park are magnificent. Seating is first-come, first-served and can fill up quickly, especially for happy hour – which runs from 3 to 6 p.m. daily and 9 p.m. to close Saturday and Sunday. Dishes are $5.95 to $21.95. Look for fried Brussels sprouts, cod and chips, Buffalo chicken wings and oven-roasted crab-and-artichoke dip. The bacon brie burger is $8.95. So is the Buffalo chicken sandwich. Larger groups might want to share the sampler – the most expensive item on the happy hour menu – with its signature dip, seared teriyaki tenderloins and New Orleans barbecue prawns. Draft beer is a dollar off. Well drinks are $5.95. So are the chardonnay, house red blend and craft cocktails. House premiums are $2 more. 621 W. Mallon St. (509) 328-5965. clinkerdagger.com.
Anthony's
This popular regional seafood chain restaurant has two Inland Northwest locations with water-view patios. Watch water rush over the rocky Upper Falls of the Spokane River from Anthony's at Spokane Falls, tucked just past the Post Street bridge in downtown Spokane. The view includes the U.S. Pavilion from Expo '74 and Upper Falls Power Plant. Happy hour is 3 to 6:30 p.m. The menu is similar at the Coeur d'Alene restaurant, opened two years ago at the Village at Riverstone. That patio overlooks the pond and includes two outdoor fireplaces. Happy hour there is 3 to 6 p.m. and 9 p.m. to close. Select cocktails – Cosmopolitan, Moscow Mule, Pom Paloma – are $6.50. Well drinks are $5.50, beers are a dollar off, and select wines by the glass are $5.50 or $8. Prices vary, but look for the Hawaiian ahi nachos with poke, taro chips and wasabi aioli as well as a burger, Buffalo chicken sliders, clams, mussels and fries, calamari and Anthony's signature baked crab, shrimp and artichoke dip, all in the $6.50 to $9.50 range. Spokane: 510 N. Lincoln St. (509) 328-9009. anthonys.com. Coeur d'Alene: 1926 W. Riverstone Drive. (208) 664-4665. anthonys.com.
The Grand Terrace Bar
It almost seems like you can reach over and touch the top of Riverfront Park's Clocktower from this perch atop the second-floor rooftop of the Davenport Grand Hotel in downtown Spokane. Take a seat on the collection of low-slung couches set around fire features and enjoy the view of downtown and the park. There's no table – couch? – service; it's a walk-up bar. Happy hour is 4 to 6 p.m. daily with half off all cocktails. (They're regularly $12.) Signature drinks include the Terrace Sunset with Lunazul, blood orange, cucumber and habanero as well as the Clocktower Lemonade with grapefruit vodka, lemonade vodka, grapefruit juice and mint. There aren't any food specials, but there are specialty food items. New this season is the Muscovy duck rillete with cherry aigre-doux, mustard, cornichons and grilled baguette. Look, also for chips and salsa, barbecue pork, a charcuterie-and-cheese plate, and a hummus platter for $10 to $16. 333 W. Spokane Falls Blvd. (509) 598-4200. davenporthotelcollection.com.
Central Food
The first restaurant to locate in Spokane's Kendall Yards development back in 2012, Central Food offers a cozy, umbrella-ed patio with sweeping views of the Spokane River and downtown skyline. "Golden hour" runs from 3 to 6 p.m. Monday through Friday. During that time, draft beers are $4.50, select glasses of red and white wine are $6, and select bottles of wine are $15. Get a cheese plate and one of those select bottles for $20. Other specialties include a $10 pickle platter, $10 cheese plate, $6 hummus, $4 sweet potato jo-jos and baked brie brulee with flamed sea salt and brown sugar and on a baguette. Look, also, for the $7 terrine, which features mushroom mousse, bacon, a poached egg and toast. 1335 W. Summit Parkway. (509) 315-8036. eatcentralfood.com.
Umi Den at Umi Kitchen and Sushi Bar
The latest restaurant to open in Kendall Yards offers a lower-level lounge with an expansive patio that sits alongside the Centennial Trail and spectacular views of downtown and the river. The restaurant opened May 11, and the lounge is slated to open July 15. Plan to come for happy hour, which will run 3 to 6 p.m. daily, except Sunday when it will be happy hour all day. Details are still being finalized. But Umi specializes in high-end seafood and sushi, and plans call for the lounge to carry assorted sakes and Japanese whiskeys as well as batch cocktails and craft cocktails featuring Asian-inspired flavor profiles. Think lemongrass, coconut, Asian peppers, jasmine tea and shiso. Look, also, for the signature Umi Fish House Punch, shochu, a distilled Japanese spirit, and baijiu, a Chinese spirit typically distilled from fermented sorghum. The patio is shaded by the deck at Maryhill Winery's tasting room, directly above the den. 1309 W. Summit Parkway. (509) 368-9372. umispokane.com.
Luna
Lounge on a sectional sofa at the charming terrace, fitted around a fire feature just outside the bar area, or on the nearby enclosed patio, where climbing plants help hide the traffic on the South Hill's 57th Avenue. Luna is one of the most romantic and refined restaurants in Spokane. Dishes are scratch-made. Ingredients are local and regional; some come from as close as the back garden. Happy hour runs from 3 to 6 p.m. and again one hour before closing. Consider the $13 cheese plate with house-made crackers, seasonal jam, Marcona almonds and three cheeses. Also popular: the Caesar, kale and signature Luna salads for $9, ahi tuna tartare for $16, maple beignets for $6 and 10-inch pizza for $12 each. A plate of french fries with aioli and balsamic reduction is $7; a filet slider with frites is $8. Cocktails are $2 off and beer is a dollar off. Signature cocktails include the Herbin' Martini with house gin, Lillet Blanc, basil, sage and house-crafted sour. 5620 S. Perry St. (509) 448-2383. lunaspokane.com.
Clover
A cozy, sun-soaked, bench-lined patio surrounds this restaurant, tucked into a turn-of-the-century Craftsman-style bungalow near Gonzaga University. It's one of the region's best for fine dining. It also offers a lovely backdrop for weekend brunch and cocktail hour, which runs daily from 3 to 5 p.m. and 9 p.m. until close. During those times, cocktails are $7 and include classics such as a Manhattan, Moscow Mule, Hemingway daiquiri and French 75. Draft beer is $5 during cocktail hour, and Clover house wine, red or white, is $6 a glass. Grape vines, strings of lights and colorful umbrellas add to the ambiance. Clover is known not only for its craft cocktails but also house-made breads and dressings, and scratch-made dishes featuring locally sourced ingredients. A menu of lighter fare, ranging in price from $5 to $15, is offered during cocktail hour. Look for soups, salads, pate, popcorn, a burger and Dungeness crab, arugula and artichoke dip. 913 E. Sharp Ave. (509) 487-2937. cloverspokane.com.
Downriver Grill
Happy hour runs from 2 to 5 p.m. daily at this upscale Audubon neighborhood eatery – except on Wednesday when it's happy hour all day and there's a $10 chef's burger-of-the-moment special. If you like burgers, that's really the day to go. (Need more proof? Follow Downriver Grill on Instagram, and check out those Wednesday burger posts. Seriously.) The popular gorgonzola fries are $9.50. (Regularly, they're $13.) Look, also for tacos, steak skewers and a roasted beet salad with arugula, red-wine cherries, gorgonzola and sherry-maple vinaigrette. For $5.50, there's chips and salsa and a quesadilla. Glasses of wine and draft beer are a dollar off, and select bottles of wine are on special. 3315 W. Northwest Blvd. (509) 323-1600. downrivergrillspokane.com.
Remedy Kitchen and Tavern
Happy hour runs from 2 to 5 p.m. Monday through Friday at this neighborhood eatery on Spokane's South Hill, where the new courtyard patio celebrated its grand opening Friday. The patio, complete with faux green grass, provides outdoor seating for folks who want to play bocce ball, enjoy cocktails and small plates, and can't get to the roof when it's full. And it does fill up on nice days. The rooftop dining area is lined with string of lights and dotted with umbrellas. Specials are $4 off all appetizers – try the clams in herbed white wine with butter – as well as $6 mules, $7 specialty cocktails, $5 house wine and a $3 rotating draft. Consider the hibiscus margarita or citrus-and-herb mule, which is served in a decorative can. 3809 S. Grand Blvd. (509) 443-3730. remedycrc.com.
Wandermere Twigs Bistro and Martini Bar
This location of the popular locally based Twigs chain sits along a suburban, landscaped pond with several water features, including a mini man-made waterfall. The expansive, sunny patio is peppered with fire features, heat lamps and red umbrellas. Sitting out here, it's easy to forget the restaurant sits in a development alongside the busy north-south U.S. Route 395. Happy hour runs from 3 to 6 p.m. and 9 p.m. to close. Signature martinis – including the Razitini, and Cucumber-Lime-Basil Kazi – are $2 off. House wine is $5 per glass. Other glasses of wine and draft beer are a dollar off. The restaurant's signature fries are $6. Roasted Brussels sprouts are $7. Or, get three Kalua pork tacos for $8. The fig-and-prosciutto flatbread and bruschetta are also $8 each. 401 E. Farwell Road. Note: the Twigs location on Spokane's South Hill also sits near a – albeit much smaller but still picturesque – pond. 4320 S. Regal Road. (509) 443-8000. www.twigsbistro.com.
The Barrel Steak and Seafood House
You'll hardly hear the Wall Street traffic once you're seated on the back patio. It's fenced in, like a friend's yard, with mature trees and bushes, strings of lights, umbrellas and – wait for it – actual grass. A water feature tucked into a far corner adds to the ambiance. Happy hour is 3 to 6 p.m. and 9 p.m. to close. There are eight dishes to choose from – steak bites, steamer clams, chicken wings, calamari, coconut prawns and more – and each is $8. Beer is $3.50. Cocktails, including the Blood Orange Fashioned and Cucumber-Basil Gimlet – are $7. 6404 N. Wall St. (509) 467-5490. www.thebarrelspokane.com.
Bardenay Restaurant and Distillery
The patio overlooking the pond in the Village at Riverstone is a perfect perch for enjoying cocktails with house-made spirits. Bardenday's food and drink menus are comprehensive. And the outdoor seating area – with its colorful shade sails and umbrellas – fills up fast when the weather's nice. Happy hour runs from 4 to 6 p.m. The ambiance is casual, relaxed and vibrant. Snacks run from as low as $2.50 or $3.50 for a single skewer to $7 for chicken wings. In between, look for a $4 quesadilla, $4.50 spinach-and-artichoke dip and $5 hummus plate. 1710 W. Riverstone Drive in Coeur d'Alene. (208) 765-1540. bardenay.com.
Local journalism is essential.
Give directly to The Spokesman-Review's Northwest Passages community forums series -- which helps to offset the costs of several reporter and editor positions at the newspaper -- by using the easy options below. Gifts processed in this system are not tax deductible, but are predominately used to help meet the local financial requirements needed to receive national matching-grant funds.
Subscribe to the Spokane7 email newsletter
Get the day's top entertainment headlines delivered to your inbox every morning.
---