News > Spokane
With $70 million in giving, the Inland Northwest Community Foundation changing name to 'Innovia'
Tue., June 5, 2018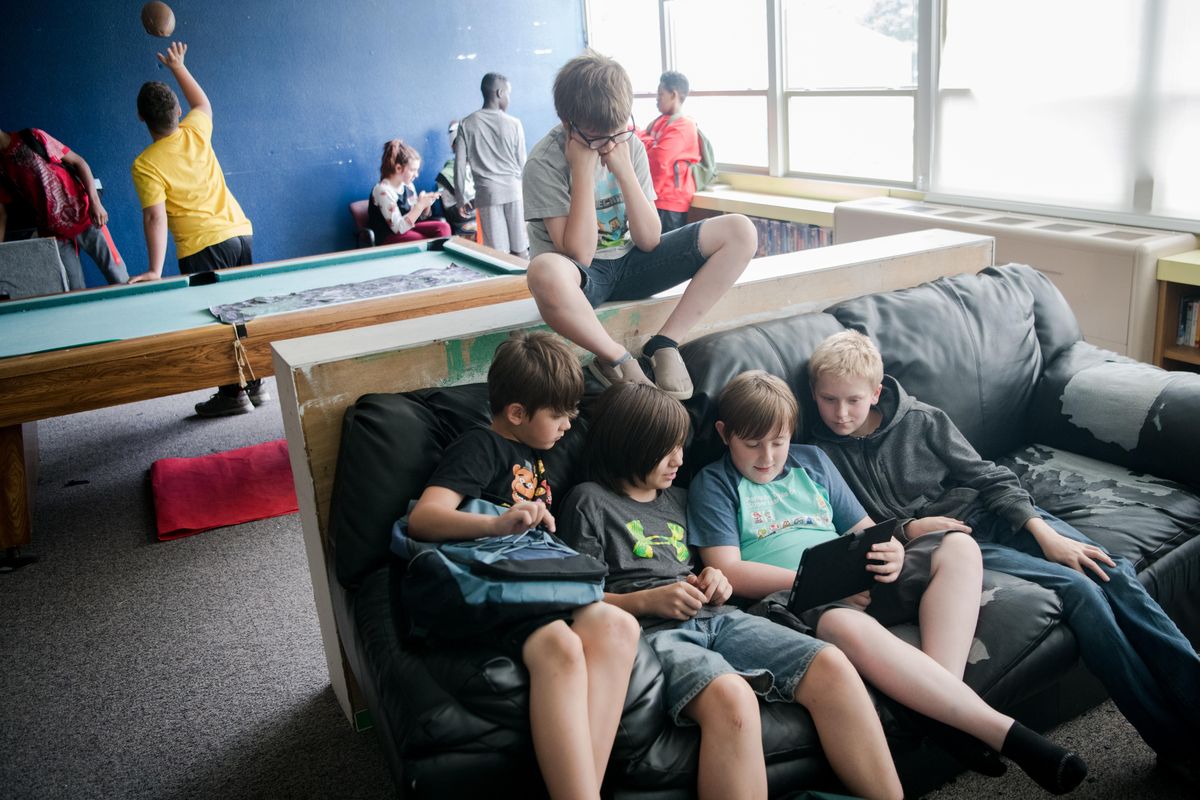 From left, Gabriel Richardson, Michael Richardson, Evan Walker, check out educational tablet held by Riley Sainsbury with Quinten Clark at the Boys & Girls Club in Spokane. The Club provides educational tablets like this one to stimulate learning during after school programs. The Boys and Girls Club was recently awarded a grant from the Inland Northwest Community Foundation - which is rebranding to "Innovia Foundation" - to fund The Club's expansion renovation project. (Tyler Tjomsland / The Spokesman-Review)Buy a print of this photo
When Shelly O'Quinn resigned during her second term as a Spokane County commissioner to head up the Inland Northwest Community Foundation, she heard a common refrain.
"Congratulations on your new job," well-wishers said. "Now, where is it that you're going?"
The foundation is the Inland Northwest's investment account for philanthropy. It manages $120 million in endowed assets that provide financial support to charitable organizations in 10 Eastern Washington and 10 northern Idaho counties.
The grants and donations embrace a wide range of causes: art councils, food banks, Boys and Girls Clubs, hospice, scholarships and the Vanessa Behan Crisis Nursery, to name a few.
The Inland Northwest Community Foundation has been giving money away for 44 years, but many community leaders simply weren't aware of it, said O'Quinn, who took over as the chief executive officer last June. She and the board of directors looked for ways to raise the foundation's profile.
Today, they'll unveil a new name, Innovia Foundation. It's part of a rebranding effort done by Desautel Hege Communications, a Spokane advertising and public relations firm.
Innovia plays off "innovate" and "via," which is Latin for way. The new name gets at the innovation the foundation brings to creating positive change in the communities it serves, O'Quinn said.
The name has been used by other companies in different industries.
In the Spokane region O'Quinn said one of the rebranding messages will connecting "donor generosity to our region's most pressing causes."
The $90,000 rebranding effort includes a new website design, logo and tagline. It was the result of extensive meetings with about 50 stakeholders, including donors, nonprofits, community members and foundation board members and staff.
During the meetings, stakeholders had a ho-hum response to the Inland Northwest Community Foundation's name. They said it was ambiguous, too long and could be confused with a bank's name.
The foundation put $60,000 into the rebranding – money it had set aside for a marketing position. Desautel Hege contributed $30,000 worth of work on rebranding to the foundation as a donation.
O'Quinn said she hopes the new brand will do a better job of explaining the foundation's work to the general public. The foundation started about the same time as Expo '74 and has given away $70 million.
"We have to get better at telling our story," O'Quinn said.
Distilling a mission
A Washington State University marketing professor and a local creative firm, Helveticka, weighed in on brands and the pros and cons of rebranding for this story, although neither had advance knowledge of the foundation's name change to Innovia.
Brands are important because they trigger associations, said Andrew Perkins, associate professor of marketing in WSU's Carson School of Business. Companies use brands to get people to encode "a large network of knowledge in memory" that influences their perceptions about the company and its products
"A rebranding is kind of this interesting paradox," Perkins said. "When you rebrand (an established organization) … you're removing those cues. You're losing all the brand equity that existed in the prior brand."
Rebranding is resource intensive, but it can remove negative associations or clear up customer confusion about the company's mission or values, Perkins said.
Often, rebranding reflects changes in the organization, said Aaron Bragg, senior copy editor at Helveticka.
The Spokane company was originally named Anderson Mraz Design after the firm's founding partners. When one of the founders retired, the company changed its name.
The new name, Helveticka, reflected the company's expanding products and services, which had moved far beyond the original work in graphic design, Bragg said.
"Sometimes, a name change can focus and clarify what you strive to be," he said. "It's meant to cut the clutter – to distill as simply as possible what you do."
In 1999, Washington Water Power changed its name to Avista Corp. The longtime Spokane-based utility was operating in multiple states and only about half of its electrical generation came from dams.
"They were much more than a hydro company and their geographic reach was expanding," said CK Anderson, Helveticka's creative director.
Avista's experience with its name change was inspiring to the foundation's staff and board, O'Quinn said.
"It was such a hard transition, but now Avista is a household word," she said.
Looking forward
Meg Miller is the vice president of Innovia's board of directors, which she joined two years ago. Serving on the board helps focus her longstanding interest in local nonprofits, she said.
Miller is a former volunteer for the Vanessa Behan Crisis Nursery, Boy Scouts of America and Ronald McDonald House. Then, "I got so busy," said Miller, executive director of resort operations for Northern Quest Resort & Casino.
She picked the foundation as the eventual focus of her volunteer work. "It takes effecting change to a high level," she said.
Miller said she likes the name Innovia, because it honors the foundation's long heritage while looking forward.
The foundation's roots date to Expo '74. At the time, Junior League of Spokane saw the need for the foundation as Spokane was preparing to host the World's Fair. It replaced the Spokane Foundation, established in 1915.
Over the years, the foundation's name has been tweaked several times. The name Innovia puts the focus on the future, O'Quinn said.
The foundation recently received a $234,500 award from the M.J. Murdock Charitable Trust. The multiyear grant will be used for data gathering to track the impact of the foundation's philanthropic giving, O'Quinn said.
"In five to 10 to 20 years, we want to be able to show the impact the foundation is having on communities," she said. "We want to make sure we're providing that return on investment."
Assetwise, the endowed funds managed by the foundation have been on a growth streak, O'Quinn said. The foundation's assets grew in value by $15.8 million over the past 12 months. Over the past five years, the average increase has been $9 million per year.
About 500 charitable funds are managed by the foundation. The funds support causes that include arts and culture; education and youth development; civic engagement; economic opportunity; and health and well-being.
Some of the funds are charged a small fee, averaging 1.3 percent, to pay for the foundation's overhead, O'Quinn said.
"Often, what gets attention is the large gifts of $1 million or $5 million," she said. "But anyone can start a fund at the foundation, or write a check for any amount."
The money gets pooled for a greater impact, with the goal of changing lives, O'Quinn said.
Local journalism is essential.
Give directly to The Spokesman-Review's Northwest Passages community forums series -- which helps to offset the costs of several reporter and editor positions at the newspaper -- by using the easy options below. Gifts processed in this system are not tax deductible, but are predominately used to help meet the local financial requirements needed to receive national matching-grant funds.
Subscribe now to get breaking news alerts in your email inbox
Get breaking news delivered to your inbox as it happens.
---