A&E
Adam Hegsted's Honey Eatery officially opens Tuesday in downtown Coeur d'Alene
UPDATED: Thu., June 14, 2018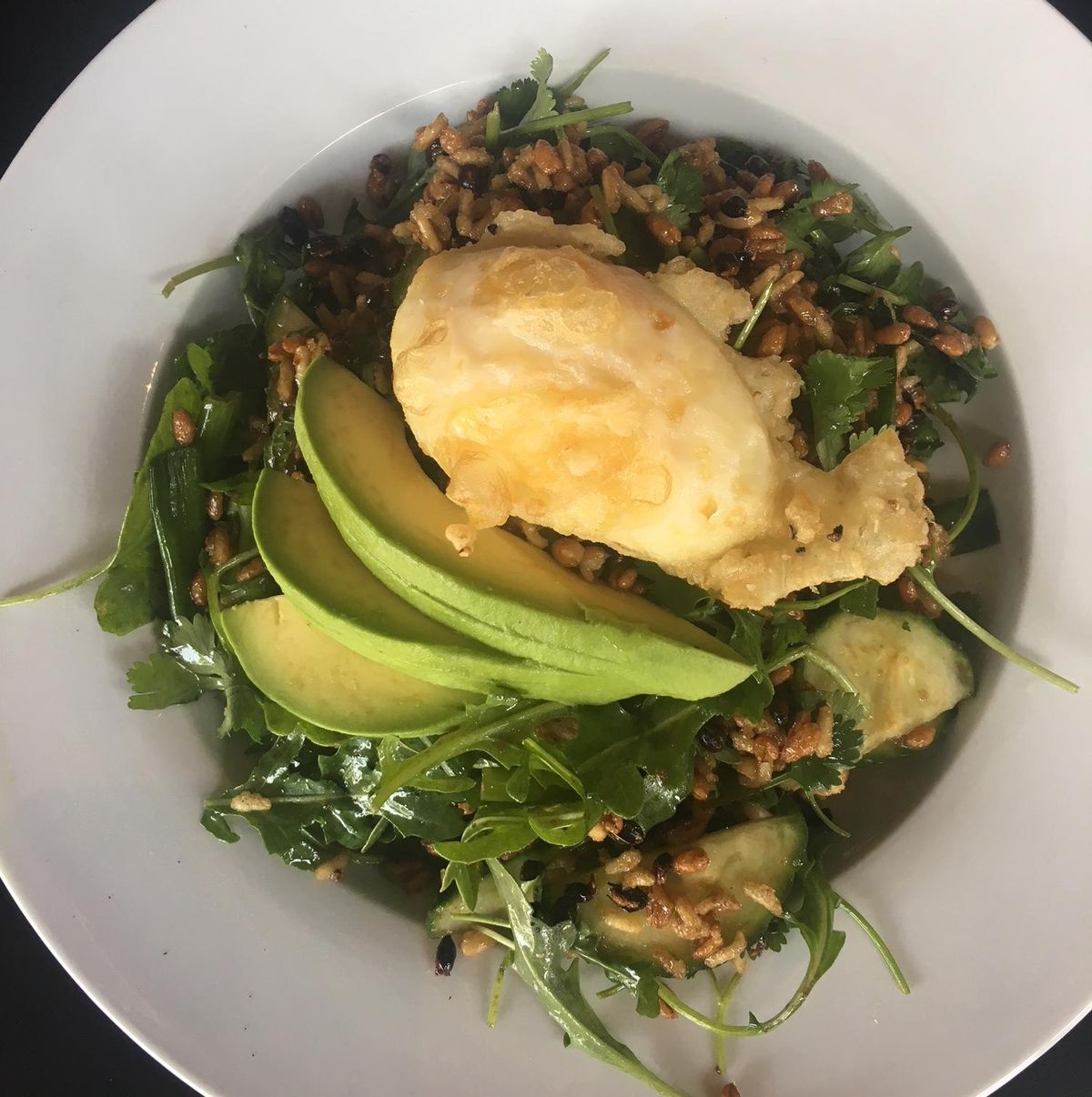 The crispy rice salad at Honey Eatery features avocado and a poached fried egg. (Adriana Janovich / The Spokesman-Review)
Honey Eatery officially opens Tuesday in downtown Coeur d'Alene.
Adam Hegsted's latest concept offers an eclectic, whimsical and boho-chic vibe, and that theme – as well as homages to the ingredient for which the restaurant is named – is carried out in the menu as well as the ambiance.
The specialty is contemporary, fun and elevated comfort food at an approachable price point. Dishes are similar to those on the menu at Hegsted's Farmhouse Kitchen and Silo Bar in Ponderay.
That honey fried chicken for which he's known will be on the menu. Look, also, for a crispy rice salad with arugula and a poached fried egg, shrimp and wild rice grits with honey-glazed porchetta, short rib and eggs, and cedar-cooked steelhead, along with a variety of toasts – avocado, brisket, fried egg.
Honey Eatery will be open for breakfast and lunch. The menu, including handcrafted cocktails and firsts such as fry bread and chocolate doughnuts, will stay the same for both meals.
There's a burrata omelet, big breakfast plank with two eggs and bacon and more, a chop chop salad bowl, Inland Northwest Benedict with trout and mushrooms, mini Scotch eggs made with quail eggs, and a strawberry-rhubarb cast iron pancake.
Honey is located in the same spot that formerly held the Cellar, Hegsted's upscale but now-closed Pacific Northwest restaurant. The Cellar closed in January 2017 when the owner put the building up for sale. Spokane developer Jerry Dicker has since purchased the building, and Hegsted's moved back in with a new concept.
The Cellar focused on fine dining and an extensive wine cellar. But, this time around, Hegsted said, "We wanted to make it a little more cozy in here."
The ceiling remains high and tan-painted pressed tin. But dark wood posts and accents have been painted over and softened up. Stained glass honeycomb shapes dangle above the front doors and large windows overlooking Sherman Avenue. A mural on a wall just inside the main doors depicts a bee and flowers. Chairs are metal and colored orange, yellow, white and black. A feature wall is slated to display 260 jars of local honey.
A sculpture of an oversized bee head watches over the bar area from a high corner in the back of the room.
There's extra space for private parties or dining room overflow on an upstairs mezzanine that overlooks the main floor of the restaurant.
Downstairs, on the subterranean level, Honey Social Club is slated to open in about three weeks. It will be run as a separate restaurant and lounge, and it will offer a darker, more intimate atmosphere. The space features low-slung ceilings, exposed red brick and dark, tufted leather armchairs.
Construction continues downstairs, where the bar is being more than doubled in size to house – among other things – a self-service wine bar. The stage is being moved from the south wall to the east wall, so it's more centrally located. The lighting and sound systems have been completely redone, and the plan is to host live music and ticketed concert events.
Hegsted also plans to offer a beer and wine club and is considering hanging works of art from the ceiling as well as maybe the walls, too.
Honey Social Club will feature craft and "renewed vintage" cocktails, and American-style tapas, or casual, Inland Northwest-inspired small plates, similar to those on the menu at his Wandering Table in Kendall Yards.
Hegsted owns or is a partner in IncrediBurger and Eggs, Wandering Table, Yards Bruncheon and Gilded Unicorn in Spokane; Farmhouse Kitchen and Silo Bar in Ponderay; Eat Good Cafe in Liberty Lake; Republic Kitchen and Taphouse in Post Falls; and Le Catering, a catering company.
A second Incrediburger location is in the works for CdA. A retail space for Doughlicious, his new bakery business, is also in the works, likely in downtown Spokane.
Meantime, Hegsted is working to expand his Vital Fit Meals, a scratch-made meal service that specializes in healthful meals for pick up or delivery.
And, he said, he's preparing to produce and appear in a video series called "Behind the Scenes Northwest," spotlighting the food industry in the Pacific Northwest from a how-it's-made and historical point of view.
He's also preparing for the second annual Crave Food and Drink Festival, which will be held in July in Spokane Valley.
Local journalism is essential.
Give directly to The Spokesman-Review's Northwest Passages community forums series -- which helps to offset the costs of several reporter and editor positions at the newspaper -- by using the easy options below. Gifts processed in this system are not tax deductible, but are predominately used to help meet the local financial requirements needed to receive national matching-grant funds.
Subscribe to the Spokane7 email newsletter
Get the day's top entertainment headlines delivered to your inbox every morning.
---