News > Spokane
Families reeling after three men hang themselves with bedsheets in Spokane County Jail during past year
June 6, 2018 Updated Thu., June 7, 2018 at 6:01 p.m.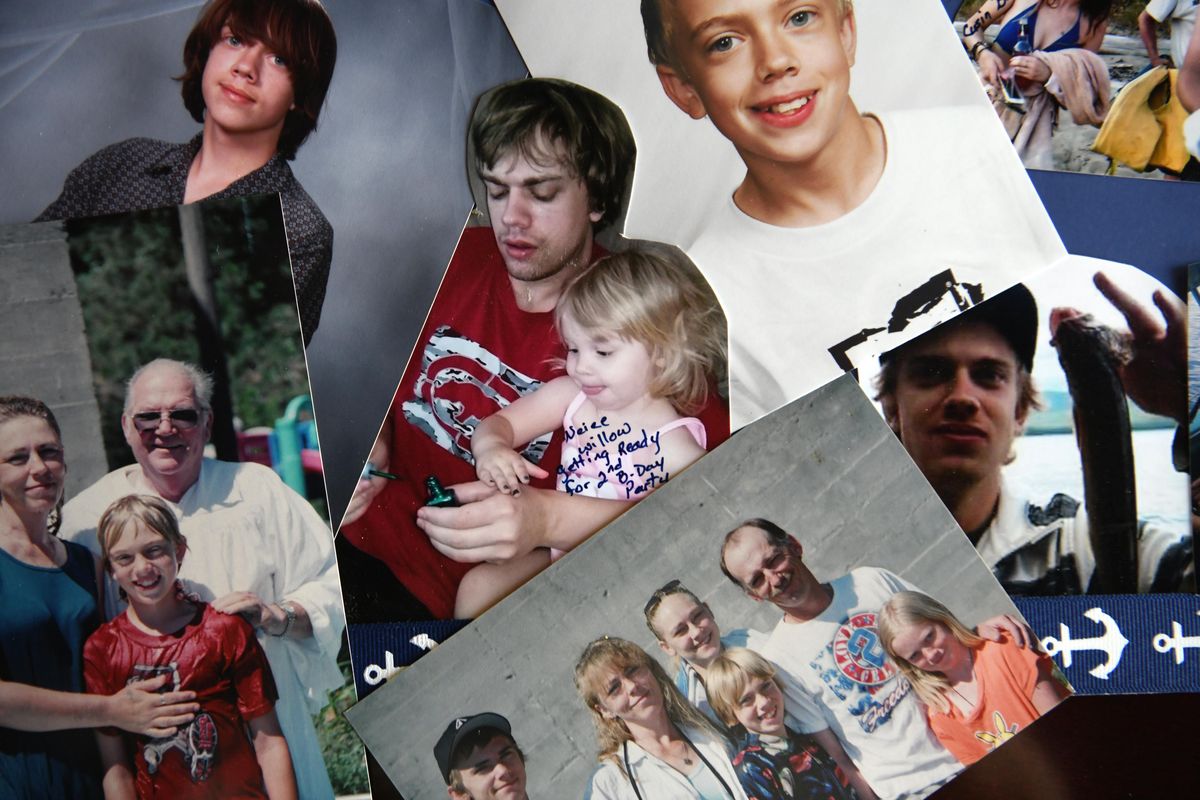 Chris Rogers, shown in this collage of family photos, died in January after hanging himself with a bed sheet in the Spokane County Jail. He was 24. (Jesse Tinsley / The Spokesman-Review)
In the past 12 months, three men have died after hanging themselves with bedsheets in the Spokane County Jail.
Their families believe warning signs were missed or not taken seriously enough.
Brandon Ryans was 41, and in the months before his death, staffers at the jail and at Eastern State Hospital had observed a pattern of suicidal behavior. He had talked and written notes about killing himself, refused to eat and repeatedly tried to injure his head by ramming it into a door and by diving off countertops and windowsills. He hanged himself in his jail cell on June 15, 2017.
Chris Rogers was 24 and had been in treatment for schizophrenia. For more than a year, he had believed that Martians and "satellite people" were coming to kill his family and that the only way to stop them was to sacrifice himself. He hanged himself in his cell on Jan. 3.
Patrick Flynn was 36 and had battled drug and alcohol addiction for most of his life. His family believes he may have been experiencing the painful symptoms of heroin withdrawal when he hanged himself in his cell on May 19, just two days after his arrest.
"One suicide is too much in a year, but this is ridiculous," said Flynn's mother, Darla Saywers, who recently retired after 23 years as a corrections officer at the state prison in Airway Heights. "These suicides like these – the kids that are coming off drugs and stuff – they can be prevented."
Suicide is the leading cause of death in local detention facilities, where people kill themselves at rates far higher than in the general community. According to the U.S. Bureau of Justice Statistics, about 1,000 people die in American jails each year, and about a third of those deaths are suicides. By comparison, suicide accounts for about 6 percent of deaths in state prisons.
Experts attribute the difference to a range of factors. Jails mostly house people who are charged but not convicted of crimes. Especially for those who have never been in serious legal trouble, confinement can be traumatic. They are stripped of privacy and privileges. Their futures can seem unpredictable. They may be intoxicated when they enter the jail, and inside they may experience withdrawal.
What's more, prisons get detailed information about the inmates they receive, including known health problems and needed medications. Jails don't have that advantage.
It is difficult to know how many people have died as the result of suicide attempts in local jails, making it nearly impossible to identify the most dangerous facilities. The state of Washington only keeps data for inmates in its prison network, and the federal government does not provide figures for individual counties or municipalities.
Compounding the uncertainty, jails are only required to report deaths that happen within their walls. In the three Spokane County cases from the past year, the inmates died at Providence Sacred Heart Medical Center days after they hanged themselves, so the hospital is listed as the place of their death. And in Patrick Flynn's case, a judge released him from state custody when it became clear he would not survive.
A search of The Spokesman-Review's archives and past news releases from the Spokane County Sheriff's Office found 14 previous suicide deaths of Spokane County inmates dating to May 1998, as well as several reported suicide attempts in which the inmate was seriously injured or it wasn't immediately clear if the person died. In those cases, hanging has been the most common method, though at least two people have injured themselves by jumping from the railing of a second-floor walkway inside the jail, and another two have died that way. One man died of a drug overdose in 2011.
Sgt. Tom Hill, a spokesman for Spokane County Detention Services, said the jail's deputies, nurses and mental health specialists are trained to recognize suicidal behavior and follow a written protocol when placing inmates on suicide watch. That involves taking away inmates' undergarments and other items they might use to harm themselves and placing them in special cells without bunks or protruding light fixtures. Inmates who have exhibited any suicidal behavior are supposed to be checked at irregular intervals of no more than 15 minutes.
"If somebody is a risk to themselves, then we isolate them and keep them safe," Hill said. "And we're pretty successful with that. When we know somebody has made a threat, we're very successful there."
But staffing challenges make it impossible to provide constant supervision, and some inmates are routinely placed on and off suicide watch because of mental illness, Hill said. He pointed to a scarcity of mental health care resources in the community, indicating some people simply do not belong in jail, and he expressed hope for a proposed diversion program that would connect some of those who are arrested with needed services rather than put them behind bars.
"There is no way to justify the loss of life here," Hill said. "But I also know there's no way we can have eyes on these guys 24 hours a day."
Over the years, jail officials have implemented new rules and replaced certain accommodations that posed a risk, Hill said.
"When I started here in 1991, we let people take their own shoes upstairs, so we had to start taking shoelaces," he said. "We stopped letting them take anything that belongs to them upstairs. We tried to find tear-resistant mattresses. We have blankets that we give them that are tear-resistant, and if they were to tear them, they would have to put such effort into it that it would be very obvious to us."
Other facilities, including the Snohomish County Jail, have gone a step further by taking away all inmates' bedsheets.
"Nobody gets sheets anymore. They get blankets, but no sheets," said Shari Ireton, a spokeswoman for the Snohomish County Sheriff's Office. "It's really hard to remove every possible way that inmates can hurt themselves, but all the easiest ways, we got rid of."
The Everett lockup houses a similar number of inmates as the Spokane County Jail. Officials there decided to remove bedsheets after three inmates killed themselves in September 2014, two by hanging. Afterward, the jail went nearly three years without a suicide until Arcan Cetin, who shot and killed five people at the Cascade Mall, hanged himself in April 2017.
Brandon Ryans, Chris Rogers and Patrick Flynn each used a jail-issued bedsheet to end his life. Rogers tore off strips and jammed them behind a light fixture. Ryans and Flynn each used a bed as an anchoring point.
Lindsay Hayes, a project director at the National Center on Institutions and Alternatives, a think tank based in Massachusetts, has spent 35 years studying suicide in correctional facilities and crafting prevention policies. In 1999, Hayes was invited to the Spokane County Jail to train staff and offer recommendations after four inmates killed themselves in less than 13 months.
Hayes said that if jail administrators recognize a pattern of inmates using specific items to harm themselves, "best practice would suggest that they try to alleviate that danger."
He resists the common notion that jail staff simply can't save some inmates who are determined to die. He pointed to a nearly threefold decline in the rate of suicide deaths in jails and prisons, from 107 deaths per 100,000 inmates in 1986 to 38 deaths per 100,000 inmates in 2006. Now, he said, the rate is even lower.
"I think that, in and of itself, shows that suicides are preventable," he said.
Brandon Paul Ryans
On a Tuesday morning in September 2016, Spokane police officers arrived at a recycling center on East Mission Avenue to find Brandon Ryans, Jeramie Harms and Craig Graving Jr. with $2,000 worth of copper wire in the back of an old yellow Ford pickup.
The truck had been reported stolen two days earlier from the owner's residence in Seattle, and the Spokane officers had received a tip about its whereabouts. A look inside the vehicle supported the cops' suspicion: The key ignition was busted out, and the men apparently had been using a screwdriver to start the engine as they took turns driving across the state, according to court records.
While in handcuffs, Harms explained the copper wire had come from an abandoned mine near Missoula and they were trying to sell it to the recycling center. According to court records, he acknowledged the truck likely was stolen. The trio was taken to jail on charges of possession of a stolen vehicle.
It is unknown if Ryans had any involvement in stealing the truck, but his legal troubles were compounded during a strip search in the jail's booking area. Court records say a bag of methamphetamine fell out when a corrections officer ordered him to peel off his socks.
Ryans, who was 40 at the time, had been locked up at least half a dozen times before – but never in Spokane. After spending most of his childhood in Hawaii, Ryans attended high school in Bremerton and stayed in that area through adulthood. Although he held jobs and stayed in contact with family, Ryans, the youngest of five siblings, was perpetually troubled by the deaths of his two older brothers. Bryson Ryans shot himself in 1999 at age 25, and Raymond Ryans died earlier when he was shot by police, according to one of their sisters, Raychelle Couey.
"When Bryson committed suicide, Brandon just never got over it," said Couey, who lives in Georgia. "It was hard to have a discussion about it with him because he would just get very angry, and he couldn't really bring himself to process it emotionally. He was never the same."
So Ryans built up a rap sheet in Western Washington. Theft, drug possession, burglary, trafficking of stolen property. The list goes on.
Notably, a few weeks after they were arrested in Spokane, Ryans and Graving were charged in connection with an explosion and fire in the King County suburb of Newcastle in July 2015. Investigators said the pair had been using a stolen U-Haul pickup truck to transport five pressurized gas canisters, which they planned to sell as scrap metal, and when Graving spotted a small fire, the pair abandoned the truck without alerting anyone to the danger. The fire burned a fence and two adjacent trailers.
Couey said her brother made plenty of mistakes, but she stressed that he was not a violent person. "He didn't hurt anyone but himself, mostly, and he had a very loving heart," she said. "He was sensitive. He was a good person who made bad choices."
Before his last arrest, Ryans had worked for seven months as a forklift operator for a marine shipping company in Seattle, and he had lived in a rented basement in nearby Burien. Tami Elmer, who lives next door to the house where Ryans lived, said her father owns the rental property, and she would often see Ryans while working in her front yard.
"Brandon was a nice guy. He was always very considerate," Elmer said. "If he found me out in the yard doing something, he'd go, 'Hey, if you need something, let me know.' "
As of Tuesday, officials had yet to release several hundred pages of records detailing the investigation into Ryans' death. But the final weeks of his life are described in court-ordered psychiatric reports known as competency evaluations. The goal of such evaluations is to determine whether defendants are mentally capable of understanding the charges against them and participating in their legal defense.
Superior Court Judge Annette Plese first ordered an evaluation for Ryans after his attorney reported that he had "been acting increasingly paranoid and uncooperative." After nearly five months in jail, Ryans was visited in February 2017 by Eastern State Hospital psychologist Nathan Henry. But Ryans declined to participate in the interview, and Henry saw no obvious signs of mental illness or any indication that Ryans had received psychiatric treatment prior to his jail stay. He suggested ordering another evaluation if Ryans' behavior didn't improve.
Records indicate Ryans spent some time at Geiger Corrections Center on the West Plains, where Spokane County sends its best-behaved inmates, but he was sent back to the downtown jail after being accused of assaulting another inmate. In March, he wrote a note indicating he was suicidal and later climbed onto his sink, as if preparing to dive off it, but jail staff managed to talk him down. He struck the sink so hard that nurses thought he had broken his hand. He refused mail and medical attention. He was placed on suicide watch at least once.
"Jail mental health staff also mentioned observations that Mr. Ryans would lie on the concrete floor rather than accept a blanket and mattress," one psychologist wrote. "Instead, he would return them to the officers when they offered stating that he would use them to kill himself."
By the time William Grant, a doctor at Eastern State, came to visit Ryans in April, Ryans had not eaten in nine days. Grant reported that Ryans stared downward and would not speak above a whisper during their interview. A couple of times, he pointed silently at the door but would not explain what the gesture meant. Concerned about his behavior, Grant found Ryans incompetent to stand trial. Judge Plese then ordered Ryans to spend 45 days at Eastern State.
He was often distraught during his time there. He did not eat for long periods. He paced in his room, paranoid and teary-eyed. He refused medication. He cursed at staff members. He tried to dive off countertops. He talked on the phone and wrote numerous letters to his sisters. He was placed in a restraint bed. He rammed his head into a door. He threw a glass of juice at a nurse. And he punched a door so hard that his wrist began swelling, prompting a visit to Sacred Heart.
"He was not the brother that I knew anymore," said his other sister, Raylene Delgado, who lives in Hawaii. "I mean, he lost it."
"He was not faking that," said Couey, who visited Ryans during his hospital stay. "He was really suffering. I saw it. I heard it. I felt it."
But another psychologist believed Ryans was capable of understanding court proceedings, whether or not he would choose to cooperate. The psychologist, Cory Fanto, wrote that although Ryans had not agreed to be interviewed, "a substantial amount of observational data has been obtained suggesting that Mr. Ryans' problematic behaviors are learned, volitional, maladaptive behaviors rather than the products of a mental disease or defect."
"Given that the best predictor of future behavior is past behavior, Mr. Ryans might be expected to resume the self-injurious behavior he has earlier exhibited such as not eating or attempting to jump headfirst off of sinks etc.," Fanto wrote. "Whatever the motivation for doing so might be, such behavior can be quite dangerous and may require ongoing management by jail staff."
Ryans was sent back to jail, where he was held in lieu of a $5,000 bond. Two days later, he hanged himself. His family is still trying to grasp how it happened.
"How do they send a person back into regular population, with a sheet, knowing he had tried to kill himself? He was talking about how they were going to get him. He wouldn't eat. He wouldn't take meds," Delgado said. "My brother wasn't ready for release, and they took him back anyway."
But the decision to send Ryans back to jail did not hinge on his propensity for self-harm.
"Keep in mind the role of the forensic evaluators differs from that of treatment providers," Joey Frost, a spokeswoman for Eastern State Hospital, said in an email. "Evaluators evaluate issues including but not limited to defendants' competence to stand trial, their mental state at the time of the offense, and their risk for future violent behavior. An individual may be determined competent to stand trial, however, that does not preclude a mental disease."
Christopher Allan Rogers
Snow was falling on the evening of Nov. 28, when Chris Rogers escaped from a small psychiatric treatment center on North Foothills Road, where he had reluctantly checked himself in earlier that day.
After Rogers ran out the door, someone at the facility called police, but no officers were available to respond. Wearing only socks, sweatpants and a T-shirt, he ran nearly a mile along Division Street until he reached a parking lot across from the NorthTown Mall.
Rogers, who had schizophrenia, believed his family was in grave danger, and no one had been able to convince him otherwise. So there in the parking lot, he spotted a woman who had just walked out of Starbucks. She was sitting in the driver's seat of her Subaru, looking at her phone while waiting for the engine to heat up.
According to a police report, Rogers pulled open the car's passenger door, told the woman he needed a ride home and began moving items from the front seat to the back. She was frightened and told him to leave, but he climbed inside. She took out the keys and ran away from the car. He chased her and grabbed her by the sweater. She struck him with her phone and with her knee.
Yet Rogers was determined. In his mind, Martians or "satellite people" or government spies were doing unspeakable things to his parents, and he needed to save them. "The voices in his head said they were hurting us," said his father, Steve Rogers. "He just wanted to be home. He wanted to make sure Mom and Dad were safe at all times. And he felt that if he wasn't there, something would happen."
So Chris Rogers finally snatched the woman's keys, hurting a few of her fingers, and shoved away a bystander who was trying to stop him. He pulled the Subaru forward onto a curb, breaking a floodlight, then struck the bystander's SUV as he backed out and sped away.
Soon afterward, he arrived at his family's house on a remote stretch of road in Nine Mile Falls. One of his hands was bleeding, apparently from smashing out the driver's side window of the Subaru. His mother, Corrine Rogers, said he entered the house in a panic, asking, "Are you OK? Are you OK?"
As soon as Steve Rogers realized his son had stolen a car, he got in his pickup truck and ordered Chris to follow him back into town. Shortly after 9 p.m., they met police, as well as staffers from Frontier Behavioral Health, at a gas station on Nine Mile Road just south of Riverside State Park.
After that chaotic episode, Steve Rogers said he felt relieved as he watched officers take his son into custody. At least in jail, he thought, Chris would be safe.
The second-youngest of four siblings, Chris Rogers had been bullied in school and never had many friends, his parents said. He loved camping, fishing and snowboarding with the family at Mount Spokane. Looking back, his parents said they had overlooked or misconstrued signs of his mental illness – like the time he hid knives all over the house after a confrontation with two other boys from middle school.
Rogers graduated from Lakeside High School in 2013, and by the following year, his problems were impossible to ignore. In August 2014, he tried to hang himself from the family motor home, and his mother called on one of his friends to cut him down. Rogers fell to the ground, fractured his jaw and was treated at Sacred Heart. That October, records state, he was taken to the hospital again following a scuffle with police.
In November 2015, he was arrested after brawling with his sister's boyfriend in the family home in Nine Mile Falls. Steve Rogers said the fight had already ended when Chris grabbed a knife from a bedside table and slashed the boyfriend's neck. The man recovered, and as part of a plea deal, Rogers was convicted of second-degree assault.
Rogers' delusions were compounded by drug use. He liked high-potency marijuana oil. He went through periods of rage and depression, and he often talked of ending his life.
His mother recalled, "There were countless times in the last couple of months that he would come into my room and say, 'Mom, you don't understand. They're not going to stop. They are going to continue to hurt my whole family financially, emotionally, physically, mentally. And the only way they say they will ever stop is if I give them me – if I sacrifice myself.' "
Following his arrest in November, Rogers faced several serious charges – first-degree robbery, second-degree assault, car theft and hit-and-run – and he likely would have been sentenced to prison if convicted in a plea deal or at trial. But there were obvious questions about his mental state and his ability to comprehend what would happen in a courtroom, so Judge Plese ordered a competency evaluation in December.
William Grant, the same doctor who had visited Brandon Ryans, interviewed Rogers at the jail and dug into several years' worth of his psychiatric records. Over and over, the same delusions emerged: the Martians, the satellites that interfered with his mind, the ultimatum that he take his own life.
Unlike Ryans, Rogers was not committed to Eastern State Hospital. Grant found him "provisionally competent" to stand trial. The morning after Grant's report was filed in court, Rogers hanged himself in his cell in Four East, the wing of the jail reserved for inmates with mental illness.
His parents are considering suing the county for wrongful death. Among other things, their attorney, Josh Maurer, questions why no report was written by the jail deputy who found Rogers unresponsive and first tried to revive him. Records indicate that deputy went home shortly after the incident.
Patrick Joseph Flynn
Whenever Darla Saywers came home from a long shift at Airway Heights Corrections Center and sat down to rest, she could count on her son, Patrick Flynn, to take off her boots for her.
"He always took off my boots," Saywers said. It's a bonding ritual she will miss in the wake of Flynn's death.
She had not been in regular contact with him since she and her husband moved to an apartment on the South Hill about two years ago. She said Flynn had been drinking and using drugs after many attempts to get sober.
"Pat was really bad at that time, and when I moved, I told him, 'I don't want to see you until you're straight.' I said, 'I can't handle seeing you like this and watching you destroy yourself,' " Saywers said. "But I always had people that saw him, and I kind of kept in contact. And usually Pat would come find me. He was so stubborn."
After spending part of their childhood in Helena, Flynn and his older sister, Shannon Griffiths, were raised in Spokane. She said his addictions emerged when he was a teenager and followed him into adulthood. Where his peers could control their intake at parties, she said, Flynn kept pushing the limits.
He attended Shadle Park High School but dropped out and completed a job preparation program instead. He worked as an electrician. He liked biking, skateboarding and snowboarding.
"He was a risk taker," Griffiths said. "He probably broke every bone in his body, falling out of trees or doing something."
When he was 18, Flynn had a daughter who was put up for adoption, and he later had a son. Griffiths said he had struggled to be a better role model, but a lot of forces in his life "kept him down."
"Our family life growing up was not peaches and cream," she said. "We had divorce and addictions and … domestic violence. So he didn't have the best start in life."
For about a year, Flynn had been transient, living off and on at a house in northeast Spokane owned by Alice Schroeder, who described him as cheery and helpful. When he hanged himself last month, he had been in jail for two days. He had been accused of assaulting an ex-girlfriend and stealing car keys from a man she was with, and charged with first-degree robbery.
Saywers said her son, despite his flaws, was liked by many.
"He just had a charisma about him," she said, wiping away a tear. "People just liked him."
Local journalism is essential.
Give directly to The Spokesman-Review's Northwest Passages community forums series -- which helps to offset the costs of several reporter and editor positions at the newspaper -- by using the easy options below. Gifts processed in this system are not tax deductible, but are predominately used to help meet the local financial requirements needed to receive national matching-grant funds.
Subscribe now to get breaking news alerts in your email inbox
Get breaking news delivered to your inbox as it happens.
---