A&E
Country duo Sugarland returns with 'Bigger,' the record they were 'supposed' to make
UPDATED: Thu., June 7, 2018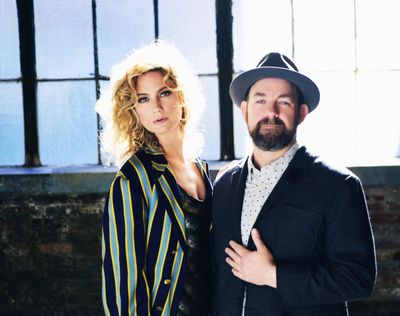 Perhaps the most buzzed about moment of the 2017 Country Music Association Awards didn't involve an award winner or performer.
No, it came when country duo Sugarland walked onstage to present the award for vocal duo of the year.
"Well, funny seeing you here," singer Jennifer Nettles said to singer/guitarist Kristian Bush.
"Feels like we've been here before," Bush replied.
"You know, that's true. In fact, we're here to present the CMA award we won together in 2007, 2008, 2009, 2010, 2011," Nettles said as the crowd began to cheer. "And well, who knows?"
The pair's appearance was a complete surprise to almost everyone at the awards ceremony, and to those watching at home.
"They took us in through a tunnel," Bush said during an interview in April. "We weren't supposed to tell anybody we were in town. I couldn't tell my own kids at dinner the night before. It was that big of a secret."
After the duo presented the award, Sugarland's website and social media pages were updated with a picture of Bush and Nettles with the caption "#StillTheSame."
That – plus Nettles' cheeky "Who knows?" – led many to assume that new Sugarland music was on the way, bringing a close to the five-year hiatus the pair took after completing the "In Your Hands" tour in 2012.
Two months after the band's surprise appearance at the CMAs, Sugarland released the song "Still the Same."
Sugarland announced "Bigger," its sixth studio album and first in eight years, on April 12.
Two days earlier, Bush talked to The Spokesman-Review about the album, which brings Sugarland to the Spokane Arena on Friday.
"Bigger" tentatively began to take shape after Bush and Nettles arranged a writing session.
They'd both written and released work during Sugarland's hiatus – three solo albums for Nettles and one for Bush, plus lots of writing and producing for other artists – but it was the first time they had written together in years, and Bush was curious to see what would come out of it.
But, as it turns out, he had nothing to worry about as the "secret language" the pair had developed over time immediately became active once they sat down together.
"It made what might have been something that could be anxious or even uncomfortable or anything like that just a complete joy because you knew that you could have this exchange with trust, which is really what you do when you create," he said.
That first session yielded two songs, one of which was "Still the Same."
"In the room, in the blink and now it's like we never went a day without it/Pick it back up where we left off/This is liftoff," Nettles sings.
Bush and Nettles took those two songs to their record company and managers, who immediately asked the pair to record the songs.
Sugarland's team then asked when the pair could get together to write again.
"Pretty quickly like a kid that you've just given Sour Patch Kids to, they were like 'Can I have some more of that?' " Bush said with a laugh.
A week later, the pair got together and wrote for three days. They took a week off then wrote for three more days.
Two weeks after that, the pair recorded "Bigger," which will be released on Friday.
"It's faster than I would have normally run, but at the same time, I think the speed contains within it a lot of mystery and validation," Bush said.
The recording process may have been faster, but that doesn't mean Bush enjoyed it any less.
While making "Bigger," he was simultaneously producing music for singer Tyler Farr and mixing singer Lindsay Ell's "The Project." Because the three projects were on his plate at the same time, he feels like they're all connected.
"I love the strange, beautiful experience of creating things that affect strangers, people you've never met," he said. "And that's what happens when you record music. There are people you will never know who will listen to the three minutes that you decided to hit record. Music saved my life for a long time. I feel like it needs to be passed on."
Now that "Bigger" has officially brought Sugarland's hiatus to a close, fans are clamoring to know what the band has planned after this album cycle.
Truth be told, Bush and Nettles aren't entirely sure themselves, but they've agreed to let the music guide them.
"Let's not try to squeeze too hard to something," Bush said. "Let's not try to predict. Let's just walk into it and let the music lead."
But now that's he gotten a chance to sit with the album after the whirlwind recording process, Bush has realized that "Bigger" is the record Sugarland was supposed to make.
The conversations the pair is having with listeners on the album, he said, are tied to the current state of the country. And though Sugarland isn't typically a political band, they will "engage in the politic of the heart."
"We will engage in a conversation that says 'I don't what to do about this but we need to look at that. I don't know how to solve it. I don't know the answer to the question, but we need to start asking questions,' " Bush said. "People are already in their corners. I don't think we need stuff to push people into corners. We need stuff to pull them out."
Local journalism is essential.
Give directly to The Spokesman-Review's Northwest Passages community forums series -- which helps to offset the costs of several reporter and editor positions at the newspaper -- by using the easy options below. Gifts processed in this system are not tax deductible, but are predominately used to help meet the local financial requirements needed to receive national matching-grant funds.
Subscribe to the Spokane7 email newsletter
Get the day's top entertainment headlines delivered to your inbox every morning.
---