Sports
Jim Meehan: Prairie Falls makes cool upgrade with scenic No. 14
Fri., June 8, 2018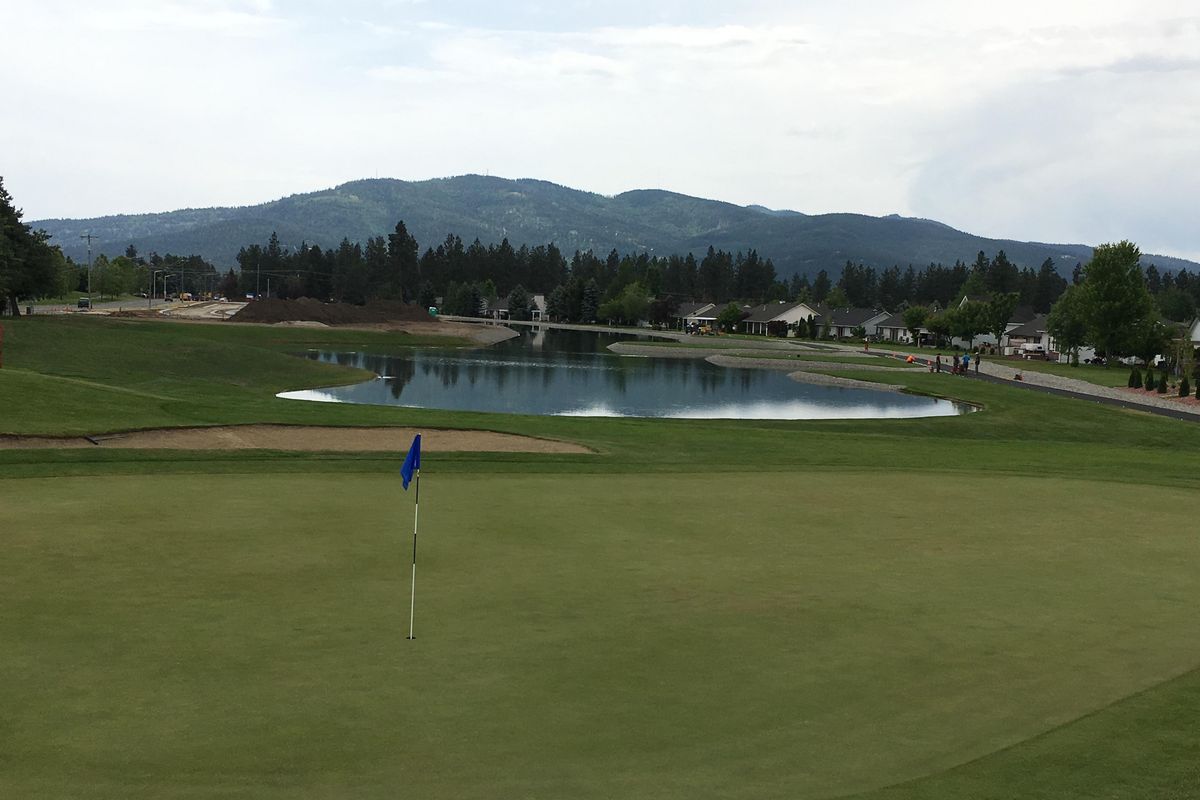 The view from the green on the new No. 14 at Prairie Falls GC. (Jim Meehan / The Spokesman-Review)
Prairie Falls Golf Club is whole again with the unveiling of a new No. 14 that looks nothing like its predecessor.
What used to be a long, quality par 5 bordered by bustling Idaho Street has been transformed into a picturesque par 3 featuring a man-made lake interrupted by slivers of green grass serving as tee boxes.
The one thing that stayed the same is the one thing that didn't need fixing. The well-bunkered green complex surrounded by forgiving mounds remained untouched. The slightly angled green sits in better alignment with the new tees.
The change was necessary for a number of reasons, but the end result is a cool addition to the local golf scene that is safer for on-course houses along the left side and Idaho Street drivers and pedestrians on pathways on the right.
"My main deal, being a player, I wanted a signature hole," said Billy Bomar, co-owner with Jeff Neeser of the Post Falls course. "I've played all over the world, and I've seen some great holes. Let's have a hole [where] people come out and remember it. Right now, I think we're pretty good on that."
The hole – formerly No. 5 before Prairie Falls flipped sides this season – measures 100 yards from the gold tees, 160-170 yards from the white/blue boxes and 210 yards from the tips. Stand on the back tee and it looks closer to 240 yards gazing over the expansive water feature. The hole is challenging, but there are roughly 20 yards of grass between the lake and the front edge of the putting surface.
When Bomar and Neeser purchased Prairie Falls five years ago, previous ownership had already secured approval to develop 19 lots on a good chunk of the 512-yard par 5.
Prairie Falls also is facing a sizable bill – possibly up to $200,000 – to repair damage to the hole's irrigation system from lightning strikes. Eventually, the 20-year-old course's entire irrigation system will require upgrades.
"If I had longer pockets…" Bomar shrugged. "It's hard to raise the prices here, because there's so much competition and so many good courses."
Those were the primary factors in rerouting the hole, and so began an interesting eight-month odyssey. The initial thought was simply to move the tee box up and create a par 4.
"And through kind of an accident on a bad bid for this project, we were short fill (dirt)," Bomar said. "My partner (Neeser), who is one of the larger construction guys in Alaska, flew his dirt guy in and he said, 'We'll just build a big lake there and have our own fill.' "
While the course operated on 17 holes with reduced greens fees for nearly eight months, project manager Brant Morris and course superintendent Marcus Curry and his crew put in a shallow, perhaps 350-yard-long lake that shaped an attractive hole while providing the requisite fill for 19 nearby lots.
Bomar, who expects to reach an agreement soon with a developer, said the lake makes the lots more appealing. The lots can be accessed off Idaho Street on Side Saddle Lane.
"They let me name it," said a beaming Bomar, who putts with a unique side-saddle stance.
Tee boxes and smaller portions well in front of the green were sodded so the hole would be ready immediately after the completion of the other construction aspects. The cart path is in place and crews were installing curbs this week.
In the near future, Bomar said a water feature/creek will be added in front of the tee boxes, and become one of the first things golfers see when they come over a small rise in the cart part approaching the hole.
Bomar has heard glowing reviews from golfers who have played the hole. Homeowners and pedestrians will see fewer stray golf balls from errant drives and second shots on the previous par-5 setup.
Water from the new lake will irrigate No. 14, which will require minimal water compared to the old par 5.
Bomar is excited to show off the new hole when the Inland Empire PGA's pro-am visits Prairie Falls on Monday and a seniors event follows on Wednesday. For good reason, it's one of the better par 3s around.
The Spokesman-Review recently trotted out its 'Dream 18' in numerical order for area public courses. Prairie Falls' new addition wouldn't have supplanted the Coeur d'Alene Resort's island-green No. 14, but it definitely would have made the list of nominations.
"For a hole that started with no water," Bomar said, "this just turned out beautiful."
Local journalism is essential.
Give directly to The Spokesman-Review's Northwest Passages community forums series -- which helps to offset the costs of several reporter and editor positions at the newspaper -- by using the easy options below. Gifts processed in this system are not tax deductible, but are predominately used to help meet the local financial requirements needed to receive national matching-grant funds.
Subscribe to the sports newsletter
Get the day's top sports headlines and breaking news delivered to your inbox by subscribing here.
---