'Tag' hits the right notes for Spokane contingent at Thursday's world premiere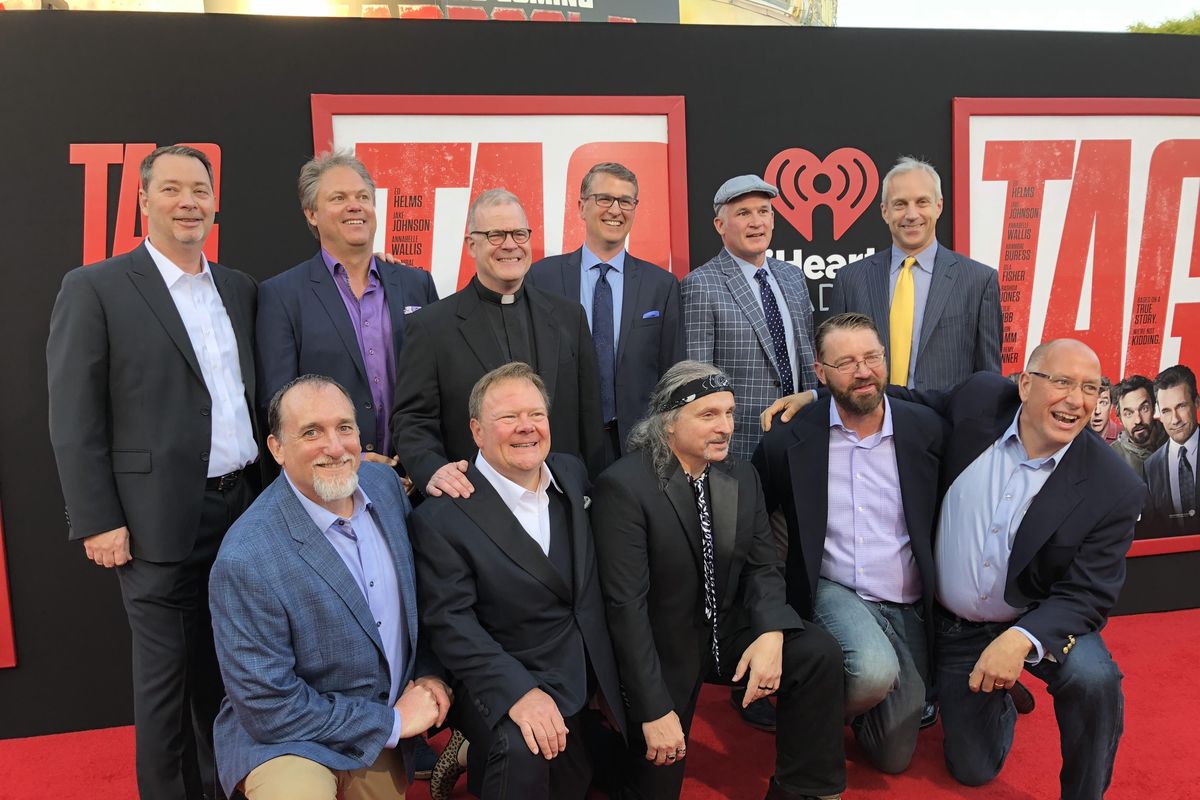 LOS ANGELES – Spokane can relax. The movie is funny.
"Tag," the comedy inspired by the exploits of 10 Gonzaga Prep graduates and their decades-long game of tag, is also irreverent, inappropriate and even a little sweet.
Oh, and there are a lot of F-bombs. A lot. Consider yourselves warned.
At its core, though, the film tells the story of a bunch of guys who found a creative way to stay in each others' lives.
"Tag" centers on five guys, played by Hannibal Buress, Jon Hamm, Ed Helms, Jeremy Renner and Jake Johnson, who have been playing the same game of tag since the first grade. Jerry, played by Renner, has never been tagged, and when he and his fiancee (Leslie Bibb) announce their wedding, his friends see a chance to finally get him. Joined by Isla Fisher as Ed Helms' very competitive wife, Annabelle Wallis as a Wall Street Journal reporter who stumbles onto a great story, and Rashida Jones as the childhood crush who got away, they set out on a mission to tag, be tagged or avoid being tagged.
Hamm, who plays the tagger named Callahan, said that positive spirit is part of what drew him to the project.
"I love that it's completely devoid of cynicism," he said on the red carpet Thursday. "And it's a really joyful telling of these guys' story, which is inspirational and aspirational and really fun. If anything, I think people will be surprised that a movie called 'Tag' has emotional heft to it. Hopefully, it will inspire people to reach out to their friends and rekindle friendships."
In a talk before the screening, director Jeff Tomsic made a point of thanking his family and his friends, who inspired him to make a movie about friendship.
"But more than anything, I want to thank 10 gentlemen who over the years have stayed friends through the dumbest way ever," he said before bringing the G-Prep taggers to the front of the room. "I've gotten to know these guys, I've become friends with them in the process of making the movie. They're an inspiration to me, to all of us, and hopefully to you to stay silly, to stay connected to your friends and to be brave enough to be stupid a little bit in your life."
The film received a warm welcome on Thursday night. The Spokane contingent in the crowd, which tag player Mike Konesky estimated at about 200 people, was vocal in its approval, especially when the words "Spokane, Washington" flashed on the screen.
"I love how Spokane is – boom – right there in front," Konesky said after the premiere. "That was cool."
"Now I'm really excited for it to hit theaters," he said, later adding, "It was so entertaining."
Did he and his buddies get any new ideas for tag strategies?
"Oh yeah," Konesky said. "I think everybody was sitting there going yeah, yeah."
For tagger Chris Ammann, of Gig Harbor, Thursday's premiere was his second time seeing the film. So does it hold up?
"Yes. I kinda liked it better the second time," he said. "I could catch more stuff."
As the lights went up Thursday night, tagger Brian Dennehy shared a photo he snapped on his phone as the end credits rolled: His and his pals' names on the big screen receiving special thanks from the filmmakers. Dennehy, who saw the film for the first time Thursday, nodded his approval of "Tag."
"It was really funny," he said.
Bill Akers – who is currently "it," by the way – was happy with the results.
"It was very irreverent, which is perfect for us," he said.
Feeling Spokane
While set in Spokane, the film was made in the Atlanta area, which in recent years has become a hub of film and television production. (According to screencraft.org, 320 film and television projects were made in Georgia in 2017 alone. "The Walking Dead," "The Hunger Games" and much of Marvel Cinematic Universe, including "Guardians of the Galaxy Vol. 2," "Black Panther," "Captain America: Civil War" and "Thor: Ragnarok" all were filmed in the Atlanta area.)
Still, much of the movie feels like it could have been made in the Lilac City. The childhood home of Hogan, Ed Helms' character, is on a tree-lined street that could have been plucked from the South Hill. One key attempted tagging takes place in the "Spokane Falls Mall" and features prominent display advertising for the Spokane Lilac Festival. And while an argument between two characters about who was the better player, Ken Griffey Sr., or Ken Griffey Jr., isn't necessarily a Northwest reference (because Cincinnati), it feels like it is.
Surprises
Nora Dunn makes a fun and frisky appearance as Ed Helms' mother, who has a special fondness for Jake Johnson's character.
Thomas Middleditch, an Emmy nominee for his work on the HBO series "Silicon Valley," appears in a couple scenes as one of Renner's employees, who vows to keep his boss' location secret, even under threat of torture. (This sparks a memorable line in the film, as Helms says to Fisher, "Sweetheart, that's a war crime. That's not really who we are.")
Look for veteran actor Brian Dennehy, whose lengthy list of credits includes the films "First Blood," "Silverado" and "Tommy Boy," in a small role as Johnson's dad. His casting apparently was inspired in large part by the fact that one of the G-Prep tag players goes by the same name.
Finally, there's an uncredited cameo as we meet Hannibal Buress' character, Sable. Fans of a certain Northwest-themed TV show will be thrilled. (No spoilers here.)
Oh, and stay for the credits. The filmmakers use home movie footage showing the real-life taggers at work – including the time Patrick Schultheis was tagged while in the shower. We see tags going down in the parking garage at River Park Square, for instance, and discover that the old woman costume Helms dons in one scene is a replica of one once sported by Joe "Beef" Caferro. Also there is an unexpected and hilarious musical performance of a certain 1993 pop hit performed by Renner and his fellow movie taggers.
Tag, rated R, opens in theaters on June 15.
---