A&E > Music
Pickwick's Galen Disston records music video at Spokane's new coffee-and-doughnut shop in Kendall Yards
Tue., June 12, 2018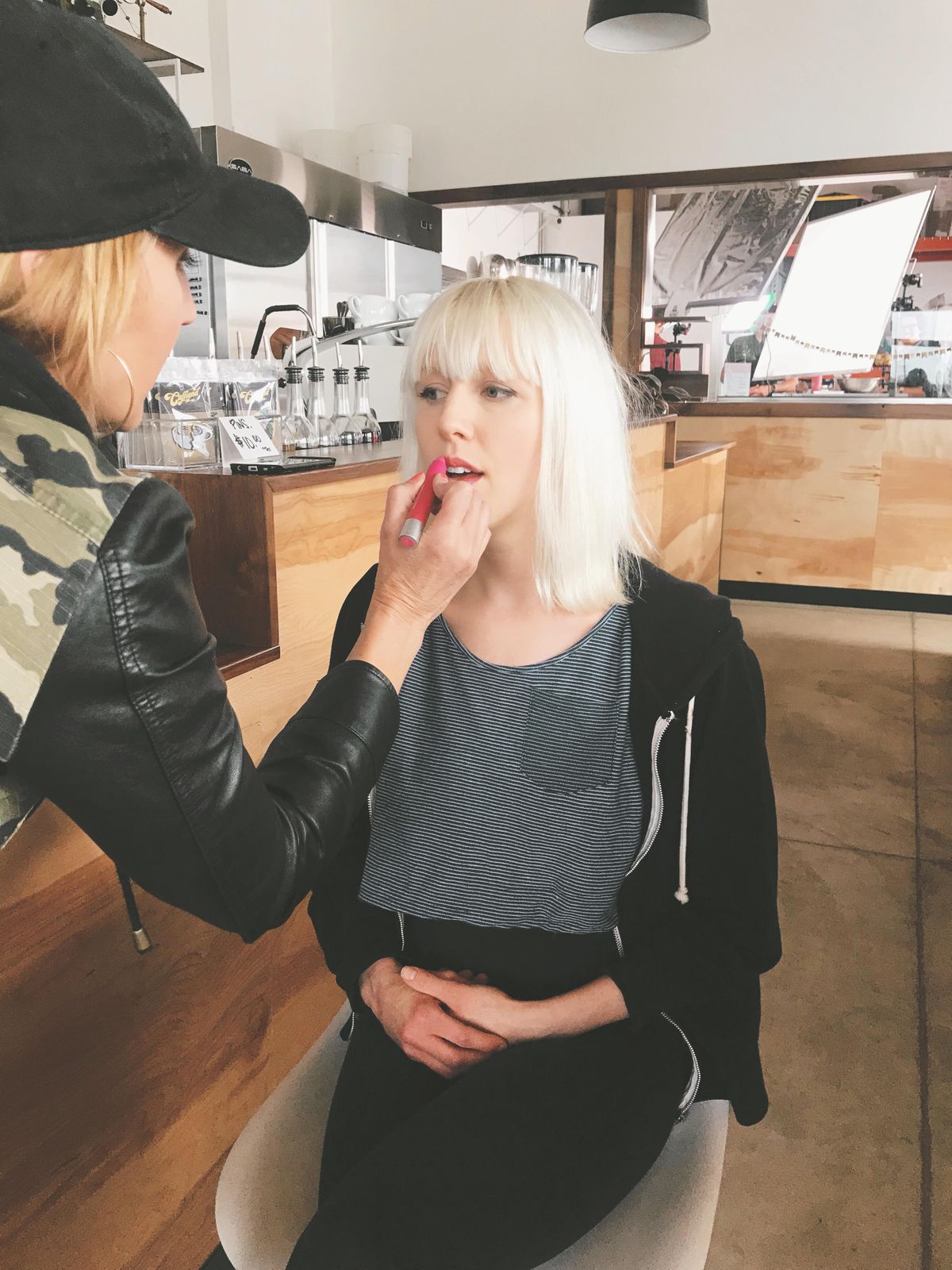 Lindsay Johnston of Donna Donna gets her make-up done at the new Indaba and Hello Sugar coffee-and-doughnut shop in Spokane's Kendall Yards neighborhood for the "Lights Like Us" video shoot last weekend. (Heidi Miller)
Singer Galen Disston of the Seattle band Pickwick was in Spokane over the weekend filming a music video at the new coffee-and-doughnut shop in Kendall Yards.
Disston was in town at the invitation of Spokane physician and musician Jonathan Pasma, who asked the vocalist to record a song he had written for his new solo project Ferris Pier.
Disston recorded the song "Lights Like Us" in March, and a crew from Kindnss, a photography and video company, shot the video at Hello Sugar on Saturday and Sunday – as well as a few other locations throughout town. It was their first time working together, said Pasma, 34.
"I'd been in a few bands in the past, but what I enjoy most is writing music," he said. "I came up with the idea that I want to write music and feature different vocalists."
Disston is the first to participate in the project. But, Pasma said, he's already in talks with another singer for the second song of the project. He's hoping to release an EP with maybe five songs next spring.
Meantime, editing for the first video is expected to take about three weeks, said Pasma, who arranged the music on his computer.
"The song is about love in an abstract way," Pasma said. "The chorus lyrics talk about love is big enough to find me. It's kind of saying we all have love and experience love, and it talks about being brave enough to seek it or being brave enough to be hurt by it."
The video will be released through YouTube and social media. Disston and Pasma will share any money that's made from its sales, said Pasma, who has two young daughters and works on his music project at night "after they go to bed."
Originally from the Tri-Cities, Pasma was a music major at Whitworth before he went to medical school. He's been practicing sports medicine in Spokane since 2016.
He said he was "a little surprised and pretty excited" when Disston agreed to the project.
"Pickwick's a big band. Outside of people like Macklemore, I consider it one of the biggest Pacific Northwest bands. They're really great," Pasma said. "It was just kind of a perfect situation. Pickwick's style of music is soulful and acoustic. My music is kind of dance-y and poppy. It was different."
Pickwick released its demo in 2008. Its first full-length album, "Can't Talk Medicine," was released in 2013. The band's sophomore album, "LoveJoys," was released last summer.
Lindsay Johnson, guitarist and vocalist in the Spokane band Donna Donna, starred as Disston's love interest in the new video.
Disston made doughnuts and "pretended to be a barista," said Amy Pruchnic, who owns the doughnut business with her husband, Ramsey. She described it as a meet-cute type of video and said she can't wait to see it.
The shop opened on June 1, June 1, and features two walk-up counters: one for ordering coffee from Indaba Coffee Roasters and another for picking up made-to-order mini doughnuts from Hello Sugar.
"I love doughnuts like crazy, and they have gluten-free doughnuts and I'm gluten-free," said Pasma. "I came across it – it's branded so well and it's so fun – and it was just too perfect."
On the web: www.lightslikeus.com.
Local journalism is essential.
Give directly to The Spokesman-Review's Northwest Passages community forums series -- which helps to offset the costs of several reporter and editor positions at the newspaper -- by using the easy options below. Gifts processed in this system are not tax deductible, but are predominately used to help meet the local financial requirements needed to receive national matching-grant funds.
Subscribe to the Spokane7 email newsletter
Get the day's top entertainment headlines delivered to your inbox every morning.
---