News > Spokane
100 years ago today in Spokane: German-born women, girls required to register
UPDATED: Wed., June 13, 2018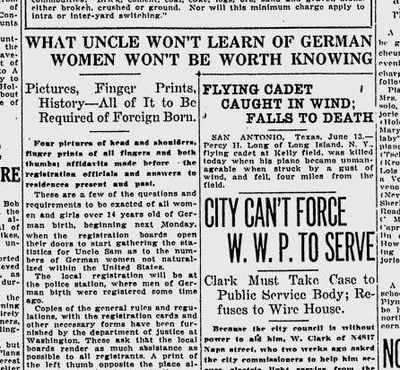 The federal government adopted stringent new registration rules for German-born women and girls in Spokane and around the country.
They would be required to fill out extensive registration papers providing detailed information about their past and present.
The Spokane Daily Chronicle headline read: "What Uncle (Sam) Won't Learn of German Women Won't be Worth Knowing."
German-born women and girls older than 14 would be required to supply four photos showing their head and shoulders, fingerprints of all fingers and thumbs, and answers to a series of questions.
Those questions included places of residence since 1914. The usual questions, such as birthplace and names of parents, were included. Yet the government also asked on what ship they arrived in the U.S.; whether they had ever been arrested; what languages they spoke; whether they had taken an oath of allegiance to any country other than the U.S.; and whether they had permits to enter "forbidden areas."
In Spokane, the place of registration was to be the main police station. That's the same place where German-born men had been required to register some time before.
From the fire beat: "The famous old smelter" near the river below Fairview Cemetery burned to the ground in a suspicious blaze. It was believed to have been "started by tramps," who had been seen in the vicinity.
It previously had been "the goal of many lovers' Sunday-afternoon hikes," the Chronicle said.
Local journalism is essential.
Give directly to The Spokesman-Review's Northwest Passages community forums series -- which helps to offset the costs of several reporter and editor positions at the newspaper -- by using the easy options below. Gifts processed in this system are not tax deductible, but are predominately used to help meet the local financial requirements needed to receive national matching-grant funds.
Subscribe now to get breaking news alerts in your email inbox
Get breaking news delivered to your inbox as it happens.
---