'ESPYs of Spokane' feature best high school athletes area has to offer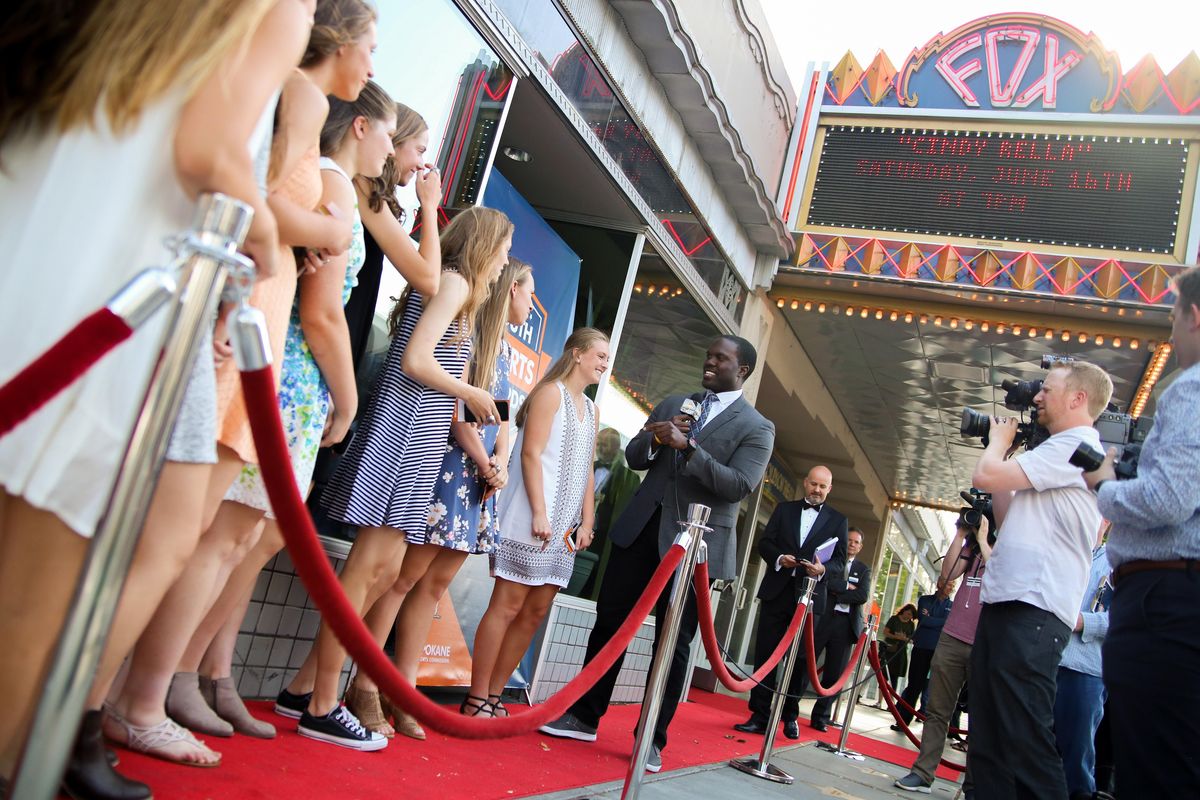 "The ESPYs of Spokane."
That's how more than one person described the the fifth annual Spokane Youth Sports Awards at the historic Martin Woldson Theater at The Fox on Wednesday.
For the nominees, it's a chance to dress up, walk the red carpet and be recognized one more time for their tremendous achievement in athletics over the past school year. For their parents, it's a chance to take more photos for the scrapbook.
And for the event's organizers, the Spokane Sports Commission, it's the annual showcase of the best that Spokane – and all of surrounding Eastern Washington – has to offer in prep sports.
"It's important in every school, whether you're a small school or a large school," committee chair and Greater Spokane League/District 8 director Herb Rotchford said. "I've always felt that the personal attributes that are developed for success beyond high school really happen as part of a high school athletic team."
It wouldn't be an awards ceremony without naming winners, but all of the nominated high school and club athletes accomplished so much this season.
The big winners of the night, as they have been all season, were the Central Valley girls basketball team, which won 4A/3A/2A girls team of the year, along with Lexie Hull as big school girls athlete and Freddie Rehkow for coach of the year.
Rehkow announced his retirement in May after winning a national girls coach of the year award.
"This is Spokane. This is what we call home," Rehkow said. "For myself and the girls to be a part of this is pretty special. And to have my family here with me tonight made it even more special."
The Bears finished their third straight undefeated regular season with their second State 4A title in three years. They capped that with a win in New York at the GEICO Nationals invitational tournament.
Hull won her second consecutive Gatorade state player of the year and was named Associated Press state MVP. She will attend Stanford in the fall with twin sister Lacie, with whom she shared co-player of the year honors by the Seattle Times.
"In every category the competition was so tough," Hull said. "I was very honored to receive this award and the team award as well.
"Winning the (team) award was amazing, but being together and hanging out one last time was pretty cool."
The undefeated Gonzaga Prep State 4A championship basketball team was the big school boys team of the year.
"It's a great celebration, bringing the guys together one last time," said G-Prep coach Matty McIntyre, who was nominated for coach of the year. "It's a great way to celebrate a magical season for us."
The 4A/3A/2A boys athlete of the year was Mead's Joseph Heitman, who starred for the Panthers in football and track and will attend Washington State on scholarship for track.
"I'm very blessed to be honored tonight," Heitman said. "It's crazy to think that out of all of Spokane I was the winner. It's a testament to my family, to my coaches, to the hard work that my teammates put in to push me every day."
Colton girls basketball earned the small school girls team after earning the program's ninth State 1B title in 10 seasons.
"All the hard work and hours they put in, it's nice to be recognized in front of a great audience," said Colton coach Clark Vining, who was nominated for coach of the year. "And boy, the nominees were pretty high quality, too. It's just a great honor."
Deer Park's wrestling team won its second State 1A title, with all 11 state qualifiers earning points and nine taking medals, and took honors in 1B/2B/1A boys team category.
The girls non-high school sports winner was Alisa (AJ) Crooks, a Central Valley student who plays goalie for Spokane Shadow and represented Washington at the Region IV championships for the Olympic Development Program.
The boys winner in the non-high school sports was Isaiah Rigo, who also won in 2015. Rigo, a Cheney senior, has competed in wheelchair cross country, track and basketball and signed at University of Illinois to continue his racing and basketball.
The evening was capped with the "Against All Odds" recipients, spotlighting students that are impressive athletes despite adverse life situations.
This year's recipients were Phillip Croft of Valley Christian, Nick Morin of Ferris and Isaiah Whitman of Mead.
Croft was abandoned by birth parents in China and suffered from a tumor which left his lower body paralyzed. He has medaled at state in track and participates in wheelchair racing and basketball with ParaSport Spokane.
Morin, a senior, was born with tricuspid atresia, a heart condition in which he is missing a valve which limits blood flow to his lungs. He had two open heart surgeries as an infant and will need another after graduation, but he started at second base and pitched for the Saxons.
Whitman, a senior, qualified for state as a pole vaulter this season, placing third. He had hip surgeries the past two seasons, and his freshman year suffered a compound fracture of his tibia and fibia when he was chucked from the pole and landed between the standards and the pit.
Complete list of nominees:
Coach of the Year
Matty McIntyre, Gonzaga Prep boys basketball
Freddie Rehkow, Central Valley girls basketball
Clark Vining, Colton girls basketball
1B/2B/1A Top Female Team
Colton basketball
Oakesdale track and field
Oakesdale volleyball
1B/2B/1A Top Male Team
Almira/Coulee-Hartline football
Deer Park wrestling
St. George's soccer
2A/3A/4A Top Female Team
Central Valley basketball
Lewis and Clark cross country
North Central cross country
2A/3A/4A Top Male Team
Gonzaga Prep basketball
Mt. Spokane track and field
Mt. Spokane wrestling
Non-High School Top Female Athlete
Alisa (AJ) Crooks, SSC Shadow/Spokane Sounders soccer
Lauren Potyk, Spokane Nordic Ski Association Nordic skiing
Cassidy Wilson, Spokane Junior Rifle Club competitive precision smallbore rifle & air rifle
Non-High School Top Male Athlete
Spencer Kimbro, ParaSport Spokane wheelchair track/basketball/road racing
Isaiah Rigo, ParaSport Spokane wheelchair track/basketball/road racing
Akio Yamada, Judo, Pacific Judo Academy
High School Top Female Athlete
Zella Conley, Mead gymnastics/track & field
Lexie Hull, Central Valley basketball
Mattea Nelson, Northwest Christian softball/basketball/volleyball
Katie Thronson, Lewis and Clark cross country/track & field
High School Top Male Athlete
Tanner Christensen, University basketball
Joseph Heitman, Mead football/track & field
Anton Watson, Gonzaga Prep basketball
Connor Whitney, West Valley football/basketball/baseball
Against All Odds Honorees
Phillip Croft, ParaSport Spokane wheelchair track/road racing/basketball
Nick Morin, Ferris baseball
Isaiah Whitman, Mead track & field
---