News > Business
Seattle company installs bitcoin ATM at the Spokane Valley Mall
Wed., June 13, 2018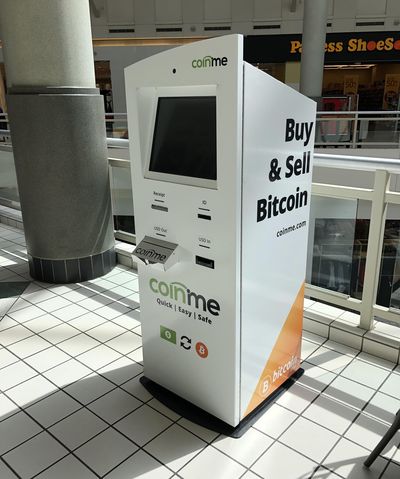 Heading to the Spokane Valley Mall to take in a movie or shop for a pair of new jeans? Now, you can buy cryptocurrency there, too.
A bitcoin ATM was installed at the mall last week by Coinme, a Seattle-based company.
Coinme was the first licensed company in the state of Washington to offer digital currency through ATMs and now has 51 machines throughout the U.S.
The ATMs take some of the mystery out of buying and selling digital currency, said Neil Bergquist, Coinme's co-founder.
"First-time customers can get enrolled and buy bitcoin in less than 30 seconds," he said. "The ATM is super, super simple and easy to use. … It really creates a familiar transaction experience that people trust."
Using the ATM requires cash and a driver's license or other government identification. People can buy up to $2,500 worth of bitcoin currency per day, which is deposited in a virtual wallet for retrieval. Customers can also use the ATMs to sell bitcoins for cash.
Bergquist said people also can talk a "crypto adviser" through the company's 800 number to learn more about digital currencies or ask about online services.
Company officials installed the ATM in the Spokane Valley Mall after noticing that area residents were driving 200 miles to Yakima to use Coinme's bitcoin machine there. The Spokane Valley ATM is the 13th machine in Washington for the 4-year-old company.
Bergquist said digital currency appeals to consumers interested in diversifying their portfolios with different types of investments. There's also a large market in overseas transactions, he said.
Coinme plans to roll out cryptocurrency ATMs in other countries later this year. Latin American countries, in particular, have a lot of promise, Bergquist said.
"The cost of money transmission is extremely expensive – that's why a lot of tech companies are trying to disrupt that space," he said. "Cryptocurrency can be another solution to help working immigrants and global families send money between themselves."
Coinme charges a 10 percent fee for buying and selling bitcoins at most of its ATMs.
In Washington, Coinme and 12 other digital-currency companies are licensed under the state's "money transmittal" law, which also governs cryptocurrency transmissions.
To be licensed in Washington, digital currency companies must disclose risks associated with purchasing or investing in cryptocurrency to their customers, said Charlie Clark, deputy director for the Department of Financial Institutions.
In addition, companies must be bonded for amounts up to $1 million. Company officers must undergo criminal background checks, and the company must comply with federal requirements that reduce the risk of money laundering. The state Department of Financial Institutions runs compliance checks on companies.
But licensing isn't an endorsement of the companies or digital currencies, Clark said. The agency's website has a "buyer beware" page devoted to cryptocurrency, which outlines what people should consider before buying or investing in bitcoins or other digital currencies.
One of the major risks of holding digital currencies is its volatility, according to the website. Like penny stocks, the value can rise or fall substantially over a short period.
There are no deposit guarantees to protect consumers' funds like bank customers have through the Federal Deposit Insurance Corporation. If digital wallets are hacked, or if an exchange is shut down, customers might have difficulty accessing their funds, the website says.
Bergquist said Coinme welcomes state and federal oversight to make the industry "safe and compliant" for customers.
Bergquist and a business partner got the idea to launch Coinme in 2014 when he was the managing director of SURF Incubator in Seattle, a community-supported space for digital entrepreneurs. The tech industry was abuzz with the possibilities for bitcoin and other digital currencies
A bitcoin ATM had opened a year earlier in Vancouver, British Columbia. "It did $1.2 million in the first 30 days of operation," Bergquist said. "Clearly there was a lot of demand, but the regulatory environment was a murky mess."
The Department of Financial Institutions was on the forefront for states for developing oversight of the industry, Clark said. Coinme was among the early industry stakeholders providing input to state officials, Bergquist said.
Coinme plans to expand beyond bitcoins later this year, launching a "multicurrency wallet and ATM" to offer other cryptocurrencies for purchase and sale.
"Everyone talks about bitcoin," Bergquist said, "but there are a lot of new cryptocurrencies coming out."
Local journalism is essential.
Give directly to The Spokesman-Review's Northwest Passages community forums series -- which helps to offset the costs of several reporter and editor positions at the newspaper -- by using the easy options below. Gifts processed in this system are not tax deductible, but are predominately used to help meet the local financial requirements needed to receive national matching-grant funds.
Subscribe now to get breaking news alerts in your email inbox
Get breaking news delivered to your inbox as it happens.
---