A&E
Anne Hathaway's 'Ocean's 8' co-stars insisted on a break so she could pump breast milk
Thu., June 14, 2018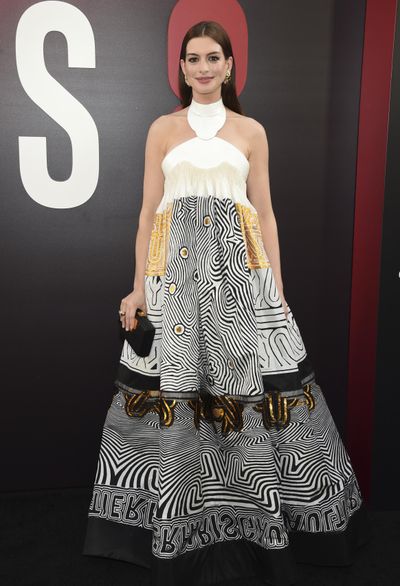 This is what it looks like when women run the show.
During the filming of their heist flick "Ocean's 8," the stars unanimously decided to take a break when co-star Anne Hathaway was past the point of needing to pump.
"There was one moment when we were shooting a little long and I just kind of went, ughhh," she groaned on "Today." "And the girls were like, 'What's wrong?' and I said, 'I'm sorry, I just should've pumped an hour ago,' and the girls just, like, formed around me and they were like, 'We need a break, we need a break, Annie needs to go do this.'"
The Oscar winner said she was breastfeeding her now 2-year-old son, Jonathan, at the time and was concerned about whether the "Ocean's" atmosphere would be sympathetic to her duty as a mother.
When too much time passes between breast feeding or pumping, a woman can sometimes develop an infection of the breast tissue called mastitis, a painful condition that results in swelling, fever, flulike symptoms, redness and irritation, according to the Mayo Clinic.
"I had that moment where I was like, 'Oh, is this going to be a positive environment to be able to do that in?'" Hathaway recalled. "And everybody was fantastic, and they understood."
In its opening weekend at the box office, "Ocean's 8" blew away nay-saying skeptics who assumed moviegoers would rather skip an all-female installment of the previously male-dominated franchise. Instead, the latest chapter raked in over $41 million as the No. 1 movie in North America – more than any other "Ocean's" movie earned in its first weekend.
Local journalism is essential.
Give directly to The Spokesman-Review's Northwest Passages community forums series -- which helps to offset the costs of several reporter and editor positions at the newspaper -- by using the easy options below. Gifts processed in this system are not tax deductible, but are predominately used to help meet the local financial requirements needed to receive national matching-grant funds.
Subscribe to the Spokane7 email newsletter
Get the day's top entertainment headlines delivered to your inbox every morning.
---