News > Spokane
Couple to open River City Pizza at Newman Lake Marina
Thu., June 14, 2018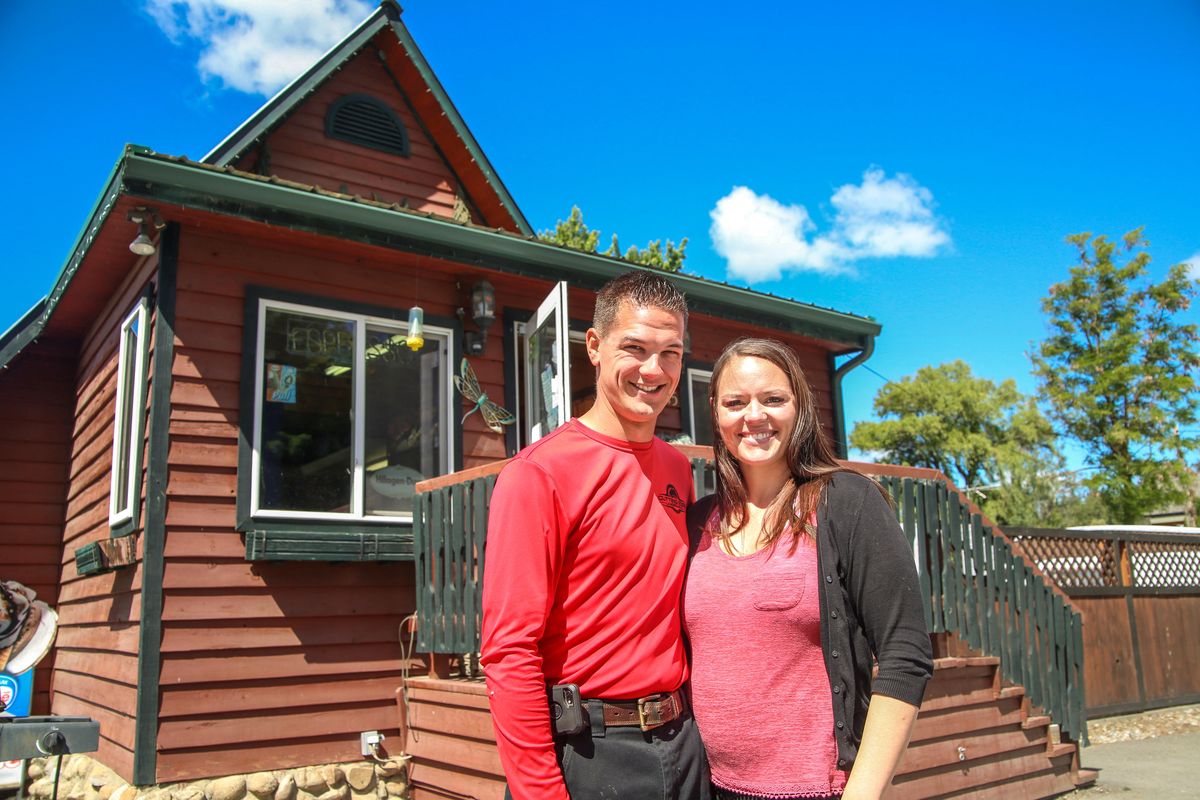 Business partners and fiances Phillip Barnard and Jacqueline Lungu, owners of River City Pizza in Otis Orchards, are opening a second restaurant at the Newman Lake Marina. The forthcoming restaraunt will serve pizza as the primary menu item but also will offer sandwiches, pastries and coffee. (Libby Kamrowski / The Spokesman-Review)Buy a print of this photo
Newman Lake residents and vacationers, take heart – it soon won't matter if you forgot your toothbrush or need an ice cream on a hot summer day.
The small store at the Newman Lake Marina closed a couple years ago, but the owners of River City Pizza in Otis Orchards are working to open a second location at the marina. They plan to keep one wall full of shelves as a small country store, offering everything from batteries to toothbrushes to baby wipes.
Jacqueline Lungu said she is waiting for final approval from the health inspector and hopes to be able to have a soft opening on Saturday. "If everything goes as planned we should be open this weekend," she said.
River City Pizza is known for its freshly made dough and cheese that is hand-grated on site. "That's why it's so good," Lungu said.
The Newman Lake location is small, so employees will make the dough and grate the cheese at the Otis Orchards location, transporting it to Newman Lake. "It's handy because it's close by," she said.
Lungu and her fiancé, Phillip Barnard, bought River City Pizza two years ago, and she said they always planned to open other locations. The Newman Lake location abruptly fell into place two weeks ago, and Lungu has been feverishly preparing ever since.
"We have some friends out here," she said. "They love our pizza, and they thought we should come out here. It fell into our laps so we're going to make something cool out of it."
The location's summer hours will be from 7 a.m. to 8 p.m. Sunday through Wednesday and 7 a.m. to 10 p.m. Thursday through Saturday.
There's only room for two small tables inside, but Lungu said she will have a lot of seating on the patio and on the grass on the shore of the lake. She will also expand her menu, offering sandwiches, pastries and espresso in addition to her famous pizza.
She'll also have snacks, drinks, candy, ice, fishing gear and live bait. And if you need playing cards, USB car chargers, screwdrivers, bug spray or ibuprofen, she's got that too. Lungu said she hopes to save people a drive to the gas station on Trent or into Liberty Lake if they need simple supplies.
"We kind of just saw a need," she said. "There's nothing else. It'll be really handy for boaters and campers. You can park your boat at the dock and come up and have ice cream."
Lungu has also applied for a liquor license and hopes to be able to serve alcohol by the Fourth of July. She's planning a grand opening celebration with live music for June 30. She's also trying to schedule live music throughout the summer.
The opening of her business seems to be positive news for the community, based on the comments being left of River City Pizza's Facebook page. Lungu said every time she's at the location working people stop by to see if she's open yet because they want fishing bait or other items.
"Mostly we're just excited that everyone else is as excited as we are," she said. "It's just a family thing for us."
Lungu said she wants to be open year-round, offering soups to keep ice fishermen and snowmobilers warm in the winter. "They never kept it open during the winter, so we'll give that a whirl," she said.
She said she's excited to spend a lot of time working at the new location. "This is something we can put our hearts into," she said.
Local journalism is essential.
Give directly to The Spokesman-Review's Northwest Passages community forums series -- which helps to offset the costs of several reporter and editor positions at the newspaper -- by using the easy options below. Gifts processed in this system are not tax deductible, but are predominately used to help meet the local financial requirements needed to receive national matching-grant funds.
Subscribe now to get breaking news alerts in your email inbox
Get breaking news delivered to your inbox as it happens.
---