News > Spokane
Landmarks: Old red barn in Liberty Lake captured the hearts of the new owners
Thu., June 14, 2018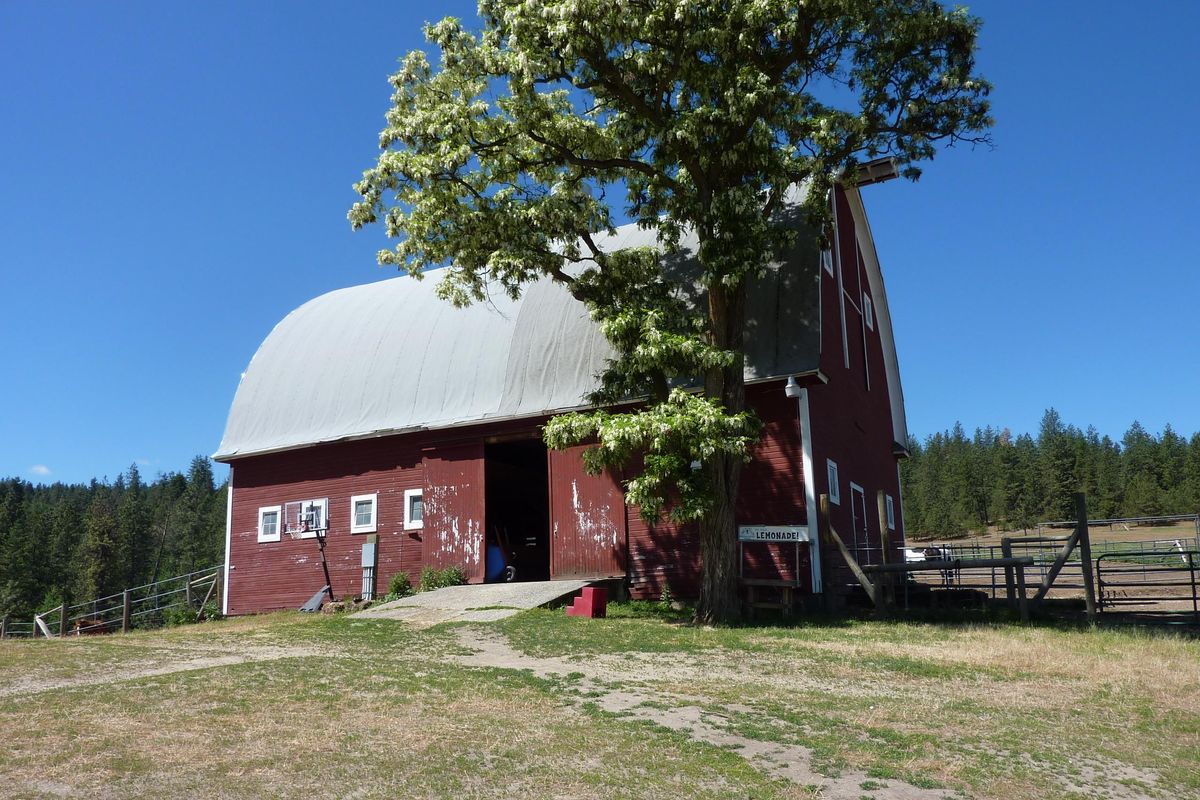 The barn at Liberty Spring Ranch east of Liberty Lake was built in 1916. (Stefanie Pettit / The Spokesman-Review)
The big, red, Gothic-style barn on a hill near the Idaho border has attracted high school students to use it as a background for their senior class pictures, and it even showed up in a painting commissioned by some neighbors living farther down the valley, which captured it in the artwork depicting the view from their property.
The 50-by-120-foot barn at 525 N. Idaho Road in Liberty Lake, built around 1916, once housed an operating dairy. The original feeding stations, mangers and stanchions are still in place.
It remains a working barn today for hay storage and shelter for the 15 horses boarded on the 52-acre property, along with the four horses owned by the property's owners, Lori and Nicholas Knapton. It was the barn and a couple of horses that brought the Knaptons to the site.
"We joke that our horses are our real estate agents," said Lori Knapton, a physical therapist who also home-schools their sons Cole, 10, and Joshua, 8. Her husband is an attorney.
They had been living in Liberty Lake and, when out for a ride on their horses, came across a house and land for sale up the road from where they are now. They bought it and moved in. A few years later, off on another ride, they came across their current home.
"The house was listed as a 'livable dwelling,' but just barely," Knapton said. "I fell in love with the barn right away. It was beautiful and was a bigger barn than we had, plus there was more property."
However, they almost didn't get it when they first saw it nearly 11 years ago, as a developer made an offer first, intending to tear everything down and put in a cluster development at the 52-acre site. This was just before the financial crisis of 2008, and the deal didn't go through – "so our offer was accepted."
Even though they are very happy to be there, Knapton said, another joke they share is that perhaps they should stop going out for horseback rides now. The first few years they hauled out debris, shored up the house, remodeled, put on an addition and spent a lot of time putting up fencing. They had two horses at the time and three boarders, but started boarding more at their Liberty Spring Ranch to help defray expenses and because she loves horses.
They pasture-board the horses, Knapton said, which "allows the horses to be horses. They like to be in a herd, to move around and graze, and are happier and healthier that way." Four of the senior horses dwell in the "pasture of oldies," where they have access to a special diet of equine senior grain. The nine geldings roam in their own pasture, and the six mares have their own as well. Hay is available in feeding stations made from oversized stacked tires. Water is plentiful, provided from the two springs on the property.
Much of the rest of the land is in grass. They raise four or five cattle annually, and the boys raise hogs.
"I think Cole and Joshua are the only hog farmers out here," Knapton said.
They have four hogs this year and, as in years past, pork sale profits will go toward their college funds. Cole wants to go to Stanford and Joshua has his eyes on Washington State University. The boys also have a lemonade stand, which they operate by the barn when the horse owners come out to ride.
The barn supports the boarding operation.
"We put 5 tons of hay a year in the loft for the horses, throwing down 30 bales each week for them," Knapton said.
When the loft is filled 40-feet high with hay, Cole said it's heaven. They play hide and seek up there, and he can climb the wall ladder to the peak of the roof to the "bat-watching station," observing the bats that roost there.
The barn is filled with history, including the original hardware on the sliding barn doors and the brass bell Knapton's aunt and uncle, Mel and Margaret Barbion, gave them from their barn in Bigfork, Montana, when they left their ranch there and moved to Spokane.
The adventure Lori Knapton remembers in their barn was the mischief caused by Taco, their Pasofino, who could open pretty much any gate seemingly by wiggling his nose in just the right way. One night he managed to open a barn gate – and in he went, followed by many from the herd.
"They had an all-you-can-eat buffet that night," Knapton said.
Surrounding the barn are the pastures that are home to thoroughbreds, quarter horses, paints, a pony and others.
"Horses are a lot like shoes," Knapton said. "You need to have a lot of them and in a lot of different colors."
Voices correspondent Stefanie Pettit can be reached by e-mail at upwindsailor@comcast.net.
Local journalism is essential.
Give directly to The Spokesman-Review's Northwest Passages community forums series -- which helps to offset the costs of several reporter and editor positions at the newspaper -- by using the easy options below. Gifts processed in this system are not tax deductible, but are predominately used to help meet the local financial requirements needed to receive national matching-grant funds.
Subscribe now to get breaking news alerts in your email inbox
Get breaking news delivered to your inbox as it happens.
---