News > Family
On her 108th birthday, centenarian Hazel Young celebrates with family in Spokane
June 14, 2018 Updated Thu., June 14, 2018 at 9:53 p.m.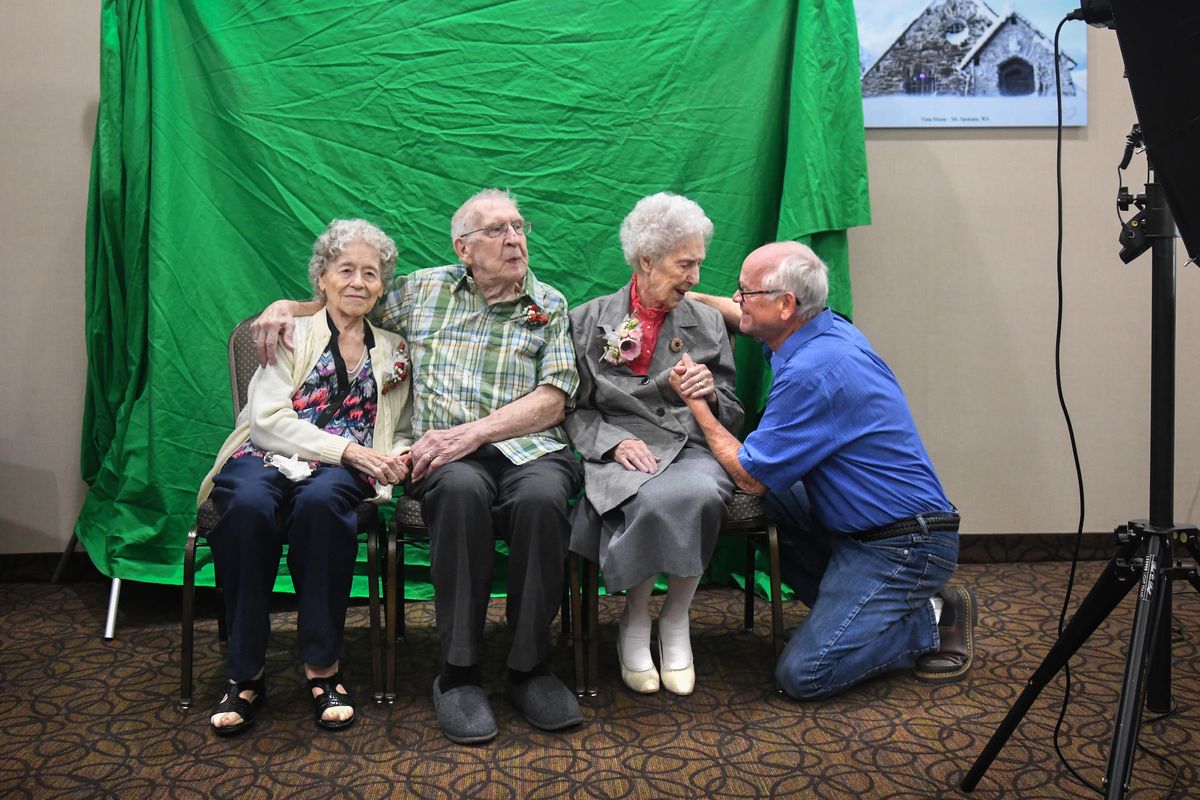 Mountain View Assembly of God Pastor Dan Henshaw, right, visits with 108-year-old Hazel Young, of Des Moines, Iowa during her birthday party, Tuesday, June 12, 2108, at the Quality Inn Oakwood in Spokane, Wash. For her birthday wish, she wanted to visit her brother, George Davis, center and his wife Mary, at left. The trio gathered to have their picture taken by a relative from Idaho. Henshaw is the Davis' pastor. (Dan Pelle / The Spokesman-Review)Buy a print of this photo
As Hazel Young walked into her 108th birthday party, she was greeted by family, friends and one extra-special guest: her younger brother, George Davis. The siblings had not seen each other for eight years, and it was Young's birthday wish to fly from her home in Des Moines, Iowa, to visit her brother in Spokane.
Young's journey was quite eventful. Four flight delays resulted in a 6 1/2-hour wait in the Des Moines airport before the flight to Salt Lake City, where Young and her traveling companion boarded a second flight to Spokane.
"She was a trooper. She did great. She didn't sleep at all on the way – she was too excited," said Joan Venema, Young's grandniece.
All the excitement led up to a happy reunion between Young and Davis on Monday.
Even after the initial reunion, the two were still overjoyed to see each other at the party Tuesday evening, Davis greeting Young with a familiar, "Hello, beautiful."
"The last time I saw her, I went back up to Des Moines for her 100th birthday," Davis said.
When asked how it felt to see her brother after so long, Young responded with with a laugh. "Well, how would you feel if you hadn't seen your brother in eight years?" she said. "I was overwhelmed."
Though her birthday was actually Wednesday, she held her party on Tuesday evening to devote her birthday solely to spending time with Davis.
Family is important to Young. Every year she honors a special Memorial Day tradition, traveling to the cemetery to remember and celebrate her loved ones who have died.
This year Young was in the hospital during Memorial Day weekend, but with her signature determination, she honored her tradition. After being released from the hospital May 29, she made her annual trip to honor her family.
Born in Walnut, Iowa, in 1910, Young is one of 12 siblings. Davis is the baby of the family.
She married Frank Young in 1929. She was not present for much of her younger brother's childhood, though she does have fond memories of a little wagon she and her husband bought for George and her sister Fayrene.
Young worked a variety of jobs in Des Moines, including at a hosiery mill, Look Magazine, and two dime stores.
According to family members, Young also worked at a soap factory for 10 cents an hour and as a waitress for $1 per day. In addition to working, Young also spent her time doing volunteer work.
She has lived in Des Moines for the majority of her life, save for a brief stint in Boston, where she inspected airplane parts during World War II, while her husband was in the Navy.
Although Young never had children, she raised her husband's nephews.
"She has a lot of kids at her church in Des Moines that love her; she calls them her kids," Venema said.
Young has seen the world change immeasurably in her lifetime. She remembers when she saw an airplane for the first time.
"I was standing in the front door of my house and that airplane nearly scared me to death," she recalled.
Young still enjoys attending church three times per week. She also has an undeniable sweet tooth.
"She has her breakfast sausage and then she has sweets," said Venema, who attributes Young's long life to her sugary indulgences.
"God put her here and he's not done with her yet," said another Iowa family member.
Young herself attributes her long life and continuing good health to her faith.
"God Almighty is in charge … I am not ashamed of my God, because he has done everything for me," she said. "I'm in good health to this day and I'm grateful."
Local journalism is essential.
Give directly to The Spokesman-Review's Northwest Passages community forums series -- which helps to offset the costs of several reporter and editor positions at the newspaper -- by using the easy options below. Gifts processed in this system are not tax deductible, but are predominately used to help meet the local financial requirements needed to receive national matching-grant funds.
Subscribe now to get breaking news alerts in your email inbox
Get breaking news delivered to your inbox as it happens.
---