Sports > International sports
Peter Botte: The most formidable foe at U.S. Open is the ever-unforgiving Shinnecock Hills greens
June 14, 2018 Updated Thu., June 14, 2018 at 7:13 p.m.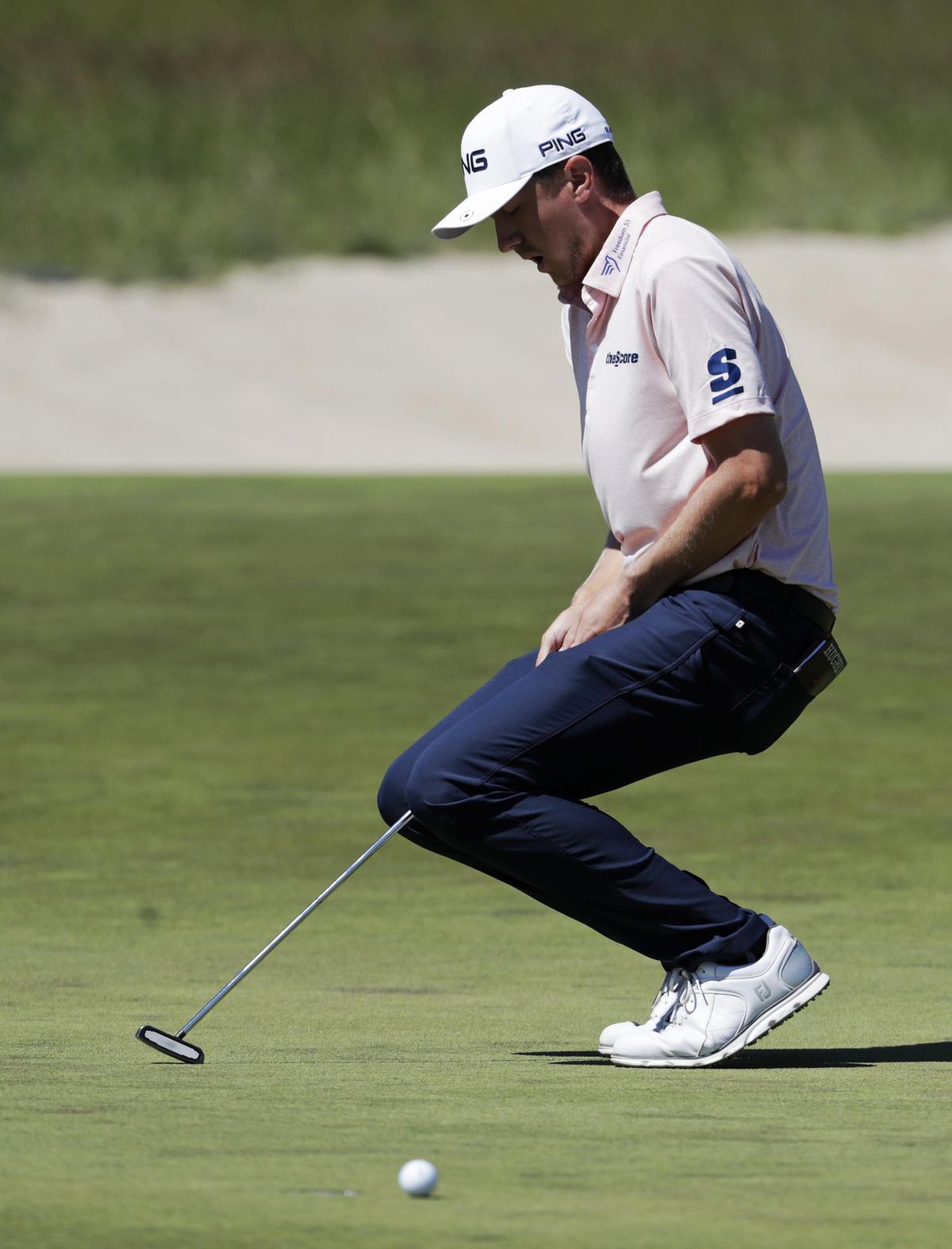 Mackenzie Hughes reacts after missing a putt on the second green during the first round of the U.S. Open Thursday in Southampton, N.Y. (Julio Cortez / AP)
SOUTHAMPTON, N.Y. – Jordan Spieth sailed a bunker shot clear over the green just after 8 a.m. on his second hole of the day, leading to an early triple bogey that immediately had everyone in attendance buzzing with astonishment and foreshadowing what was in store for many of the finest championship-caliber golfers in the world.
About five hours later, Tiger Woods similarly kicked off the afternoon session at the 118th edition of the U.S. Open with a gasp-inducing seven on No. 1 for an immediate triple bogey of his own, the first time in his legendary career that Tiger has stood at 3 over par after a single hole at this event.
In fact, Spieth and Woods, two of golf's brightest attractions, both were four strokes north of break-even through two holes, and each one carded an eye-opening 78 for the first round.
Yet they still somehow weren't the only or even the worst offenders among the boldfaced names to be bludgeoned by the whirling winds, the ball-engulfing rough and fescue and the ever-unforgiving greens of the giant killer known as Shinnecock Hills Golf Club on Thursday.
"I think everybody is going to struggle here," was Phil Mickelson's brief but blunt assessment soon after completing his opening-round score of 77.
Lefty essentially surmised earlier in the week that you can't win a major tournament on a Thursday, but you certainly can lose one.
And the clear-cut winner for openers unquestionably was the demanding par-70 track, taking down one big name after another all afternoon and even sending one lesser-known player – 23-year-old Scott Gregory out of England – into Sunday-duffer territory with an "I-could-have-done-that" total of 92.
Fourteen years after the USGA deservedly absorbed major heat for its mishandling of dried-out greens among a multitude of issues here, Shinnecock surely looks as imposing as ever, despite the widening of several fairways and other cosmetic changes made ahead of the tour's return to eastern Long Island, the fifth time overall the exclusive club has hosted the Open since 1896.
Sure, Dustin Johnson backed up his regained No. 1 world ranking and jumped to an early four-way share of the lead at 1 under par, even holing out a bunker shot on No. 8 while playing in the marquee afternoon group with Woods and Justin Thomas.
Still, the rough was so thick and unrelenting that several golfers encountered serious difficulty finding their ball without help from tournament volunteers, and in a few cases, their playing partners.
Johnson's search party at one point featured nearly 30 people, including Woods, when his tee shot on No. 6 sailed into the thicket to the left of the fairway. After several minutes, a member of the television crew found the ball by accidentally stepping on it, enabling Johnson a drop without penalty. If Johnson had stepped on the ball himself, it would have been a one-stroke infraction.
As for the carnage throughout the leaderboard, the anticipated, star-studded pairing of Mickelson, Spieth and Rory McIlroy saw their respective games positively demolished and devoured by mighty Shinnecock from the outset. The lofty trio, with 12 major championships between them, combined to shoot an unfathomable 25 over, most notably a cringe-worthy 80 for McIlroy, a four-time winner in the majors.
The Northern Irishman was so flustered that he didn't stick around to address the media afterward, nor did 2015 PGA champ Jason Day, who carded a 79.
Mickelson certainly didn't start his latest bid to complete his career Grand Slam in encouraging fashion, departing the links with the best score of his trio at 7 over.
Bubba Watson, the two-time Masters champ, matched Lefty's output, while Spieth, owner of three major trophies already at 24, finished a stroke below at 78, his worst registered score in a major tournament.
Woods rebounded from his plus-4 after two holes to play even-par golf over the next 10, only to card consecutive double bogeys midway through the back nine, including a four-putt on No. 13, to also finish with a 78. Hardly the start he was looking for in his quest for his first major title since winning the Open a decade ago.
"There were certainly some dicey pins, but at the same time there were guys that shot under par. So I could have played better," Spieth said. "All in all, it was just very difficult to control the ball off the tee, get it where you want it to in this wind. I thought that if I shot even on the back nine, stayed at four-over, I was very much in the golf tournament. Hopefully better tomorrow."
Even at 78, Spieth and Woods somehow are within nine strokes of the lead heading into today. If only their most formidable foe, unrelenting Shinnecock, would cooperate.
Local journalism is essential.
Give directly to The Spokesman-Review's Northwest Passages community forums series -- which helps to offset the costs of several reporter and editor positions at the newspaper -- by using the easy options below. Gifts processed in this system are not tax deductible, but are predominately used to help meet the local financial requirements needed to receive national matching-grant funds.
Subscribe to the sports newsletter
Get the day's top sports headlines and breaking news delivered to your inbox by subscribing here.
---